M#: 56185 BD: 2002 HC: Rooted Brown. C: Cargo "pocket" olive drab pants. Royal Blue mesh shirt s/s with spread eagle appliqué. Olive drab lace-up shoes with new thicker sole. Plastic silver camcorder with plastic silver recording tape (under left arm). Chipboard "Route 66" fold out "map" and "Ken" Driver License (in right hand). A: Chipboard multi-color camouflage "trunk". Another plastic silver recording tape. Two punch-out chipboard post cards that depict a tropical scene. NOTE: K-Mart SSE.

M#: 56186 BD: 2002 HC: Painted Black. C: Same as above. A: Same as above. NOTE: K-Mart SSE.

K-Mart SSE!

The prototype Vacation Adventure Ken #27227, changed to Adventure Ken with a new model #56185 for the general 2002 release. Adventure Ken® doll is part of the Route 66 brand, and a K-Mart Store Special Edition. Both Caucasian and African American versions would be available with two Barbie® versions. The Ken® versions were more limited (compared to the Barbie® versions), and the Adventure Ken AA was only available in select market stores. It was very refreshing to see a SSE of Ken® doll in 2002, since the last SSE was way back in 2000 at Toys R Us in the form of Swim Buddies Ken & Tommy. During challenging financial times for K-Mart, they were at least bold enough to carry a SSE Ken®.

Adventure Ken® was the first 2002 doll to appear marked with the year 2002 on his box. One unique feature include thick-sole lace-up shoes in an olive drab color. I have never seen this color before. They match the olive drab cargo pants (the cargo pocket is really a flap) which are very nice. One really neat accessory is the "Ken®" drivers license, which is different for both versions.

I was as intrigued by the hair in the prototype picture, as were most Ken® collectors at the time. After finding the actual doll at K-Mart, everyone was commenting on the Caucasian doll's hair. The hair is like Movie Date Ken doll's on the sides, but the hair is longer on the top. Here's a little background in case you might need to explain Adventure Ken® to anyone.

Pompadour Hairstyle: The high-crowned poof of hair brushed straight back off of the forehead was a style officially named in the 18th century by the Marquise de Pompadour, a mistress of Louis XV. Madame Pompadour created the vogue for tremendously high, teased hairdos (and wigs), which became known as pompadours. High, off-the-forehead hairdos were a classic style throughout the centuries, but it took the rock and roll teens of the 50's to turn them into an unforgettable rebellious style.

The only way to achieve the pomp perfection was with a hearty helping of pomade or actual grease. This gooey, greasy glob saturated the hair so that it could be sculpted with a comb and a careful hand. Achieving balanced heights was more difficult than it might seem, and boys spent much time in front of the bathroom mirror carefully lifting and combing and smoothing. Achieving the perfect shape was as great a pastime as was drag racing.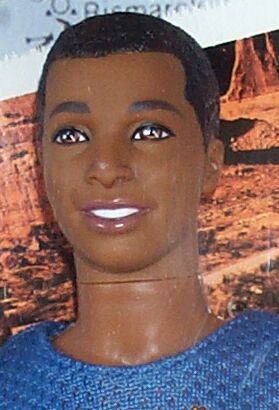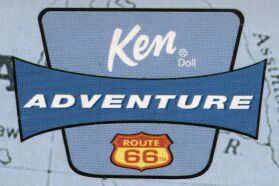 BELOW: The pompadour hairstyle has a rich history, and Adventure Ken Caucasian is the first Ken to sport one.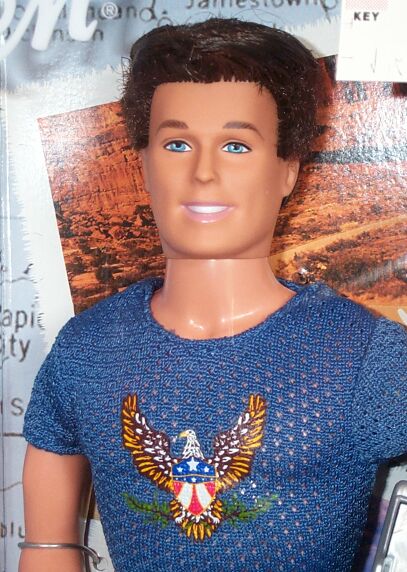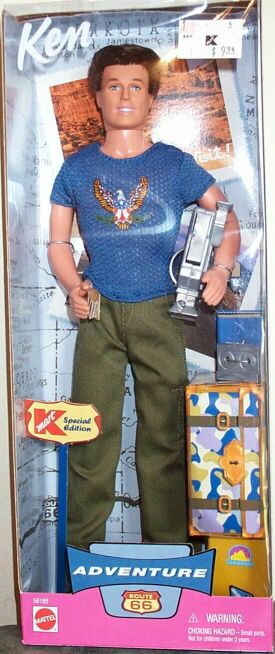 Above: Unique accessories included a plastic silver camcorder with plastic silver recording tapes, a chipboard "Route 66" fold out "map" with "Ken" Driver License that depicted both versions of the dolls. A chipboard multi-color camouflage "trunk" was also available for packing and two punch-out chipboard post cards that depict a tropical scene to send when Ken arrives at his destination.
Left: Adventure Ken® AA didn't sport the Pompadour hairstyle, but will probably become just as famous because he was a lot harder to find in stores.