M#: 9361 BD: 1989 HC: Painted Blonde. C: Aqua gym shorts. White tank top with lilac metallic stars, aqua trim. White calf length socks with aqua trim at top. Aqua gym bag with white ribbon straps and basketball applique. (Bag turns into slacks). A: Basketball. Hoop. Pop can. White tennis shoes.
Team All Stars!
At the beginning of 1990 a fitness and sports craze was sweeping the country. It was "in" to be at the gym and to participate in sports. Following the trend, the Mattel BarbieŽ line created a sports "team". Dubbed "The All Stars", they could all be together and excel in their chosen sport. Each doll in the All Stars line was given a specific sport to represent within the team. They were advertised as being "tops in their high energy sports" and "ready to party in no time". More on the "party" aspect later. Each doll also represented a different color scheme, giving the All Star Team a great look together. KenŽ represented the sport of Basketball in aqua. BarbieŽ #9099 Aerobics in her signature pink, MidgeŽ #9360 Softball in predominately white, ChristieŽ #9352 Runner in orange and TeresaŽ #9353 Tennis in a red color. Each doll was packaged with the important elements need to play their chosen sports. Miniature sport accessories were included to match the sport from balls, a bat, a racquet, jump rope, basket ball and runners baton.
It's in the Bag!
The most exciting element had to be the party held afterwards and the secret's in the bag! Each doll was packaged with a gym bag that turned in to a piece of "party" clothing. After all that working out, the All Stars had time to burn a little more energy partying later. KenŽ's bag turned into a pair of slacks, BarbieŽ's a skirt, MidgeŽ's and ChristieŽ's into a dress and TeresaŽ's into a great jacket.
Sports Club European Exclusives!
KenŽ and BarbieŽ both represented the All Star Team overseas, with their name changed from All Stars to Sports Club. The rest of the team was left behind. Sports Club BarbieŽ was the same as the domestic version, but Sports Club KenŽ now represented the sport of Golf (see picture below). His outfit changed (check out the knickers), but the color and theme remained. Also exclusive to the Sports Club line was the BarbieŽ Sports Club that included everything you would find at you local gym. Locker, weight training and the coolest lounge with chairs, table and refreshments!
BELOW: The European version of All Stars KenŽ. Sports Club KenŽ M#: 9362 BD: 1989 was not a Basketball player, but a Golfer.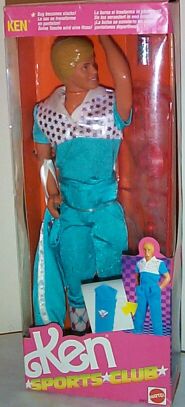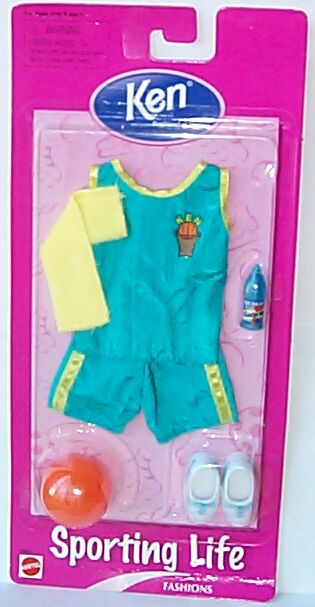 ABOVE: In 1998, KenŽ Sporting Life Fashion™"Basketball" bears a striking resemblance in color to the All Stars outfit. KenŽ must of remained on the same team! Included in this line was a Baseball, Football and Golf outfit.
March Madness !