M#: 22995 BD: 1998 HC: Rooted Brunette. C: Dark blue denim-like shorts with light orange stitching. Light orange mesh tank top. Multi-color braided string around neck and left wrist. Silver sunglasses on right wrist. A: Two sheets of temporary tattoos. Instruction sheet. NOTE: Permanent butterfly tattoo on right chest.
Another FIRST for Ken!
Ken's FIRST tattoo! Who would of guessed that a seemingly innocent idea would cause such a stir? When the Butterfly Art gang hit shelves early in the year of 1999, most collectors viewed them only as a swim line with more accessories. "Now, as Barbie turns 40, her look turns decidedly younger. Among the dolls Mattel is showcasing at next week's American International Toy Fair is a line of hip Generation Girls, which includes a doll with a nose ring, and Butterfly Art Barbie, with a butterfly tattoo on her stomach." (Hannibal Courier-Post filed 2/5/99).
By June 25, 1999 production of the Butterfly Art line was stopped. Why? A few angered parents thought the tattoos that were displayed on the doll gave the wrong impression. "Barbie with tattoos was just too edgy for some. Several complaints, maybe a dozen or so, about last year's Butterfly Art Barbie...also created changes in the Generation Girl line dealing with body piercing." bakersfield.com - News
Filed: 06/14/1999 EL SEGUNDO, Calif. (AP)
Buyer Beware!
What happened next is one of the better known exploited resell campaigns in recent history. MANY savvy sellers starting snatching up this line for resell by touting that the dolls had been recalled; which simply wasn't true. Many others also compared the value to soar which is not true either. To date the Butterfly Art line can still be found in limited quantities in most retail establishments. True, value may increase in years to come, but not in the near future. There were simply too many produced. Steven on the other hand may be the most prized in this line, as his production was the lowest, followed by Christie's and Ken's. Some stores didn't even offer Steven for sale along with the rest of the line.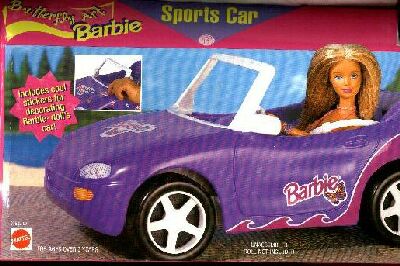 ABOVE: Freshly tattooed, the gang could go cruising in the Butterfly Art Sports Car!
Catching more than insects!
BELOW: Steven may prove to be the most valued in the Butterfly Art line.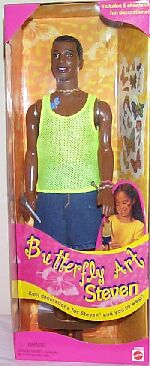 BELOW: Barbie's realized body mold (left) was much "fuller" than pictured on the back of the box and publicity shots (right).