M#: 2290 BD: 1992 HC: Painted Two Tone Blonde; Brown. C: Black pants with pink stitching. Lilac net shirt s/s. Lilac vinyl vest with pink stitching and silver ring attached. Silver ring on silver string around neck. Silver hoop earring in left ear. A: Black lace up dance oxfords. 1 Ken and 1 Barbie silver clip-on earring.
The MOST infamous Ken of all time!
By May of 1993, Mattel's new Ken doll introduced at the toy convention in New York City in February, was getting as much press as the new Coke! He was everywhere in the media including the front page of the New York Times Arts and Leisure section. Why all the hoopla? The first ear piercing? The two tone hair... the outfit? Yes, but most controversial was his choice of accessories.
"On closer inspection, Ken's entire Earring Magic outfit looks like three-year old rave wear. A Gaultier purple faux-leather vest, a straight-out-of-International-Male purple mesh shirt, black jeans and shoes. It would seem Mattel's crack Ken redesign team spent a weekend in LA or NY, dashing from rave to rave, taking notes and polaroids."
Because children read Keeping Ken, I'll leave it up to you to figure out exactly why his necklace and vest accessory caused such an uproar with parents and the general public. Earring Magic Ken was now dubbed the "Alternative Lifestyle" Ken by mainstream America.
I think this particular Ken reflects infiltration of popular culture in the time period. From MTV to hip activism, he mirrors what was "in" at the moment. Ken's redesign was created from advice of the little girls who play with him. They wanted Ken to look a "little cooler". He was on the brink of being discontinued and being replaced for a new boyfriend. This is what makes this particular doll so pivotal in Ken's history. Not only for the controversy that surrounded him; but the fact that the idea was bantered around to replace him. Controversy or not, when he flew off the shelves, he proved his appeal and marketing value in the Barbie line.
Originally priced at $11, Earring Magic Ken now sells NRFB for around $47 on the secondary market. By Christmas time in 1993 most stores were completely sold out of Kens, largely due to the Gay community's interest. Earring Magic Barbie and Midge were left on the shelves without a partner. Earring Magic Barbie was also available at Radio Shack that included software.
Quotes courtesy of Nucity 18June-1 July 1993 "A Cooler, Queerer, Ken" by Don Savage.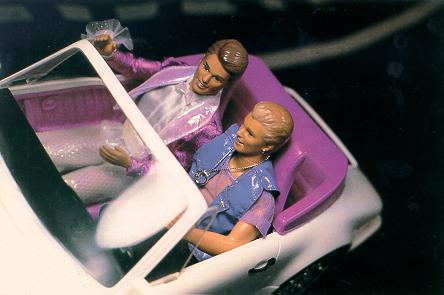 Above: On a date? It's Earring Magic driving with Secret Hearts, who is wearing a wrist corsage. This was a post card available for sale.
Vrooom!
Below: One of the many examples of humor derived from the controversy.