M#: 19874 BD: 1997 HC: Rooted Brunette (pulled back in ponytail; mid back length). Pirate Costume. Red/white stripe calf length pants with criss-cross cuts around bottom. Purple V-neck shirt with criss-cross cuts around sleeves s/s. Black vest with gold stitching. Red ribbon sash around waist. Halloween bag with "candy" punch-outs inside. Black eye patch covering right eye. Gold hoop earring in left ear. Black pirate hat with gold stitching and "skull & bones" appliqué. Black cloth boots with turned over top. A: Two gold goblets. Halloween party invitations on back of box to cut out. NOTE: SSE (Target).
Target Halloween Party Gift Set
What makes this GS so special to collectors is the length of Ken's hair. In the box it is pulled back into a pony- tail, but open the box and let it down and it falls to the middle of his back! This is the longest hair Ken has EVER had. Even the Harley Davidson hair is shorter. What also makes it special is the fact Ken is wearing a gold hoop earring! This SE is still pretty easy to come by. I kept one set in the box and pulled another out and re-dressed him for contrast against the mostly "clean-cut" loose Kens I display.
Barbie and Ken are attractively dressed for a Halloween party in matching pirate costumes, complete with little trick-or-treat bags and little wine goblets inside the box! The box completes the Halloween Party theme, with pumpkins, witches, a ghost, a black cat, and spider webs adorning the inside and clear plastic of the box. The back of the box reads...It's a Halloween costume party. And shiver-me-timbers! The back of the box also has instructions for your own costume parade party, including a costume party invitation (it says that doll-sized invitations are included inside the box), and a certificate for Best Costume to award at your party!!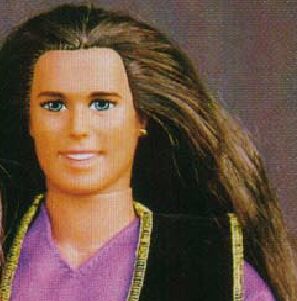 Aye Matie!
This Halloween Special Edition was only produced for Target in 1998, and Target sold all their remaining stock immediately after Halloween.