M#: 22255 BD: 1998 HC: Rooted Brown (long; in ponytail). C: Faded blue jeans (rip in right knee). Black belt with "Harley Davidson Motor Cycles" buckle. White t -shirt with "Harley Davidson Motor Cycles" logo applique s/s. Black "leather look" motorcycle jacket with silver buckles and zipper l/s. Black sunglasses in left hand. Black cowboy boots. Black motorcycle helmet under right arm. A: Note of authenticity. NOTE: CE. Ken has a Two-Tone Brown painted goatee.
The FIRST Harley Ken idea?
Even though the rumors can not be confirmed, the idea of creating a Harley Davidson Ken may very well have preceded the first Harley Davidson Barbie. Collectors liked the novelty of adding a Ken into the mix with the third issue of Harley Davidson Barbie, and immediately his resell value soared. The Harley Davidson Ken and Barbie #3 were available for sell exclusively at Toys R Us (stores and at their website) and at your local Harley Davidson dealership. Production numbers were significantly higher than previous Harley CE's, but Ken had sold out by October of 1999.
Speculation with many Ken collectors is a licensing agreement was trying to be formed with Harley Davidson as early as 1993. And more importantly, it revolved around a Ken, not Barbie. Mystery surrounds the 1994 list of dolls in the Barbie line, Mattel was producing. Listed were M#: 12000 Motorcycle Ken and M#: 12126 Motorcycle Ken Black. Certainly, these two dolls were never produced in this or following years. Most collectors summate a licensing agreement was never realized with Harley Davidson, and the Motorcycle Kens were never put into production.
Below: The mysterious Mattel list that shows a Motorcycle Ken in a Caucasian and African American version. Proof?? that the Harley Davidson Ken idea preceded the Barbie version.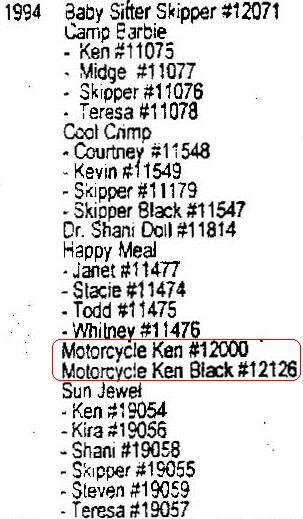 Get out on the highway!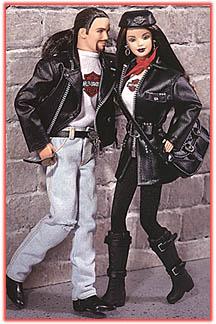 Above: Publicity shot of the new Harley Ken with the #3 Harley Barbie. BELOW: Harley Davidson Barbie #1.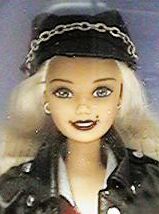 BELOW: A remote control Motorcycle especially for Ken. Notice it's Rappin' Rockin' Ken from 1991 that is pictured. BOTTOM: Rappin' Rockin' Ken Motorcycle deboxed.