The Beginning of Diversity in the Barbie® Line!
In 1978 the glamour and carefree lives of movie stars is represented in the Superstar line. SuperStar Ken 1977 #2211 sports a brand new head mold called "Superstar". This head mold, or "look" is advertised as a "handsome new movie star face". This head mold features a more open mouthed smile and dimples. The painted hair changes to a part on Ken® doll's right and covers the ears. Looking like movie star Robert Redford, Superstar Ken® has painted blond hair and blue eyes.
Follow the Leader!
Hawaiian Ken® (Box Date 1978), a department store special, appears in 1979 with a return to the tan 1968 head mold. This head mold introduction was innovative to Ken® when it appeared in 1969 in regards to the metamorphism Ken®'s image and body structure had taken. Interestingly, it is brought back from "retirement", while the popular Superstar head mold is being introduced. The 1968 head mold was last used in 1974 (box date). Hawaiian Ken will become innovative in retrospect, and is the last appearance of this head mold. Brad Byers, a Malibu line expert said "In actuality, the mold was used for Free Moving Ken in 1975-76 as well as 'Malibu Ken' 1971-78. I believe 'Olympic Skier Ken' was also available in 1975-76. There were also European issues like 'Funtime Ken', and Malibu types redressed in different swim trunks than we had here. One example is in the second book by Sibyl DeWein, Collectable Barbie Dolls 1977-79. A doll called 'Strandspass' or Beach Fun Ken meant for the German market was found in Maryland in 1979. It had the mod 1968 head mold and swim trunks similar to Sun Lovin' Malibu Ken, but in a different color". Brad also adds "Most people don't realize that all Malibu dolls (regular issues) made from 1976-78 had 1975 marked on the box. The 1975 dolls used a white box marked 1974. All bubble pack dolls from 1971-74 were marked 1970 on those packages". Domestically, this would be the last use of this mold before it is permanently retired. This will also be the last use of combination box with cardboard flap, which is updated in the signature pink color.
With painted black hair, eyebrows and brown eyes, this is first ethnic Ken® manufactured. As a native Hawaiian, the dark tan bendable leg body mold sets off the bright floral swim trunks he wears. These trunks can be found in two variations of print. Hawaiian Ken® also wears a brown bead necklace, which can be swapped for multi-color plastic lei that is packaged separately. Ready to hit the surf he has a pink surfboard with floral sticker and orange towel. Ken® would follow in Barbie® doll's Hawaiian ethnic version, which was sold first in a basic version, then appeared Mattel's Department Store Division catalogs as a "special" similar to the Ken® version. Her first ethnic appearance was in 1976, with the use of the Steffie® head mold with rooted black hair. It was so popular, Hawaiian Barbie® was available from 1976-1982.
By 1984 another version of Hawaiian Ken® was made that used the Hispanic Ken® head mold. His costuming matched the 1983 Hawaiian Barbie® version, now in a smaller pink box
M#: 2960 BD: 1978 HC: Painted Black. C: White with multi-color floral swim trunks. Brown bead necklace. A: Pink surfboard with yellow floral stripe sticker. Multi-color floral lei. Orange towel. NOTE: There are two different variations found in the floral print design on swim trunks
ABOVE LEFT: Barbie® doll's first appearance in an ethnic version was 1976's Hawaiian Barbie®, who borrowed her look from 1972's Steffie®. RIGHT: Ken® doll's second Hawaiian ethnic version actually uses the Hispanic head mold. BELOW: Both variations of patterns used for the swim trunks.
Fashion Photos by Mike Bloxom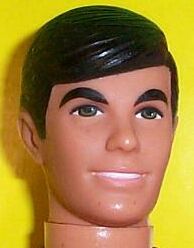 O-Lei!