M#: 10964 BD: 1993 HC: Painted Two Tone Brown. C: Teal green pleated with teal metallic pin striped stitched pants. Pink high collar shirt. Floral green/gold/brown/light brown/pink and magenta print vest with 2 gold buttons. Gold lame collar less jacket l/s. A: Teal green socks and loafers. Gold heart shaped box with rose. Teal green heart shaped fragrance (fits in box).
Toy Chest!
The BarbieŽ world is full of wonders and in 1994, the wonderful world of BarbieŽ doll's bosom became a focus. With a little ingenuity, Mattel designers focused their talents on incorporating popular accessories for girls into BarbieŽ herself...literally!
Locket Surprise BarbieŽ doll, her AA version and friend KaylaŽ were created for dual purposes. You could still play and dress Locket Surprise BarbieŽ as you usually would, but the fun part was unlocking her secret. Imagine knowing as you played, you could also hide and bring along your personal mementos too, seemingly secretively and hidden. You might even needed to apply some blush or lip gloss during play; there was certainly no need to search in your purse. Locket Surprise BarbieŽ doll's secret lies in the most unimaginable area. With the flick of a plastic clasp (with attached pink plastic locket) on the side of her stomach area, her heart shaped plastic chest swung open to reveal a hidden cavity to place your treasures. She came with heart shaped accessories to be placed there along with a picture of Locket Surprise KenŽ, forever cementing the idea that KenŽ would be in her heat; until you replaced it with the lip gloss or blush. Advertising text on the box included "BarbieŽ can keep makeup in her locket," and "Locket Surprise makeup can make your beautiful dreams come true!"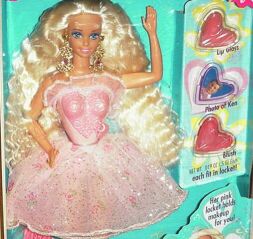 ABOVE: The chest of Locket Surprise BarbieŽ opens into a special locket for you. Also included are special lockets of lip gloss, blush, and a picture of KenŽ which can be put into her chest.
Surprise!
"KenŽ has a special surprise, a fragrance gift for you and BarbieŽ. BarbieŽ thinks KenŽ is the coolest, he's always so thoughtful and he dresses in the hottest clothes! KenŽ knows BarbieŽ loves to share makeup--and she keeps a locket full of makeup surprises for special friends like you! Share the magic of makeup and the fun of surprises with Locket Surprise BarbieŽ and KenŽ to make your beautiful dreams come true!"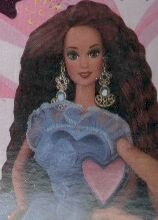 ABOVE: Beautiful red-headed Locket Surprise KaylaŽ with her soul bared. It's no surprise that KaylaŽ comes with a picture of BarbieŽ for her locket, instead of KenŽ.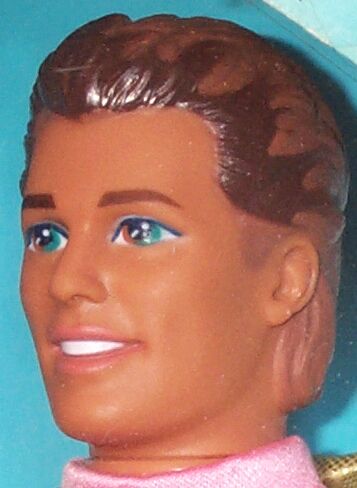 How Much Does KenŽ Really Know?
The text above on the back of Locket Surprise KenŽ doll's box leaves a little or a lot to the imagination. Locket Surprise KenŽ is a glaring reminder that KenŽ is an accessory to BarbieŽ. Although KenŽ collectors are reminded of that fact in other versions, Locket Surprise KenŽ leaves no room for debate. Personally, I think this version is the biggest reminder, more than any other version available. How else can you tie in KenŽ, or any guy for that matter, with makeup, fragrances and lip gloss? KenŽ doll's outfit doesn't help either. BarbieŽ thinks that KenŽ "dresses in the hottest clothes," leaving him without a fashion idea of his own. It is obvious that BarbieŽ dreamed up this ensemble with his pink shirt, shiny teal green pants and that gold lame jacket. A floral vest (which was actually in style for men at the time) does little to make his personal style masculine. KenŽ of course is baring a gift for BarbieŽ, a fragrance locket that will fit inside her. This gift will only add yet another different accessory for her version.
Locket Surprise KenŽ does still hold some charm, ego and collectibles factor. He comes with teal green loafers, a color used only for this KenŽ version. There are also two box variations. One comes with a detachable "Save $1.00 Instantly on this Locket Surprise KenŽ doll" which expires on 12/31/94. The other box version does not include the coupon.
1996 Foreign Issue!
Segredos do Coracao Ken (Brazil) was released a few years later in 1996 and is similar to the domestic version with slight changes in the fashion and accessories, and most strikingly different is the foreign issue uses the 1988 Ken head mold, unlike this domestic version which uses the 1990 Alan head mold.
BELOW: Segredos do Coracao Ken from Brazil.