Magic Jewel™ Ken® doll's costume and overall looks reminds me of Great Date Ken and Butterfly Prince Ken. Magic Jewel™ Ken® has the 1990 Ken® head mold which has seen a lot of use lately in the 2001 Ken doll line. Although found right before Christmas 2001, Magic Jewel Ken is technically part of the 2002 Ken doll line. He retailed for K-Mart ($10.99) and TRU (13.99). I will have to say that I was not very impressed with this version of Ken® (mostly because he was the only Ken® I asked for this holiday), but like all Ken® versions, I am sure he will grow on me.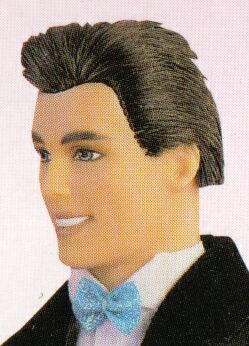 Above: Magic Jewel™ Ken® doll pictures from the actual box packaging.
It's a hair thing!
The hair on this doll was the single greatest disappointment for me. Probably because it looks nothing like the prototype doll (pictured above), or the Magic Jewel™ Ken® doll pictures from the actual box packaging (pictured left). Like most 1990 Ken® head mold dolls, the hair is gooped and combed straight back. With all the Ken® doll "hair achievements" seen lately on Movie Date Ken, Concert Date Ken and 40th Anniversary Ken AA, I was expecting to see another award winning hairstyle for Ken® on this version. And quite frankly, I should have if that is what is pictured. I suppose you could try a hand at styling it yourself, but you'd have to be skilled and precise, since the bang portion is pictured jutting up. If you cut too much hair at the bang line you'll lose too much of the hair that is supposed to cover the rest of the scalp (and extends to the nape of the neck). I think the doll should have come with hair like this in the first place. The contrast between the prototype and the actual doll is dramatically obvious. I was looking forward to the prototype doll, and there is no comparison with the actual produced version.
Let's make some magic!
Seasoned Ken® doll collectors have come to expect what you get with a Ken® tuxedo. Yes, it's a one-piece (sans sleeves on the white shirt portion), but I was impressed with the heavier weight "wind-breaker" material used for the pants and jacket. It is actually the nicest Pink Box Ken® tuxedo I have seen, since the Party Time Ken tuxedo. Don't expect a buried treasure in that present box either. The present contains a pink plastic necklace for Magic Jewel™ Barbie® doll. I found it interesting that the necklace didn't have any "jewels" or glitter on it. This is Magic Jewel™ Ken® after all, and if Magic Jewel™ Barbie® has all the "Magic Jewel™" part in her packaging, how is Ken doll tied in at all to this line? Maybe I'm being to fanatic, but if he is called Magic Jewel™ Ken®, I think there should be a magic jewel somewhere. That about covers the "jewel" part, I haven't tried to figure out why it's "magic".
Tie-Ins!
The bent arms are a plus, and overall it's hard to be to hard on Ken after all since he is my buddy. But I think we all are getting a little tired of the choppy "comb-back" hair that is so common for the 1990 Ken® head mold. He could be twins with Barbie in the Nutcracker Ken as Prince Eric, but you will see that Magic Jewel™ Ken® is clearly a better doll. Magic Jewel™ Ken® has much lighter skin tone with the "realistic" eye painting without the white spots. I think his rooted hair is also a shade lighter, which is why I am calling it brown on the Keeping Ken The Millennium Era page listing.
There is also a Magic Jewel Ken AA, which will feature a rooted AA version of Ken. There is also a Magic Jewel™ Playset. The Magic Jewel™ Playset is a garden setting that includes an arbor (with swing), birdbath, candelabra, "flowers", note box, two chairs and a table. It's a must have! It's a place where Magic Jewel™ Ken® and Magic Jewel™ Barbie® can make a little "magic" of their own.
"Dressed to impress in his handsome tuxedo, Magic Jewel™ Ken® doll just can't wait for his date with Barbie®. He even has a special surprise: it's a beautiful necklace in a gift box that he picked out just for Barbie!"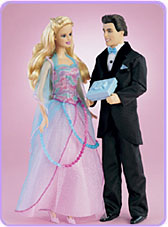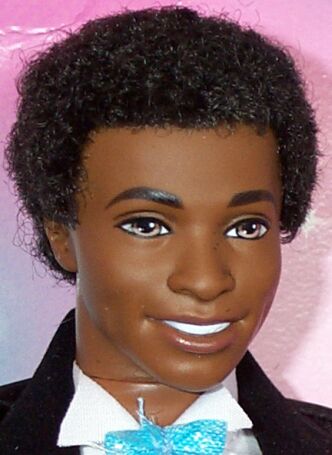 Above: Magic Jewel™ Ken® AA. Below: Picture after washing, and restyling the hair by cutting the bangs on Magic Jewel™ Ken® (Caucasian).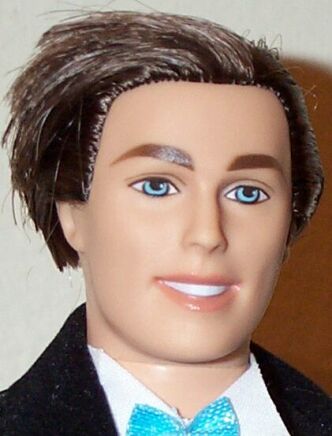 Below: Picture of Magic Jewel™ Barbie® and Ken® dolls. Notice those cool "bangs" on Ken®! Too bad the "bangs" didn't make it into production.