Below: The prototype picture that is used on the back of the Rapunzel Prince KenŽ doll's box. Both realized dolls costumes varied greatly from the prototype picture.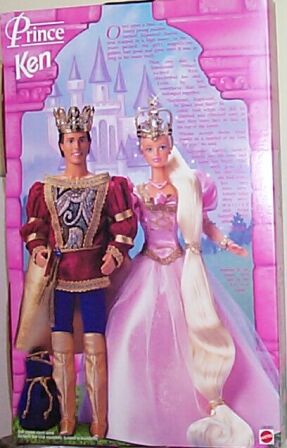 M#: 18080 BD: 1997 HC: Rooted Brown. C: Royal blue tights with attached metallic gold knee high cloth boots. Pieced scarlet red with royal/scarlet/gold & light blue print(chest) tunic with puff shoulders l/s. Gold with light blue ribbon embroidery(collar, chest & cuffs) and metallic gold bands(sleeves). Metallic gold cord with tassels and royal blue jewel around waist. Metallic gold(back)/royal blue(front) cape attached to tunic. A: Royal blue felt bag with gold cord and tassels containing pink necklace with prismatic jewels and pink bracelet . Shiny gold crown.
The Story!
The story behind these dolls was inspired by the classic fairy tale by the brothers Grimm.
"Once upon a time...a lovely maiden named Rapunzel BarbieŽ was trapped in as high tower. As the years passed, the girl's grew and grew until it was as long as the tower itself.
Then one day, a handsome Prince named KenŽ discovered her and knew by her sweetness that they belonged together. "Rapunzel, Rapunzel, let down your hair!" he cried. And when she did, he climbed and climbed until at last they were face to face at the top of the tower. "Please accept these royal jewels as a symbol of my love for you," he said.
Rapunzel BarbieŽ looked deeply into his eyes, and soon her heart filled with great joy for she knew she had found her own true love. Before long they were married and lived happily ever after". The End.
Of course, this is the nice version of this fairy tale. In the original version it is a evil witch who locks Rapunzel in the tower, and when she discovers Rapunzel has met this Prince, she cuts off her hair and the Prince falls to his death. I like the other version better!