Barbie® doll became an overnight movie sensation in 2001 with her award-winning, top-selling debut video, "Barbie® in the Nutcracker." Now the screen will sparkle once again with the fall 2002 premiere of "Barbie® as Rapunzel." A contemporary twist on the classic fairytale, Mattel's screenplay casts Barbie® as Rapunzel, a courageous, imaginative girl who is locked away in a tower and magically paints her way to a life of freedom and love.
Girls will fall in love with playing out the romance of "Barbie® as Rapunzel" with Ken® doll as the charming Prince Stefan. And, the beautiful fairytale will magically come to life with Prince Stefan Ken® speaking three different phrases to Rapunzel Barbie®. With "Rapunzel, let down your hair," "Rapunzel I love you," and several sounds from the story, Ken® doll's talking feature will romance girls and Rapunzel Barbie® alike. Wielding a sword and shield, the majestic prince dons a stately ensemble that includes beige satin pants, a blue satin coat embellished with gold brocade trim, gold boots and a regal crown.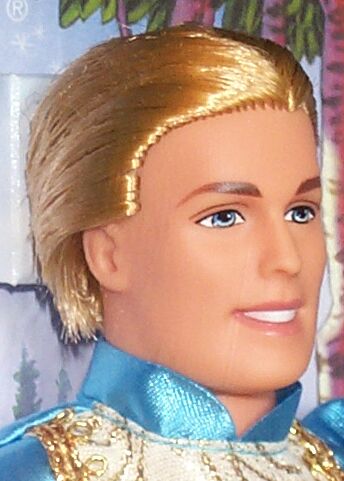 Above and Below: Both versions of (Talking) Ken® as Prince Stefan.
He Talks (again)!
Seemingly, Mattel is providing Ken® collectors with what they have been asking for. The brand new (Barbie® as Rapunzel) Talking Ken® as Prince Stefan dolls provide a rooted blonde Caucasian version, as well as the continuation of a rooted African American version. Bent arms are present, as well as a matte finish skin tone. Improvements continue and in this version, we can now use the word "innovative," (mostly because both dolls are Talking dolls). Remember, Ken® doll hasn't talked since Talking Busy Ken® in 1972. I was wildly anticipating having another Talking Ken® doll after waiting for 30 years. Someone at Mattel (with Ken® doll on their mind) must have realized that it was time for another Talking version. I think it is pretty important to recognize that Mattel made an important decision about Ken® doll. This decision meant modifying the 1968 Ken® body mold and creating a new sized talking mechanism to fit inside.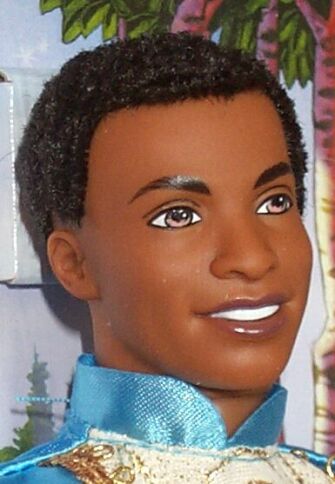 Handsome!
Personally, I think both versions of this doll look really handsome. Attention has been paid to Ken® collector's complaints that the hair rooting should extend to the nape of the neck. Dolls that use the 1997 Ken® head mold have suitable hair rooting patterns in the back (with one exception, Cool School Ken) and the Caucasian version of Prince Stefan uses this head mold. The hair cut is the best I have ever seen on a modern rooted Ken® doll (with the combed back hairstyle). Unfortunately, this hairstyle still does not give the freedom to change the style much. It does give a little more freedom than before, and you won't find the hair with a lot of gel on it! In my opinion, this head mold is much better than a 1990 Ken® head mold! The 1990 Ken® head mold rooting pattern stops in the middle of the back of the head. If Mattel continues to use the 1997 Ken® head mold (which is not necessarily a favorite with collectors), lets hope they pick it before the 1990 head mold!
So What Does He Say?
I know many of you are HUGE fans of the ball-jointed necks, and I'm right there with you! It is interesting to see a ball-jointed neck again, and I wondered if it was needed for the modified 1968 body mold with the Talking mechanism. Anyway, some of the best versions of Ken® doll have a ball-joint necks, one recent version that comes to mind is Shave 'n Style Ken. I took some pictures (above) of the 1968 body mold with the Talking mechanism. As you can see, improvements have been made. Gone are the pull-strings of yesteryear that require repair to work again. 30 years from now, Ken® will continue to talk as long as you change his batteries. So what sounds does he make and what does he say, you say?
Talking Ken as Prince Stefan says:
Rapunzel, Rapunzel, let down your hair!

I love you!

Will you join me at the ball?
Talking Ken as Prince Stefan also makes the following sounds:
I hope you have as much fun as I did hearing Ken® talk again. It's priceless!
Threes a Crowd!
It's a quandary when you like something a lot, but there is something about it that you really don't care for. Herein lies the dilemma, because my biggest problem with Talking Ken® as Prince Stefan, is the reality that he could have really been an outstanding version if he had a different costume. The story line was great. He had a new feature and both versions look great! But why the same costume design that has been used twice already? This version makes the third appearance of this costume design in three straight years. The costume (in its entirety) is a variation in color and fabrics used before for Rainbow Prince Ken (2000) and Rose Prince Ken (2001). It's not that I am opposed to Ken® doll portraying a Prince, its just that I see a "pattern" emerging here. While, I actually like the style and color of the tunic top, I think "three times a charm".
I hope you will be as excited as I was to finally get a Talking Ken® again! This line provides two excellent versions of great quality! Both versions of Talking Ken® as Prince Stefan will be great to redress if you don't care for his original costume. Get two! One to collect, and the other to redress. I found the Caucasian version on my actual birthday. I'm thinking he'll become one of my favorites simply because I can tie him to some memories.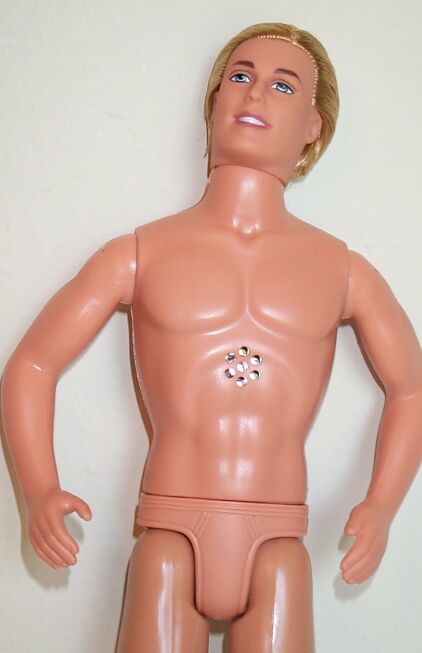 Above and Below: The new (Talking) Ken® as Prince Stefan body pictured front and back.