M#: 1248 BD: 1970 HC: Painted Yellow. C: Orange swim trunks. A: Yellow with hot pink/orange/aqua floral print beach jacket with Nehru collar. Blue towel. Blue mask, snorkel, fins and sunglasses. Yellow skim board with orange/aqua stripe. Cork sandals with yellow strap.

Sear's Exclusive Ken® Gift Set!

In 1971, the Sear's Wishbook will offer a second Ken doll gift set following the success of the Red White 'N Wild Gift Set in 1970. This formula seems to work for Sear's; by taking regular line Ken dolls and making them into a gift set that includes clothing and accessories that are only available at Sear's stores. The company has also offered Ken/Barbie gift sets like Barbie & Ken Fabulous Formal Set in 1969 along with numerous Barbie and friends special gift sets.

Sear's will use The Sun Set Malibu Ken in this set which has a "surfing" appeal. It will include a Sun Set Ken doll with his original outfit and blue towel, just like the standard version. The set includes the mask, snorkel and fins (in a new blue color) from previous Barbie/Ken outfits like Ken's Skin Diver (Sear's) #1406 and Pak Snorkel Gear, both from 1963. The sunglasses are also a repeat, but made in a new blue color (although the advertising in the catalogue shows them in a goldenrod color). These sunglasses were first seen in Ken's 1962 Time For Tennis #790. Later we see them included with the 1970 Pak Sun Fun Shirts.

The skim board, cork sandals and jacket are new items. The skim board will be available this year as well (along with the new blue color mask, snorkel, fins and sunglasses) in the Sear's exclusive Beach Beat #3384, but the skim board is a orange color with a different color stripe. While cork sandals are a familiar item to Ken, the strap color and design are exclusive to this set. The sandals, along with the yellow floral jacket, are almost impossible to find.

In 1972, the Sear's Wishbook will again advertise this set, but it will be the last year it would be readily available.
Catch a Wave!
BELOW: 1971 advertisement for the Malibu Ken Surf's Up Gift Set from the Sear's Wishbook.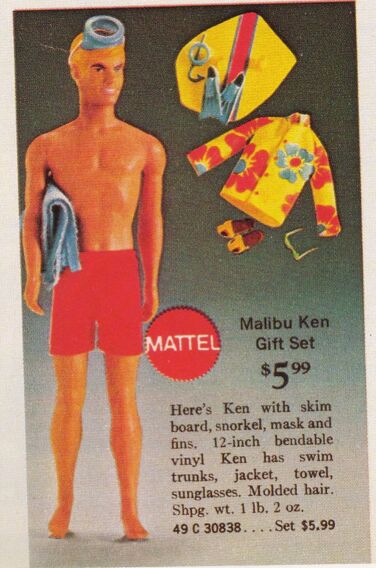 BELOW: Also available in 1971 was "Beach Beat" #3384 with a different color skim board. This was also a Sear's SSE.