Keeping Ken

National Barbie Convention 2001
Ken and Barbie are registered trademarks of Mattel, Inc. These pages are neither affiliated with, nor a representative of Mattel, Inc. Material provided on these pages do not in any way reflect the opinions of Mattel, Inc.
National Barbie Convention 2001-Sales Room Page 2
Thursday July 26,2001

The best deal I got was on this Painted Hair Shortie Ken dressed in Dream Boat #785. I also got this outfit loose from several different places before I found this doll dressed in the complete outfit! Oh, well...now I have two of them. I also found another NRFB Malibu Ken Pink Box.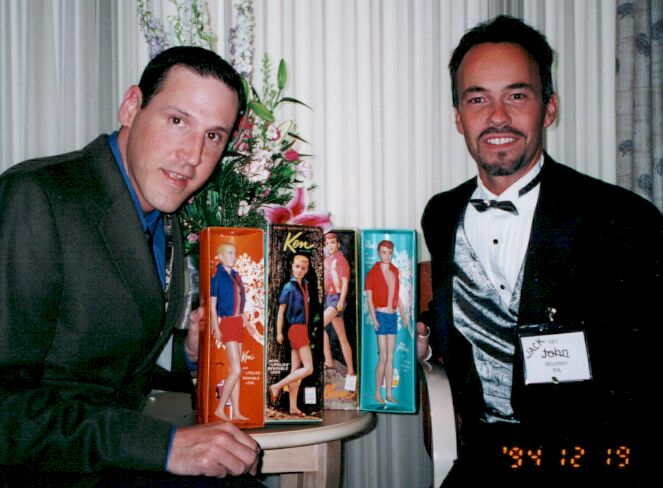 The best deal was of course was my Bendable Leg Ken (Blonde), that was the same store stock as Jack's Bendable Leg Allan.

Also found this doll, which I have been looking for for awhile.
Jack's Awesome foreign market KenŽ finds!

Above: Shoes that go with the Tenis Jeans Ken doll. Another variation to domestic All American Ken (Reebok spats) and foreign version Weekend Ken (E) (Adidas spats). The Tenis Jeans Ken has spats marked "Ken". What a great find!
Ceremonie Ken
Deportivo Ken
Tenis Jeans Ken
Safari Ken
Room Shopping
I really only shopped Michael Augustyniak's room for "Room Shopping", because of lack of time and because his room was down the hall. Some of my finds there were some great loose dolls, this Sparkle Surprise Ken (Modified Alan head mold, no text box) and this Rollerblade Ken (Modified Alan Head Mold) which are two variations I didn't have. I also bought another Camp Ken that was in better condition than the one I had at home. I also bought a few Ken fashions in his room. He had awesome stuff!

Back to the National Barbie Convention 2001