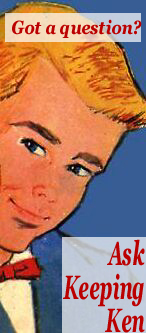 Please submit questions to ask@manbehindthedoll.com and have them answered here. Due to the volume of mail received, I cannot respond to individual e-mails sent to "Ask Keeping Ken".
Q: I read your article [in Barbie Bazaar magazine] on Ken. I was wondering if this was an oversight, but you didn't mention Phantom of the Opera Ken being released in 1998. In fact, he was the first Ken to have that closed mouth face mold, with King Arthur and Harley Ken following in 1999. With the Phantom's freaky looking face paint, it was hard to tell, but it is the same mold as King Arthur and HD [Harley Davidson] Ken. Keep up with great work on your site, BTW.

AKK: Thanks for the info! Yes, I was aware that the 1996 Ken head mold was actually first used for the Phantom of the Opera Gift Set gift set. I wish I had bought this set while it was still affordable LOL! In Ken collector "jargon" the 1996 Ken head mold is usually referred to as the "Harley Davidson Ken" head mold probably because it most identifies with an actual Ken as "Ken" doll, not Ken portraying a character. Along a different line, the new Barbie Collectibles 2000 Ken Collectibles head mold is now being referred to as the "Sultan" head mold (Tales of the Arabian Nights Gift Set). Ken collectors (including me) don't refer to the 1996 Ken head mold as the "Phantom" head mold, but technically we should since it was first used for that gift set. I find that aspect interesting because we refer to the 1997 Ken Collectibles head mold as the "Mulder" head mold (The X Files Gift Set), not the "Kenny Duet" head mold (Barbie & Kenny Country Duet Gift Set) and it was first used as "Mulder".
It could be because the Harley Davidson Ken has more global appeal, and people identify more with Harley Ken than the Phantom Ken. (And maybe because I always refer to it as the Harley Ken head mold too). Regardless of what we as collectors call it, Mattel probably only uses the date for identity, and while they would easily identify that the mold was used for Harley or Phantom, they would categorize or call it a 1996 Ken head mold. Collectors tend to be more romantic and nostalgic. We like to attach names to the head molds.

You are also correct about King Arthur coming before Harley Ken. I looked in my image archives and I posted the picture of King Arthur in June 2000 and Harley Ken in July 2000.

Above: The Harley, er Phanthom 1996 Ken head mold.
I didn't mention any of the Barbie/Ken gift sets in my Barbie Bazaar articles except for the Star Trek Gift Set. The reason I mentioned it is because it was intricial in shaping the "collectibles" future for both Barbie and Ken dolls. I did however mention the Ken/Tommy gift sets in my articles. I also include them in the Ken doll listings on the site, but not on the gift set page. I did this because they are play line gift sets and are not Special, Collector or Limited Editions like most all Barbie/Ken sets.
Q: Saw your "Victory Dance" picture on the Barbie collectibles site. Excellent...I did a "Saturday Date" one at our club meeting, see: LINK. I want to ask your advice on something. I'm putting together an escort for the Fashion Model Barbie dolls, since they've not done a Ken yet. I'm getting the Ricky Ricardo tuxedo...would that fit any contemporary Ken body? And what model Ken or male doll would you recommend? I don't tend to like the rooted hair Kens as much as the molded.
Also, that Canadian photographer Ken...does he come with those studio light stands, or just the dog and camera? Where can one order him?
Any news on Gaultier Ken?
Michael Williams
AKK: The Ricky Ricardo doll uses the updated "Hot Skatin Ken" body mold I believe. It is probably the "beefier" newer one. Sorry, I don't have this set to be sure. If it does use this mold, the arms and legs are longer than a standard 1968 Ken body mold and both are thinner. But I have had success redressing a regular Ken doll (Movie Date Ken) in the Frank Sinatra suit, but I had to cut the cuffs of the shirt so the hands would fit through because it was sewn together. Also the pants were a bit long on him and the socks were way too small. It should work, but you may have to resew the shirt cuffs back together around the bigger hands.
The Mattel Elvis dolls have used both versions of the body mold in question. On the left of each picture is the older Hot Skatin' Ken body mold, and on the right is the newer "beefier" modification to this mold. Costumes made for this body mold need a little modification to fit a standard Ken doll because the legs and arms are longer, and the hands and waist of the doll are smaller. Photos by Stan Chan
The Photographer Ken doll comes with these accessories: Two black camera lens extensions. Three piece black tripod stand. Gray film developing tray. Three pictures that "magically" develop. Tan golden retriever dog with red messenger bag with white dog bone in strap around dog's neck. NOTE: Pictures develop in warm water and disappear in cold water. Camera will flash when button is pressed. Sorry, no studio light stands, but that would have been cool!!

Right: Photographer Ken pictured with neat studio lights and stands.
The Jean Paul Gaultier Ken (and Barbie) is still an ongoing process, and let me stress that everything I have heard about it, is word of mouth. I think several of the prototypes that were submitted by Gaultier have been nixed because the design may have been too edgy, even for the adult Barbie Collectibles line. I have heard that most of the Ken dolls submitted were bald, and one had a nose ring. I still think a Gaultier Ken doll may actually happen, since there is still interested in the project. Besides that, Gaultier is a HUGE Barbie AND Ken collector. Personally, I would like to see a Kenneth Cole Ken doll so Ken could have some decent light weight wool trousers and neat shoes.

Q: Have they ever made a bald Ken doll?
Judy
AKK: Yes, and no. For Dream Halloween 2000, designer Kitty Black-Perkins created a Barbie and Ken gift set called "Dance With Me" with a bald Ken . The picture below has all the details on it. I know Mattel has tried introducing a Ken doll with a buzz cut in the play line from the February 2002 Barbie Bazaar magazine interview with Jim Holmes who is the Senior Design manager in the Barbie Product Design department at Mattel. He says "I did a couple versions (Ken doll) of flock heads and put them in front of little girls and the think it's weird".

Right: "Dance With Me" Barbie and Ken gift set designed by Kitty Black-Perkins.