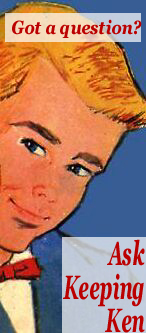 Please submit questions to ask@manbehindthedoll.com and have them answered here. Due to the volume of mail received, I cannot respond to individual e-mails sent to "Ask Keeping Ken".
For previous columns, visit the Ask Keeping Ken Archives

Q
: I purchased a Ken® doll from Ebay that was listed as weightlifting Ken. He came with a barbell and dumbbells. He is dressed in blue shorts with a gold stripe on each side, a lighter blue shirt trimmed in gold and navy. he has matching blue socks and tennis shoes. He has overly large biceps and larger muscular legs unlike any Ken® doll I have seen. Upper and lower body is held together with a rubber band. Legs are bendable, head rotates, arms are in ball sockets, and his hands move to hold the weights. He has brown hair and the cutest smiling face that I never seen on other dolls. Markings on butt are Mattel Inc Taiwan 1968. No markings on head. There was no box. What can you tell me about this doll?
-Phil W.
AKK:
You have All Star Ken
.
As a successor to Sport 'n Shave Ken
®
#1294 (1980), All Star Ken #3553 (Box Date 1981) uses the Big Jim
®
type arms again, including biceps that pop up when you bend the arms at the elbow.

Appearing very macho, Ken
®
is pictured lifting weights on the Pink Box front. The Tan Twist N Turn body is used again, and the hands on this doll are both in a fist to make the weight lifting easier.

If that isn't proof enough, a silver band placed around the bicep can pop off as the muscle enlarges! Unlike Sport 'n Shave's rooted locks, All Star Ken has painted brown hair on the Superstar mold.

His blue eye color is a great match to the robin egg blue shorts with yellow ribbing on the sides, and light blue and yellow ribbed pieced shirt with royal blue cording.

Instantly dating this doll to the early '80's is the calf length light blue socks with stitched color threads (stripes) towards the top.

(I had a pair just like them in High School!) Royal blue tennis shoes completed the macho look.

In addition to the silver muscle band, a weight lifting bar with two each weights (5, 10, 25 lbs.) were included.

Other gym accessories include dumbbells, black racket ball and racquet, jump rope, and a pair of blue tennis shoes.
Q: I noticed you take all of the pictures for your site about the same time that the dolls are released in the stores. Wouldn't it be beneficial to Mattel to send you promotional pictures of upcoming dolls before they are released? This way consumers could see what is coming before the dolls hit store shelves, and you could prepare more in-depth analysis of the products. Does Mattel send you any product information or "samples"?

-Tina B.

AKK: While answering your questions, I also found an answer to my recent gray hair. No, I don't receive any advance notice of products or pictures from Mattel like dealers do from their sales representatives. It would be great to receive those big glossy magazines full of promotional pictures! Seriously, it would be nice to have one each season simply to make the site more professional in appearance (instead of photographing everything myself like a novice), but I would still have to make weekly shopping trips to find the dolls. I basically find out everything the same time everyone else does, and get to the store as quickly as possible to get the items shown here. It's a labor of love that is quite time consuming. I do have readers that work in toy stores that will occasionally inform me of there new Barbie® line listings, and that is about as "advance" as it gets. In answer to your second question, no, Mattel never sends me any samples or dolls for the site.

Q: What one single change or addition would you most like to see produced in the (Ken®) line.
-Janet H.
AKK: What do you want to see? Email me your lists and the most popular items will be added to a POLL conducted on the Keeping Ken Bulletin Board! Please email me before February 28, 2003 to have your suggestion considered for the POLL!