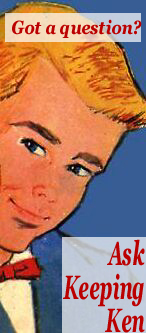 Please submit questions to ask@manbehindthedoll.com and have them answered here. Due to the volume of mail received, I cannot respond to individual e-mails sent to "Ask Keeping Ken".
For previous columns, visit the Ask Keeping Ken Archives

Q:

I just purchased this Doll and NO One can find any info on it the Mattel number is

10308.

If you can help that would be amazing...

Thanks and Be Well

-Beth G.

AKK:

You have a Davy Crockett doll that Mattel produced in 1994 commemorating the 40th Anniversary of the

Davy Crockett

television series that debuted in 1954.

(Continued Below)
A Grandpa Heart head mold from Mattel's Heart Family doll line (1985-1990) is used for this doll (marked © MATTEL, INC. 1986) to resemble actor Fess Parker who played the role. Interestingly, this head mold was brought out of retirement for this doll and has solid painted brunette hair color, very different from Grandpa Heart's black and white hair color combo in 1987.

One of Mattel's more interesting male doll head molds, it features molded wrinkles in the face and forehead.

I included a picture (right) of my Davy Crockett doll so you can see the facial details.

Q: As a doll artist creating my first-ever Ken® fashion, I have to ask, which would Ken® prefer...boxer or briefs?

-Ellen H.

AKK: Boxer Briefs.

Q: Hi there! I must say I love your Keeping Ken site! I've just recently started collecting dolls and your site is a great resource! I know you're not informed in advance about upcoming dolls but I was hoping you might have *some* information regarding the new Scooby-Doo line. I was perusing eBay a few days ago and since I love Scooby-Doo I went to see what was going on. Lo and behold, they have a new Barbie as Daphne doll in her cartoon outfit. Now the description the seller had stated that the "Box reads COLLECT ALL 4,So MAYBE we can look forward to the whole Scooby-Doo gang!" I was wondering if you knew anything about this. It'd be great to see Shaggy, Fred and Velma dolls! anyway, any information you have would be much appreciated!
Thanks so Much!
-Mike
AKK:
Thanks for the nice comments! Actually I had a hunch that Mattel was going to do this line, and reported it back in December 2002. Looks like my hunch was right and I didn't have to say "rut roh".
I have included a picture (below) from Master Collector.com, which covered Toy Fair 2003 (quite awesomely, I might add). You will find a lot of the new dolls in the 2003 line pictured there. The Mattel Scooby Doo™ dolls include Ken® as Fred, Ken® as Shaggy, Barbie® as Daphne and Skipper® as Velma. Each doll will come with a unique collectible flocked Scooby Doo™ dog. Mattel's site says that they will be available January 2003, but you can see by the story above they are just available now (mostly at Wal-Mart stores). Master Collector.com has a video of the dolls if you want to watch it...Go to http://www.mastercollector.com, then click on the "Toy Fair 2003" button and then the "Mattel Collectibles Barbie®" bar for the movie links.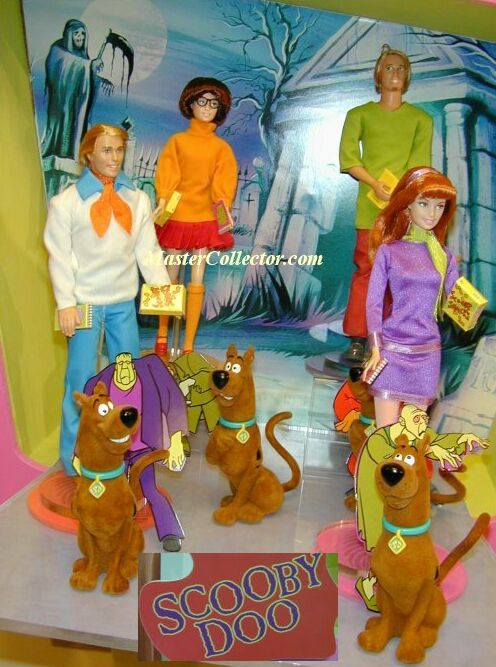 Photo courtesy of http://www.mastercollector.com