Play Along™ (http://www.playalongtoys.com/) continues strong in their celebrity doll line with the A*Teens dolls. Three versions of Aaron Carter dolls have been released in the U.S. by Play Along™ who are best know (to me) for their Mandy Moore and Britney Spears dolls. Company PR states "Play Along Toys offers a wide range of toy and novelty products based on our extensive collection of music and entertainment personalities and brands. Music Industry stars include Britney Spears, Mandy Moore, Aaron Carter, Ateens and many more. Other celebrity lines include those for Pamela Anderson of V.I.P., International tennis champions Venus and Serena Williams, and the film and martial arts legend Bruce Lee. Through our alliances with Yaboom, Yanova, and Art Asylum, we have added many other personalities and product categories to offer you products featuring many of today's hot celebrities and entertainment brands".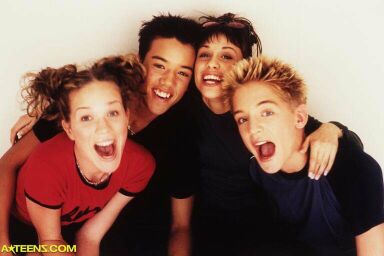 Quality and variety can be found with versions of Dhani and Amit who make up the male counterparts of A*Teens, a musical group from Sweden. This pop vocal group (website at http://www.a-teens.com/), which was assembled in Stockholm, Sweden in late 1998, comprises Marie Serneholt (b. 11 July 1983, Stockholm, Sweden), Sara Lumholdt (b. 25 October 1984, Stockholm, Sweden), Dhani Lennevald (b. John Dhani Lennevald, 24 July 1984, Stockholm, Sweden), and Amit Paul (b. 29 October 1983, Boden, Sweden). The quartet were initially promoted as an Abba tribute band, and enjoyed immediate success in their native Sweden when their cover version of "Mamma Mia" entered the charts at number 1 and stayed at the top for the next two months. The Abba Generation, comprising energetic but essentially soulless renditions of more Abba songs, also topped the Swedish charts and was successful throughout Europe. The quartet spent most of 2000 touring America as support to 'N Sync and Britney Spears, and were rewarded with platinum sales success. The follow-up album did not feature a single Abba track.
| | |
| --- | --- |
| | |
| A*Teens Dhani Lennevald | A*Teens Amit Paul |
| Click image to expand. | Click image to expand. |
While I was not too impressed with the female versions of the A*Teens dolls, the male versions are just as detailed as the three Aaron Carter dolls. The likeness of both Dhani and Amit are dead-on right down to the mole on Amit's cheek. I found the Amit doll more intriguing simply because it will finally provide a much needed ethnic diversity to any doll collection. Like the Aaron Carter dolls, Dhani and Amit are 12" tall and use the same body mold which features articulation at the ankles, knees, wrists, elbows and shoulders. It has a twist waist and the legs are ball jointed. The costuming is also of great quality with details on the denim jeans (it's real denim) and cargo pocket pants.
I have only located these to dolls on the KB Kids website (http://www.kbkids.com/index.html), although they may be available in stores later.