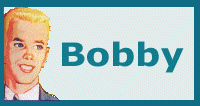 Keeping Ken

Keeping Ken Ken News!

keeping Ken Bulletin Board
This is a complete listing of Bobby made in 1987. I will include Name, Model # (M#), Box Date (BD) and Hair Color (HC). I am adding Clothing (C) and Accessory (A) descriptions as well.
Highlighted box is the Bobby doll I keep.
A Brief History of Bobby
The unrealistic world of Bobby starts in a completely different time period than his 1988 appearance. To understand Bobby, one needs to understand his beginning and quick trendy end. The character of Bobby is thrust into a world that designers at Mattel create for him by smartly capitalizing on music trends of the MTV era. This music trend popularized the '80s. Mattel follows the Rock music theme of 1987's "Barbie® and the Rockers," with another different music theme in 1988. By this time, Mattel had decided that it was definitely cool to be in a band. Inspired by late fifties music, "Barbie® and the Sensations" are the "singing sweethearts with the cool sound". In America it was an all girl band, which consisted of Barbie® # 4931 (which includes a cassette with her hits), African American Belinda™ # 4976, Asian Becky™ # 4977 and Caucasian red head Bopsy™. Each girl comes with '50's era inspired outfits that include saddle shoes, bobby socks, sunglasses, microphone and brush. The outfits are given a definite '80's update with a lot of metallic color accents.

In the era of Rock music you may wonder why this group is inspired by the music of a by-gone era. Exactly why were these girls dressed like "bobby-sockers" of the fifties? Most of the answers come from the video called "Barbie® Sensations, Rockin' Back To Earth". In 1987, Mattel will release a fully animated video called "Barbie and the Rockers Out of this World" (Volume 1) ©1987 by Hi-Topps Video, that stars the "Rocker" band. (See the Derek page). The following year in 1988, "Barbie® Sensations, Rockin' Back To Earth" (Volume 2) ©1988 by Hi-Topps Video is released. Approximately 55 minutes long, it contains the original video ("Out of this World", Volume 1) and a new story. The new story line is an important factor in trying to figure out the entire "Sensations" doll line.

Barbie® and her band, the "Rockers", rocket into outer space and star in their very own magical musical adventures having "the time of their lives". Then they travel back to the 1959, where they are inspired by the musical styles of the time. This new part of "Barbie® Sensations, Rockin' Back To Earth" continues the life of the Rockers band. It does not introduce the new members of Barbie® doll's band the "Sensations". Another Mattel mystery goes on the record. Why didn't Mattel use the "Rockers" name on the video since they were the band featured in the video traveling back into the fifties? Whatever the reason, the fifties theme is adopted (or copied) from the "Rockers" for the "Sensations". The "Sensations" carry all the themes in the actual doll line that the video provided.

BELOW: Cover of the Barbie® Sensations "Rockin' Back to Earth" video.

Called "Barbie® and the BiBops" on the international market, things change as the girls switched or change names. Barbie® remains the same, Belinda is not produced, Becky becomes Bibi and Bopsy changes her name to the domestic version Becky. With Belinda doll's disappearance, the male character of Bobby is added. It is important to note that the BiBops line is available in France, Germany, UK and Italy, but Bobby is only available in France and is hard to find domestically. The BiBops packaging is different, with Bobby taking the caricature drawing of Belinda doll's place.

ABOVE: BiBops Bobby came with one extra fashion that was sold separately in France.

Bobby is a pretty special version to collect and uses the 1986 Ken® head mold. This head mold is only used on two other versions of Ken®; Jewel Secrets Ken and Rocker's Ken, with Bobby doll's version using a rare rooted auburn hair color. The combination of hair color and head mold makes him very desirable from a collector's standpoint. But exactly who is Bobby? Where is he from? Questions no one really knows the answers to. In retrospect, Bobby doll's looks can be attributed to an extension to Ken® doll's stint in the Rockers band. They do share the same head mold after all. Rocker Derek lived on vicariously through High School Dude. Ken® is continued too of course, but don't you often wonder where Bobby actually went?

Bobby carries a distinct, almost mysterious personality of his own. His personality is one created by the collector, not from a media source. Bobby doll's legacy is left unknown. So what does Bobby represent? Bobby represents strong emotional bonds with his collector. Not so much for his differences, but for his exclusiveness. While his one version makes history as the last use of 1986 Ken® head mold, his disappearance is like a change in trends. Bobby represented a fad, and when the fad fazed, so did his character. His memory will forever be captured in what he represented. When the right trend needs to be exposed again maybe Bobby will come back to us. Until then he'll stay in his secret chalet in France. Bobby is the Barbie® doll friend that people really haven't discovered yet; or in some cases, discovered in their own recent past.
Barbie and the BiBops Bobby

M#: 4960 BD: 1987 HC: Rooted Auburn. C: One-piece with purple metallic pants and sleeveless silver metallic top. Neon yellow "satin" jacket with white sleeve (same yellow trim at cuffs) with a musical staff, notes and two trumpets (one blue, one orange) emblazoned across front. A: Purple tennis shoes. Sheer white sparkly socks. Purple brush. Black sunglasses (in the visor style). Black microphone.
Bobby, Barbie, Belinda, Becky, Bopsy and Bibi are registered trademarks of Mattel, Inc. These pages are neither affiliated with, nor a representative of Mattel, Inc. Material provided on these pages do not in any way reflect the opinions of Mattel, Inc.