This Feature Story appeared in the Keeping Ken Ken News! on January 14, 2001.

Keeping Ken

Keeping Ken Ken News!

Barbie® as Jeannie from I Dream of Jeannie™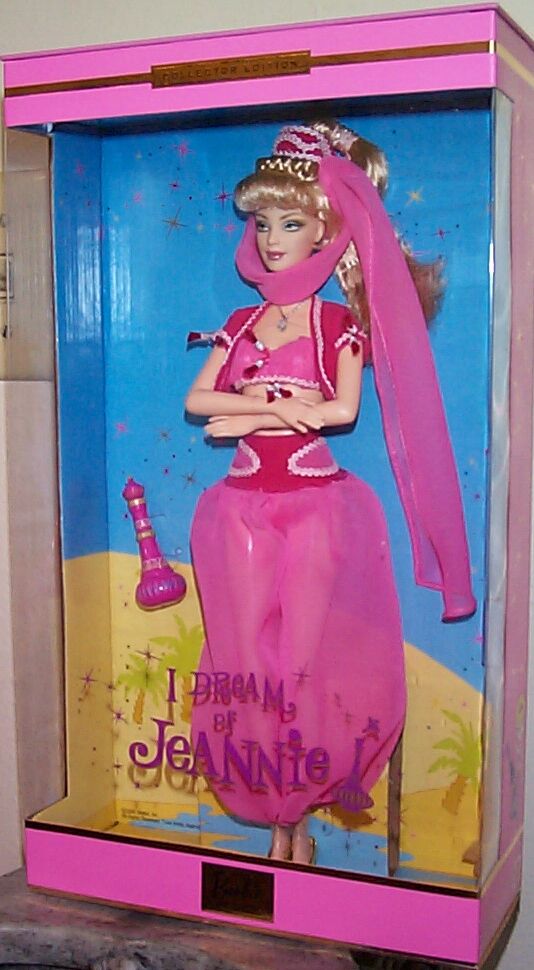 This will be the second story about Barbie® I have written for Keeping Ken. Your comments were positive the last time, so I am trying it again. I developed a love for the Pop Culture™ series when I spotted (and eventually bought) the Star Trek Gift Set. I still am one of a few people who happily paid full price for one. When it was overly produced, the $75 I paid quickly bottomed to a secondary market value of under $30. While the secondary market value has remained the same, the Star trek Gift Set will always be remembered as a lesson for Mattel. After all, this version ultimately determined how many versions should be made for Limited and Collector Editions afterward. Mattel eventually decided that to have these Editions be truly collectible, they needed to stop the mass production of them. So in a way I feel I paid for a little history as well. Not that it mattered then (or now), I still love this set!
The Pop Culture™ series is the only series from Barbie® Collectibles™ that includes the bulk of the male dolls. It also umbrellas some of the most popular series. From Avon™ to Ball Room Beauties™, this series packs in different tastes for every collector. Coca-Cola Ken, Harley Davidson Ken, Addams Family Gift Set and Barbie & Kenny Country Duet Gift Set are just a few versions you can find Ken® doll in. They are also versions I could add to my Ken® collection. I decided to add Barbie® as Wonder Woman (after the disappointment of Ken® as Steve Trevor not being included) to my collection last year. As it turns out, she was a must have for my limited Barbie® collection. So I did a story, and the rest is history.
You may remember that the Wonder Woman series starring Lynda Carter on television was an event for me as a child. I was completely glued to the set, till the timely, hokey ending. I Dream of Jeannie was the other series like that for me. (The third is I Dream of Jeannie's nemesis Bewitched, which is certain to be future version). I watched completely absorbed till it ended, fantasizing I could still blink any problem away. I remember cheering the producers for letting Anthony finally marry Jeannie; then later booing them for letting it ruin the show. Now you know why Ken® and Barbie® will never get married. Obviously I was pleased when Mattel announced that the I Dream of Jeannie television series was next. I thought, "were they reading my mind? Another girl doll I want to purchase in the same Barbie Loves Pop Culture series?" The answer was "yes!" Mattel delivers again, with what I now refer to as "my fifth official Barbie® doll purchase!" I just had to have it! Barbie® Collectibles™ describes this version "with arms crossed and just a wink and a smile, Barbara Eden portrayed one of America's favorite TV characters, Jeannie, from the popular sixties television show, I Dream of Jeannie™. From her adorable pink costume to her famous Genie bottle, Barbie® doll as Jeannie is an authentic reproduction of the television character. Her flowing blond hair is pulled up in an elaborate ponytail that is wrapped with a hot pink hair band. The sheer pink veil wrapped around her head adds playful charm to her flirtatious nature. Barbie doll's arms have been specially sculpted to attain Jeannie's signature pose".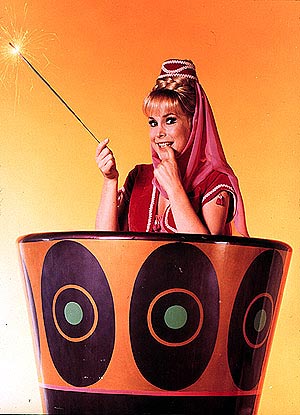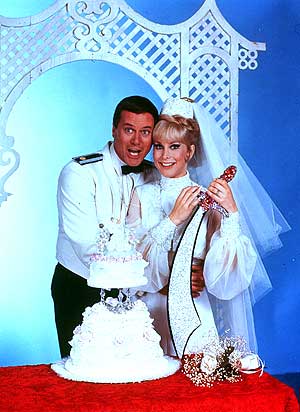 ABOVE LEFT: This picture of Barbara Eden as "Jeannie" is incorporated on the back of the box. ABOVE RIGHT: Ultimately Jeannie's marriage to Major Anthony Nelson killed the show. Ken® as Major Anthony Nelson would have been a nice addition to this set.
The costume for Jeannie is an absolutely wonderful reproduction of the original, but could have been more authentically detailed at the waist line. It is pretty close, but not close enough. Attention to detail was paid throughout the rest of it down to the tassels. Mattel has even added metallic gold flat genie shoes, although Jeannie will be forever perched on her toes. I was very pleased with the doll's outfit! The bottle is authentically cast and painted as well, but pink color based. I wondered why. Surely it could have been cast in black (or even dark brown) plastic and then painted.
Barbie as Jeannie is a dead-ringer for actress Barbara Eden hands down! The likeness is very well achieved through the artistry of the facial paint (although I was surprised her one-of-a-kind arms had hands with unpainted fingernails). While the hair on this doll must have been a challenge, I was somewhat disappointed that the bottom of the hair fall was not in a hard curl. Even at that age I knew that wasn't Barbara Eden's real hair. For the show, I imagined the hair fall must have been attached inside the genie cap somehow, and she had to have that cap attached to her real hair for each episode. I guess what I was really expecting was the fall to look "fake" like the original, but Mattel chose a more realistic "attached to the scalp" look. In my opinion, the fall looks unfinished and choppy. The rest of the style is great right down to the pin curls on the sides!
This doll was inspired by actress Barbara Eden's portrayal of the character. A mini tribute is on the back of the box. However the Barbie® as Wonder Woman is not inspired by actress Lynda Carter's portrayal. I can only assume this is because Mattel's license is with DC comics, not the producers of Wonder Woman television series. Eventually this may prove to be a wise decision if Mattel decides to continue to produce doll versions of the DC Comic characters. I have a strong feeling we may eventually see a "Cat Woman" from Batman and "Betty" and "Veronica" from Archie, through this licensing agreement with DC Comics. Of course that is just one of a myriad of doll ideas. A perfect vehicle for the return of the original Alan would be as "Archie" with Ken as "Jughead" or "Reggie". Personally I would like to see "Reggie" since "Jughead" only dated "Big Ethel" when forced to. Don't forget about "Big Moose" or the spin-off "Sabrina the Teenage Witch," which would not be in the likeness of actress Melissa Joan Hart. I think Mattel needs to do the entire Archie series! And what about Josie and the Pussycats? This set is crying out for production!
If Mattel is going to continue to do the "TV Land" type characters, I would love to see more Gift Sets! Why couldn't the I Dream of Jeanie GS include Major Anthony Nelson? Wouldn't you buy Starsky and Hutch or Gilligan's Island dolls? Of course the field is wide open and Mattel is the only company that consistently captures the details collectors thrive on! Lets hope the Pop Culture™ series continues to provide the dolls that male doll collector will find interesting. The only way to do this is to keep including male dolls in this series!