The second version of Allan® (now spelled Alan) debuted in 1991. His appearance was as Groom in his own marriage to Midge®. A completely new head mold is created just for him. After the Wedding set, plans at Mattel carried both Alan® and Midge® in their own line after this brief reintroduction back into the Barbie® line. In effect, Alan® and Midge® would create their own family to replace the now discontinued Heart Family line which never had a clear tie to the Barbie® line. 1992 Barbie® fashion booklets even pictured the happy couple with their twin infants. To the dismay of MANY collectors, the Alan, Midge with infants set never made it into production. To the dismay of some collectors, so did Alan. There is never any mention of the marriage either in new Midge versions.

Like the first Allan, there are also two camps concerning the demise of the second. While most Midge collectors wanted to see Alan continued, ardent Ken collectors did not. Unfortunately, Alan's reappearance put Ken doll's future in jeopardy as test marketed consumers preferred the new dark handsome head mold made for Alan far better than the 1988 Ken painted blonde mold. In a nutshell, the new Alan became an overnight sensation. This year would be the beginning of a literal onslaught of new Ken head molds as Mattel struggled to return an identity to Ken. Five new head molds are created for him in 1990-1991 alone, and most are released in the following year. Not only did this further Ken doll's identity crisis, it made his future based on consumer test marketing bleak.

Beth Owens suspected that she was not alone in wanting to see Mattel follow through with Midge's family. She convinced Miller$ to let her run a poll of the readers to see what people wanted. "Most readers wanted the family," she said. "Most readers wanted to see Alan reintroduced into the play line. And, after repro Francie® and Midge, Allan was one of the most requested characters that collectors wanted in the vinyl repro line, even ahead of Ken! What broke my heart was that I discovered, through these Mattel contacts, that Midge and Alan were supposed to branch off into their own line, sort of like the Heart Family, and that EVERY innovation we saw in baby Kelly® and such, from the magnets in her hands allowing her to hold things to the itty bitty potty, was supposed to be for Midge and Alan's twins. WHY wasn't the line carried through? Because supposedly focus groups didn't like the idea of a character other than Barbie getting the attention. Gut level, I wonder if it was because Mattel had no confidence that any dolls other than Barbie and Ken would carry any weight."

Whichever camp you were in in 1964 or 1991, the stakes have changed. I can't think of any reason why Allan's character shouldn't be introduced back into the Barbie line. There is certainly no question to the fact that this is what collectors want! For whatever reason, we feel at home with Allan, and his transition back into the line should be easy. I would like to see Allan reintroduced in the same way he was in 1964. Introducing him simply in the swim line would be preferably to me, instead of a "splash" like 1991.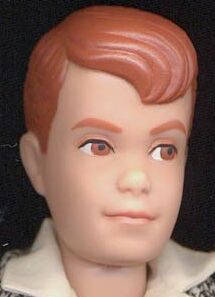 Here are some of your ideas:
Beth: Would a petition work now to get a repro Allan or a new Alan in the play line? I don't know. I loved the vinyl repro Midge and thought she was far superior to any of the Barbies (Midge's revenge, bwahahahahahaha!) and since Mattel still has that face mold, they might as well do more vinyl repro Midgies. Frankly, I want to see a humongous gift set, like a repro of the Wedding Day set with bride Barbie, Groom Ken, Midge in Orange Blossom, Skipper as the flower girl, Allan as Best Man (but with a YELLOW tie and cummerbund so it looks like he's at the same wedding as Midge) and even Ricky in a miniature version of Allan's duds. Would I pay good money for that? You betcha! And I have a hunch I would not be the only one to do so, if all the dolls are done well.
Nadia: It would be nice if Mattel introduced Allan into the beach-line (at least), but I hate those straight PTR arms (I know, there better than NOTHING!). I'm really confused about the statement: "Allan didn't sell that well in the '60s so we don't want to do a (porcelain or vinyl) reproduction now." What I'm trying to say is if most collectors want to see the return of Allan shouldn't the demand play an important factor in regards to whether Allan should return to the line or not? I would have LOVED it if Allan and Midge branched off into their own line... But it's kind of like a double-edged sword. Mattel seems to want their dolls to succeed but how can they be given that opportunity when all the attention is focused on Barbie? (I want to see Allan with two-toned rooted auburn hair, dark brown eyes and a closed mouth face mold reminiscent of the classic 1964 Allan.) I really don't know if Allan will ever come back...
Omar: I noticed that the Military Ken head (Air Force Ken for example) looks a bit like vintage Allan. If you wanted to make a "new" Allan, you could just repaint that style head in red.
Joel: I think Ken needs his own series like Barbie's fashion model collection, named the Ken Hot Model series. This time Ken will get modern, cool clothes that are worn today, with a special collector's request line of clothes. Allan comes back as Ken's photographer, with his own line of clothes as well! Then there's the one of a kind car, a runway with speaker and CD player (this was suggested by someone else), a funky dressing room, a case that opens into a clothing store and a studio with various backdrops.
Mike S: What about Mattel bringing back Allan in a Sherlock Holmes gift set with Ken. Ken as the super sleuth himself and Allan as no other than Watson. They would be dressed in period clothing and have all the related accessories.
Jen: I would like to see Allan return in a "theme" dolls line. The Movie Date Ken would have been great. There should have been a Movie Date Barbie (not Flower Power) Midge and Allan. Nostalgic in the sense that the four are still "double-dating". I would rather see Allan return in a theme line than a swim line because I want him to have rooted red hair!
Scott: I think it would be a great idea for Mattel to reintroduce Allan before his 40th Anniversary. Who wants a vintage reproduction anyway? I want something I can actually play with. I wish they would make a cool looking modern Allan with his own clothing line separate from Ken's!