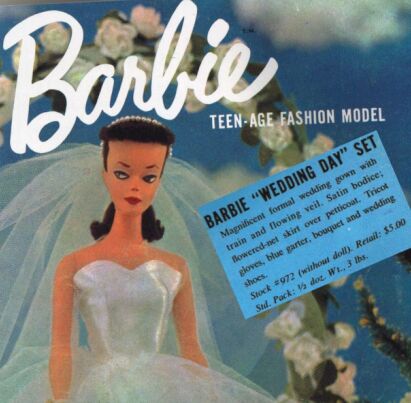 As Barbie is introduced to the American public at the New York Toy Fair of 1959, her earliest fashions were exquisite recreations of fashions of the time. One of the first fashions available was #972 "Wedding Day Set" (pictured left), sold at a pricey $5.00. The workmanship done on the pure white satin outfit made it worth every cent. It included everything from a cathedral train, veil, "something old" pearl necklace (her mother's), "something new" white open-toe pumps, "something borrowed" tricot gloves and "something blue", a garter. While fashioned for the consumer, it would give birth to Barbie doll's greatest debated topic; as collectors examine her history. Tactfully, can we ask is Barbie married? More importantly, is Ken involved? This feature will examine this paradox. It will also examine the history of weddings; dream, fantasy, real or otherwise.

LEFT: Barbie advertising featuring #972 "Wedding Day" Set.

ABOVE: Barbie and Ken television commercial features the two in wedding apparel.
With the introduction of #972 "Wedding Day Set" in 1959, one must immediately exclude Ken from any wedding formula this year. He wasn't even produced. Eventually though, he will be paired with it. The dress will be available through 1962, giving ample opportunity to be paired with Ken fashion Tuxedo #787 which is introduced in 1961, and will be available till 1965. Mattel will feature Ken in a television commercial which pictures him with Barbie in full wedding attire. It is not clear whether he has been led down the isle. (You can see the commercial here: http://www.mattel.com/branded/barbie/). In some collectors eyes, the television commercial will become the symbol of eternal martial bliss, while others argue it proves nothing. It is important when trying to figure things out to look closely at the fashion names. Wedding Day Set does not imply a ceremony. Barbie doll's next wedding fashion, titled "Bride's Dream" #947, will not either.
In 1963, Mattel advertises "coordinated" outfits for Barbie and Ken. Many matched sets are produced including Red Flare/Saturday Night Date #786, Tennis Anyone/Time For Tennis #790 and many more (pictured below). Tuxedo #787 will now be coordinated with #947 Bride's Dream.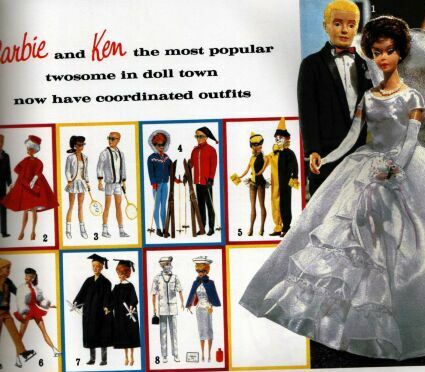 BELOW: The 1964 Wedding Party version draws more characters in.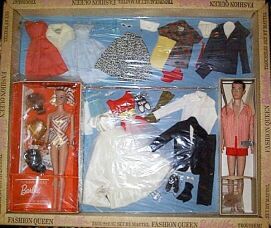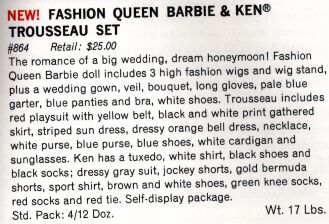 ABOVE: Original advertising for 1963's Trousseau Set.
Mattel will also create a "dream" theme, which will become common in "wedding" versions. What many people don't know is that #947 Bride's Dream Barbie fashion is advertised as "Ken doll's dream of his perfect bride". Therefore, this outfit becomes Ken's dream vision personified. Later, along with #787 Tuxedo, it will be used for a 1963 Gift Set Fashion Queen Barbie & Ken Trousseau #864 (pictured right). This set takes you from the wedding to the honeymoon. Does this Gift Set legitimately marry the two? Many say yes! The box lid actually characterizes the ceremony. Others say no, remembering the bridal outfit name. Many collectors think this Gift Set is Ken's dream wedding vision personified. This may be the only set where Ken's wedding plans (or dreams) are explored. All the sets in the future will be centered around the bride. You can also look at this set from a different angle. By definition, the word "trousseau" means the possessions that a bride assembles for her marriage. Is Barbie gathering the necessary items to prepare for the wedding?
The following year in 1964, another wedding themed gift set will be produced. Wedding Party Gift Set, will feature the same gown and tuxedo as before. This time Mattel will add wedding party members. Midge and Skipper will represent the Bridesmaids. While wedding themed, collectors don't take this version as seriously. Mattel produced seven Gift Sets this year, and it seems natural that one would be wedding themed.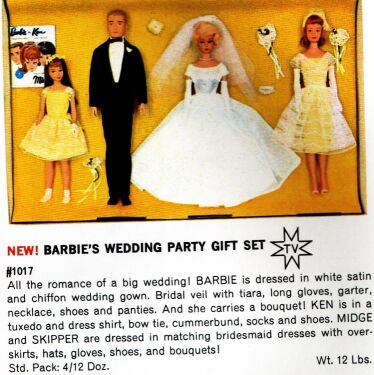 Mattel had figured out that a wedding theme sold well to their targeted consumer. Question is, was Mattel marketing a wedding, or Barbie's wedding? In 1964, High School inspired outfits like Senior Prom and Campus Hero #770 were still being sold. Was the consumer being asked to believe these High School sweethearts were tying the knot while still attending Willow's High?
Barbie's third bridal fashion "Here Comes The Bride" #1665 appeared in 1966. This time around, fantasy or not, there is no mistaking what Ken's ensemble represented in Here Comes The Groom #1426. Even friend Allan's duties were spelled out in his own tailored outfit Best Man #1425. Could these outfits hold the answer to the question of marriage?
Mattel would continue to explore the possibility of marriage as they would continue to market Ken as "Boyfriend of Barbie". As later wedding theme sets are produced, Mattel will play down the actual aspects of their two leading characters actually being married. The themes would take on more of a fantasy or dream type state. Although wedding attire was made for Barbie and Ken throughout the seventies and eighties, it was the Wedding Party Midge Gift Set in 1991 that would revive the Barbie and Ken wedding Gift Set. 1994's Wedding Fantasy Barbie Gift Set is part of that revival, and this version makes it very clear that "Oh well, for now it's just a dream!" Later 1997's Wedding Fantasy Gift Set would play heavily on the fantasy of the marriage between the two. Lately, many single versions of Barbie have appeared in wedding attire. Repro of the "Wedding Day Set", "Millennium Wedding" and the latest Barbie Dream Wedding" (featured below right). There is also a Bridal Fashion line which includes fashions for Ken.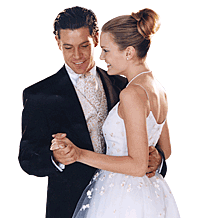 Many questions are left unanswered! Is Barbie and Ken married? If not, will they ever? For the sake of any lingering doubt, the answer is a resounding "no!" Even though the couple have come close, in all reality (away from all the fantasy) our man Ken is still an eligible bachelor. In the marriage field of battle, you will cross the die-hard marriage extremists who insist that they have been married since the sixties. In reality, Mattel will never marry the two, which is why each version is a fantasy or in a dream realm. On this foundation, a marriage between the two has, and never will exist. On the other hand, only Mattel really knows. But isn't this the foundation that has made playing with the two so full filling? Without any fantasy, their world would have halted long ago.

The near unions, and the outcomes:

Fashion Queen Barbie & Ken Trousseau While at the altar, Barbie's father realizes that this could possibly be the end of Barbie's career. Quietly, the wedding is halted. Ken gets to keep his wardrobe.

Wedding Party Gift Set Ken wakes up from his dream.

Wedding Fantasy Barbie Gift Set Barbie wakes up from hers.

Wedding Fantasy Gift Set They both wake up at the same time.

Despite the pit falls (and marketing nightmare) a real marriage might bring to Barbie and Ken, isn't it nice to know you can be in love for forty years?
Barbie Dream Wedding 2001
"If this were my wedding day,
My parents would give me away.
I would walk slowly down the runway
In my wedding dress and under the archway
Our wedding vows Ken and I would say
To love and honor each other everyday.
We'd cut the cake and I'd throw my bouquet,
And dance to the music played by the deejay.
Then we would go on a honeymoon getaway!
Although today is just pretend play
I can't wait for my special day!"
-Barbie Dream Wedding 2001