This Feature Story appeared in the Keeping Ken Ken News! on March 18, 2001.

Keeping Ken

Ken News Feature Archive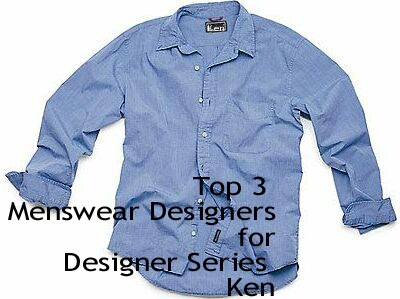 This feature was inspired by the results of voting in a Keeping Ken News Poll. The Poll asked, "Which Menswear designer or brand would you like to see create a Ken® for the Barbie® Collectibles™ Designer Series?
The word is Fashion. Is Ken® ready to enter the world behind the word? Judging from your participation during the duration of the Poll, you were certainly interested in toying with the idea. Another record was broken for this Poll, with 3,674 unique votes. Another 326 votes were excluded automatically for over zealous voters who chose more than the allotted number of designers choices. I stopped the Poll at 4,000 votes...who would imagine. Next time I'll design the Poll with the increased traffic in mind! When the dust settled, a winner emerged. The Top 3 winners were surprising. Up and coming designers were on your mind; not more established and well-known designers. The third place winner, I have to admit, I was not well educated with. But like any learning experience, now I feel like I am. So, which designers would you like to see create a Designer Ken® for the Barbie® Collectibles™ Designer Series?
Your winning choice reflected newness, but was backed with a strong and up and coming Menswear brand. In fact, it's recent history is a lot like Ken's.
First Choice

In 1982, designer Kenneth Cole set out to begin a brand that is known throughout the world of fashion. In the heart of Manhattan, Kenneth Cole founded Kenneth Cole Productions. Today, Kenneth Cole offers shoes and over twenty accessory lines under three different labels. Each collection is manufactured using only the highest quality materials and craftsmanship available, incorporating both traditional and modern elements to provide a unique, sophisticated and urban esthetic. On the cutting edge of fashion, this signature style continues today. Kenneth Cole Productions is trying to step in the right direction. It sells clothes and accessories under the Kenneth Cole New York, Reaction Kenneth Cole, and Unlisted.com brand names. Licensees put the company's brands on such products as men's ties, hosiery, luggage, and eyewear. Expanding rapidly beyond its core shoe lines, Kenneth Cole now has tailored men's clothing and men's sportswear, and it is adding women's and children's clothing. The company markets its products to more than 3,700 US department and specialty stores and has been expanding into Asia and Canada. It also sells through more than 60 stores, a catalog, and http://www.kennethcole.com/ web site. CEO Kenneth Cole owns more than 80% of the company's voting shares.
Cole, the son-in-law of former New York Governor, Mario Cuomo, has been an activist for causes like AIDS research and helping the homeless for some time. The company often calls attention to such social topics in its ad copy. For instance, Fall 2001 read, "Everyone needs to vote for a change. Kenneth Cole."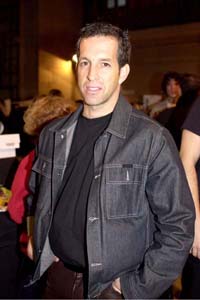 Above: Kenneth Cole during his Fall 2001 Show (Photo by Jennifer Graylock-FWD)
The Birth Of A Shoe Company As Told By Kenneth Cole
from http://www.kennethcole.com/

Eighteen years ago, I wanted to open a shoe company with limited money. From experience I knew one had to get in quickly because so often new companies run out of cash flow before they get the chance to conduct business. I also knew it was easier to get credit from factories in Europe who needed the business than from American banks that didn't. So I lined up the factories, went to Europe, designed a collection of shoes, and returned to the states to sell them.

At the time, a shoe company had two options. You could get a room at the Hilton and become 1 of about 1100 shoe companies selling their goods. This didn't provide the identity or image I felt necessary for a new company, and it cost a lot more money than I had to spend. The other way was to do what the big companies do and get a fancy showroom in Midtown Manhattan not far from the Hilton. More identity, much more money too.

I had an idea.

I called a friend in the trucking business and asked to borrow one of his trucks to park in Midtown Manhattan. He said sure, but good luck getting permission. I went to the Mayor's office, Koch at the time, and asked how one gets permission to park a 40 foot trailer truck in Midtown Manhattan. He said one doesn't. The only people the city gives parking permits to are production companies shooting full length motion pictures and utility companies like Con Ed or AT&T. So that day I went to the stationery store and changed our company letterhead from Kenneth Cole, Inc. to Kenneth Cole Productions, Inc. and the next day I applied for a permit to shoot a full length film entitled "The Birth of a Shoe Company."

With Kenneth Cole Productions painted on the side of the truck, we parked at 1370 6th Avenue, across from the New York Hilton, the day of shoe show. We opened for business with a fully furnished 40 ft trailer, a director (Sometimes there was film in the camera, sometimes there wasn't), models as actresses, and two of New York's finest, compliments of Mayor Koch, as our doormen. We sold 40 thousand pairs of shoes in two and a half days (the entire available production) and we were off and running.

To this day the company is still named Kenneth Cole Productions, Inc. and serves as a reminder to the importance of resourcefulness and innovative problem solving.
So what is it about the Kenneth Cole brand that would inspire designs for Ken®? Kenneth Cole has clean lines that updates traditional styles to an eager 2001 Menswear market. The Spring 2001 line incorporates fashion trends from the past and recreates those themes to ones that are current. From three-button suits to Nehru collar jackets, everything old is new again, but with crisp lines and fabrics.
Kenneth Cole also "names" his fashions, just like Mattel named their Ken® fashions in 1961. Mattel has brought back this practice currently in the Ken® Fashion Avenue™ line. If a designer Ken is created, the Kenneth Cole brand could represent all facets of the Ken design from clothing, shoes and accessories. You may be wondering what it takes to become a part of this series. How will Ken® fit in? What is the Designer Series all about? Here is some background on the BC Designer Series: How to buy a Designer Barbie®! (from http://www.ehow.com/)
1. Know that Mattel has a Designer Barbie doll collection that began in 1990. Several dolls are added each year to the collection by different designers. The 1999 designers were Byron Lars, Bob Mackie, Nolan Miller, Todd Oldham and Vera Wang. 2000 Designers included Byron Lars and Bob Mackie. Same for 2001.
2. Understand that each doll wears clothing created by a top designer who designs the clothing just for Barbie. Each doll comes fully accessorized (including jewelry and fabulous hairstyles). The outfits are truly stunning.
3. Look at some of the Designer Barbies online or in a local store.
4. Recognize that these dolls are collector's items and should not be played with. Their prices start at about $80 and go into the hundreds of dollars.
Kenneth Cole Spring 2001 Line
available at http://www.kennethcole.com/
Items from the Kenneth Cole Online Store Above Left : "Suede for Me" $240.00. Cool and comfortable suede shirt with mesh side panels, hidden snap front and chest pockets. Imported. Above Right: Classic wool blazer with three-button front, flap pockets and chest welt. All wool flat front trousers. Both are fully lined. Made in USA. $525.00 Below: "Easy Rider" $35.00. Antiqued Italian saddle leather belt with satin nickel-finish buckle; 1 1/2" width.

2002 seems like the perfect year to finally add Ken into the Designer Series. His success in the Barbie Collectibles line makes it seem like a natural transition to other series. But will Kenneth Cole be interested in doing a "Kenneth Cole Ken" doll? Will Ken collectors be willing to swallow the higher price tag the word "designer" brings with it?

Kenneth Cole received the most votes in the Poll. Obviously, there is interest not only from a Ken doll point of view, but from a personal view from the voter. The Designer Barbie beginnings usually remind of us a name...Bob Mackie. Mackie's designs are usually fanciful and unrealistic. Other designers have brought realism to the Designer series. I feel that this realism, with a touch of the fantasy, has brought the series to what it is today. While Cole's designs are clean and simple, there is plenty of room for fantasy. Who doesn't want to see Ken in a three-button suit with natural fabrics and real miniature accessories? I think Barbie and Ken collectors both want to see Ken's moment on the catwalk. I think we would readily be willing to pay for a one-of-a-kind Designer Ken doll. Why? For the novelty assured, but mostly for the quality. Most of us see no clear separation from a Pink Box Ken® to a Barbie® Collectibles™ (BC) Ken yet. A designer doll would do that.

It must be a difficult job to merge the talents of a well-known designer with designers on Mattel's payroll. But if Ken is going to continue in the BC line, shouldn't Ken be expanded into more series other than Gift Set series? I think that Ken and Barbie collectors agree that we have embraced Ken's entrance in the BC line. We are more than willing to pay for his presence there. I think most collectors would like to see his presence expand to more of the BC lines. His emergence in the Designer Series would not only create a uniqueness to this line, it would finally place Ken on his own. One thing is for sure, we all hope Mattel will finally follow through on a designer Ken doll!

Above: "Snap Me" Up$350.00. As a shirt or a jacket this smart leather shirt has snap front and chest pockets; fully lined. Imported. Worn with "Chickfactor" $298.00. Stylish leather 4-pocket pant with hidden tab closure; fully lined. Imported.
Above Left: "Knap-kin" $175.00. You can take it with you in this versatile, full leather grain bag with zip-top closure for security. Interior organizer features key clip, pen/pencil holders, and calculator, business card, and zipper pockets. Outside: easy access side zipper pockets, sturdy leather loop for hanging and padded, adjustable ergonomic shoulder straps. Fully lined. Above Right: "Launched a Thousand Zips" $159.00. Mod zip-front jacket in a nylon/cotton blend. Imported.

Above: Models show part of the Kenneth Cole Spring 2001 line.
Second Choice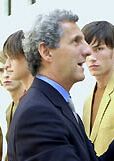 Hailed as the quintessential American designer, Joseph Abboud's Menswear collections have been receiving both critical and commercial acclaim since their inception in 1986. With a sophisticated design statement that bridges the gap between American and European fashion, Abboud has honed a style he defines as "Modern American Classic", which merges function, style, and comfort in a seamless expression of masculine elegance.

Two years after introducing his label, Abboud joined forces with GFT USA Corp., a subsidiary of the international conglomerate Gruppo GFT, to form Joseph Abboud Apparel Corporation. It has been a spiraling ascent ever since. In four short years he captured all of the industry's top honors, including Menswear Designer of the Year two years in a row, (1989 & 1990), from the Council of Fashion Designers of America, (CFDA).

Under the current licensing arrangement between Joseph Abboud Worldwide, Inc. and GFT USA Corp., GFT manufactures and distributes a wide range of Menswear products, including formal wear, tailored clothing, furnishings, and sportswear, under the Joseph Abboud diamond and rectangle label. Other licensed products include men's footwear, accessories, eyewear, fragrance, as well as a bed and bath collection of home furnishings.

Worldwide, Abboud's men's collections are available in Canada, Mexico, and Australia through distribution agreements; in Jakarta, Indonesia with a freestanding Joseph Abboud store opened in January 1996 and throughout Japan via a licensing agreement with Onward Kashiyama signed in 1995. To date there are sixty in-store boutiques in Japan. Abboud's Menswear is also available in select stores in Hong Kong, Taiwan, Singapore and Amsterdam.
Above: Models show part of the Joseph Abboub Spring 2001 line.
Third Choice
neil barrett
It's just a year ago since Neil Barrett launched his own-name label but already he's being hailed as a fashion boy wonder - not surprising when you look at his background. With a rich mix of talent and luck, Barrett left college in 1989 (he studied at St Martin's and then did an MA at the Royal College of Art) and walked into a top job at Gucci. The Italian giants were so impressed with his graduation collection they appointed him as Senior Menswear Designer - not bad for a lad from Devon with little previous experience and a West Country lilt.

Five years later, Barrett moved to Prada Uomo as Design Director. He'd approached Prada and suggested they develop a Menswear division and, after mulling the idea over, they gave Barrett the main responsibility for design. He stayed at Prada Uomo until 1998, and just a few months after leaving, launched his first own-name collection.
Instantly and without backing, Barrett achieved what it takes most designer brands years and millions of quids to do. The collection was bought by over 100 designer stores worldwide and everyone (especially the American buyers) loved the intelligent, quirky but totally wearable gear.

A collaboration with luggage label Samsonite enabled Barrett to develop his design ideas even further. The Family Travel Wear Summer 2000 Collection is inspirational. Gilets (with foldaway hoods) turn into rucksacks, Walkie Talkie jackets feature foldaway hoods, ear pieces and walkie talkie pockets and Travel Jackets come with inbuilt travel pillows and eye patches.

For winter 2000 and his first catwalk outing, Barrett has created both a Menswear and a womenswear collection. An assortment of restrained and wearable pieces, with subtle detailing, eased their way down the runway.
Above: Models show part of the Neil Barrett Fall 2000 line.
Fashion meisters are often slated for creating attention seeking clobber but gimmicks are conspicuous in their absence from Barrett's collections. He says he "dislikes feminine clothes for men" and his signature pieces are always subtle but straight-forward. No shocks or new takes on men in skirts just a slim, comfortable silhouette in a mixture of techno (some matte, some iridescent) and natural fabrics.

This translates into thick, bonded leather dress jackets, jackets with internal belts, wide leg trousers - ankle skimming or calf length - and cable knits. Wintry shades - browns, greys, burgundies - were punctuated with splashes of red and lemon. On paper it might sound a little too restrained. Although, how often do you see a guy in sheer pleated shirts, orange leather biker jackets and gold and red velvet pants? All of which were shown at the recent Menswear shows in Milan. Barrett's Womenswear is pretty much identical to his Menswear, except for the sizes.
With a core staff of just 12 people and a self-financed business, Neil Barrett has got his feet firmly on terra firma. Watch out lazy corporate designers (Ralph and Tommy
listen up) Barrett could be big time in no time.
CHOICES
So there you have it! Your Top 3 Menswear Designers choices for Ken. If you take anything from the Poll results, remember what is most important...thousands of you expressed interest in seeing Ken® being added into this series. Your voting created the marketing behind a beginning. Questions and choices still remain. Will we ever see one of these three talented designers create the first designer Ken® doll? Will the Mattel Barbie Collectibles™ follow through with a Designer Ken®?