This Feature Story appeared in the Keeping Ken Ken News! on March 25, 2001.

Keeping Ken

Ken News Feature Archive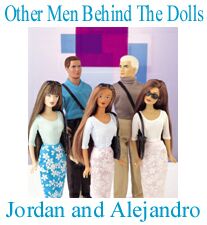 Integrity Toys, Inc. and Hamilton Toys, Corp. have both been known for dolls dedicated to the world of multicultural beauty. On December 8, 2000, Integrity Toys, Inc. announced that it had obtained the licensing rights to design, manufacture, and distribute the Candi® doll and collections from Hamilton Toys, Corp. In a doll-eat-doll market, Candi® will bring some panache back to their fashion doll line. The tradition will be continued and the new Candi® Collectibles line will even include new ethnicities, as well as wonderful new skin tones. Candi® will rub shoulders with Integrity Toy's own divas Janay®, Alysa® and Jade® who have made quite a splash on their own, without the help of tradition. Alysa® has been pampered the most, with exquisite designs made just for her, from Integrity Toys Collectibles head designer Jason Wu. But behind the Integrity "three" (and now four) there is a story. This story is about two characters that are trending as fast as their female counterparts. In 2001, Integrity is betting that you will soon find these characters in your home. Truly "the men behind the dolls", both characters are male and want to grab a piece of the 2001 "Year of the Male Fashion Doll" prize.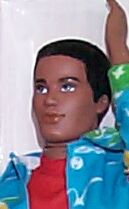 Jordan®
The first male character created was named Jordan®. When first introduced in the Integrity toy line, he played two roles, in two different lines. Jordan (who usually appears as African American) is paired with the Janay character. Several different bridal gift sets were created in cultural and traditional fashions.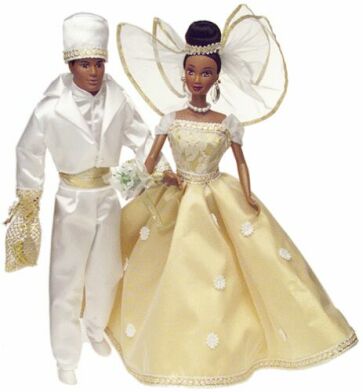 Above: 2000 Janay and Jordan Royal Heritage Wedding Gift Set.
His tougher qualities were showcased in his very own "Jordan® Action Adventure" line in 2000. "Join Jordan® and be a loyal citizen by protecting your country. Jordan comes in six various outfits and ranks of the armed forces. Accessories vary according to rank and outfit". At $9.99, the collection is now sold out.
For now, Jordan® is dropping his Military might in the 2001 line. For the first time, he is being released in his own box, along with friend Alejandro®, in the female fashion line. It is interesting to note that Integrity does not give the doll line a name, although they do name the doll campaigns. No single female character carries the line, so I refer to the line as Integrity Fashion Dolls, when mentioning them. But most collectors like to refer to each female doll as a line of its own. The company itself uses the specific female name first, when introducing the line. For example, "Introducing Alysa® Simply Chic And Pręt-á-Porter Fashion Collections By Jason Wu".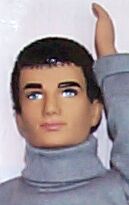 Alejandro®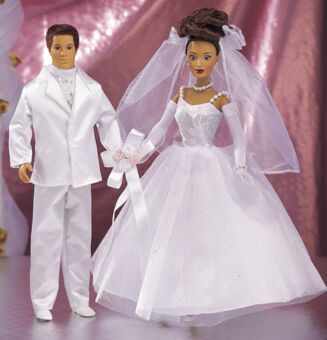 Above: 2000 Alysa and Alejandro Wedding
Together with Jordan®, Alejandro® snuck into the line last year, and he is paired with Alysa® in holy matrimony. "Alysa® and Alejandro® are college sweethearts who graduated and will now be married. Alysa® wears a beautiful white bridal gown and Alejandro® has a matching white tuxedo. Join us in extending best wishes to the new couple". This was the text to accompany him into the world of Integrity Dolls. Alejandro® will also step out on his own in 2001.
With the limited amount of research material I could find on the subjects, by all accounts, Alejandro appears to be a Hispanic character in the line, and his girlfriend is Caucasian. That leaves no boyfriend for Jade®, who is Asian. Maybe we will see an Asian boyfriend for Jade® next year? Mattel might prove to be the winner in this race if they follow through with the Generation Girl™ Trevor doll.
So where do these guys stand in 2001? Will they be mere men behind the dolls? Will they step out in style and be remembered in 2001? This is a first look at their first appearance alone in the Integrity Fashion Doll line. You can decide for yourself!

2001 Jordan and Alejandro "In Style"
The first thing to realize about the "In Style" line is that you're probably going to find a lot of variety. I found two versions of each dressed differently. There may be many different versions found in your area. The clothing patterns are the same, but different fabrics are used. The accessories may vary too, and it states on the cardboard CD that "some accessories may not be included in each package". Included in each version I bought were the lap top, mouse and cable. There wasn't a cellular phone, palm organizer (with pen) or camcorder. I thought these accessories were probably included with Janay, Jade or Alysa, who are also in the "In Style" line. Also included with the guys are shoulder bags in different colors. You can see below that I actually found a Jordan® , in an Alejandro® box.
What makes all this variety neat is the fact that the dolls themselves are also different. One Jordan® has brunette flocked hair, the other has black. Same with Alejandro® , but Alejandro® had different shin tones as well. It is these subtle differences that make collecting them unique. Impossible to collect and keep track of variations, both guys are great deboxers. Standing 12" high, they can share clothes with Ken® and add a new face to the loose collection.
One note of caution though. If you are looking for construction quality, you probably won't be interested in these guys. The line will hopefully improve as it grows. I found irregular mold patterns and a lot of mold "pour-over" and unfinished edges. The Jordan in the solid blue V-neck (pictured above left) arm was out of the socket, but it was easily fixed. You can see I took the picture before I fixed it. These dolls need to have more stringent quality checks on the mold pouring. But for deboxing and especially displaying, these are fun guys to have around. At $10 a piece, you decide!
| | |
| --- | --- |
| | |
Next up for the guys is "Jordan & Alejandro Vacation Fun" which looks to be interesting. Both dolls are shown flocked with blonde hair and come with "vacation" accessories for a mountain trip. Look for them to be in stores later this year. Jordan® and Alejandro® "In Style" have been available at Toys 'R' Us since early February. The only word from Integrity Toys about the release of Jordan and Alejandro is this: "Look for these exciting male dolls that now have a better facial paint, casual outfits, and accessories. These male dolls will compliment any of your 11 1/2" fashion doll". I think they will compliment your 12" male fashion doll collection as well!