This Feature Story appeared in the Keeping Ken Ken News! on February 12, 2004.

Keeping Ken

Ken News Feature Archive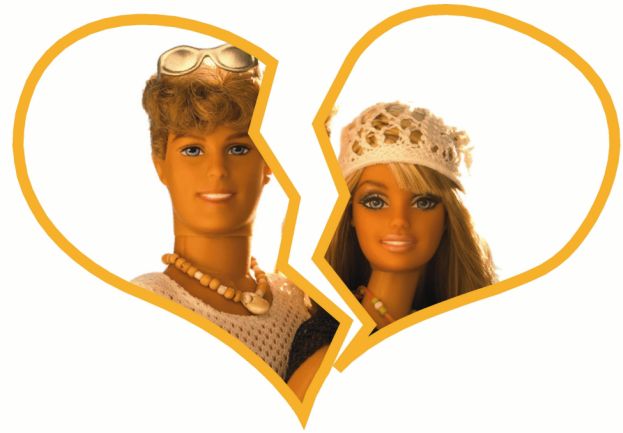 THE STORYBOOK ROMANCE COMES TO AN END FOR BARBIE® AND KEN®
The Break-Up of the Millennium for the "Doll" of a Couple
(Official Press release from Mattel) MALIBU, Calif. (February 12, 2004) – After more than 43 years together, Hollywood's quintessential "doll" of a couple, Barbie® and Ken®, have decided to spend some time apart. Although Barbie® has befriended some of the world's most famous celebrities, from popular boy bands to super secret agent spies, Ken® always remained her #1 sweetheart. After all, Ken® has been Barbie® doll's biggest supporter for more than four decades, by her side from her early career as a teen fashion model to her recent turn as movie starlet. Their relationship was so revered that other successful celebrity pairings were often dubbed "Barbie® and Ken®."
The legendary romance of Barbie® and Ken began when they met on the set of their first television commercial together in 1961. Since then, their relationship has played out much like a Hollywood fairytale. Barbie® and her beau have captured the essence of romance so perfectly with their replications of classic characters such as Scarlett and Rhett ("Gone with the Wind") and Romeo and Juliet ("Romeo and Juliet") to more quirky roles such as Bond and Bond Girl ("James Bond") and Lily and Herman Munster ("The Munsters.") More recently, the dynamic duo played Arwen and Aragorn from "Lord of the Rings: The Return of the King." The picture-perfect pair's talent and love for one another can also be seen in three consecutively successful No. 1 movies: "Barbie™ of Swan Lake," "Barbie™ as Rapunzel" and "Barbie in the Nutcracker.™"
"Barbie® and Ken® have always been an extraordinary couple with so much on- and off-screen chemistry," said the pair's business manager, Russell Arons, Vice President Marketing, Mattel. "In fact, they just finished wrapping their fourth movie together, 'Barbie™ as The Princess and the Pauper,' which debuts this fall. And now they feel it's time to spend some quality time -- apart.
Since making her worldwide debut in a bathing suit on the Malibu shores in 1959, Barbie® doll has gone on to become a pop culture phenomenon, but not without her leading man cheering for her. Now that she's newly single, however, Mattel is marking the major transition with a whole new carefree and independent look reminiscent of her California roots. Sure to turn Barbie® doll's world upside down, her sassy and fun "Cali Girl™ doll" look debuts this Spring with engaging storylines, trendy accessories and great fashions that extend beyond swimsuits.
Although their future is yet to be set in "cement," one thing is for certain - Barbie® and Ken® will always remain the best of friends.
STATEMENT ON BARBIE AND KEN'S RUMORED BREAK-UP FROM HER NEWLY-HIRED NYC CELEBRITY PUBLICIST, KEN SUNSHINE (also a representative for Ben Affleck):
"I never comment on my client's personal lives, but I will tell you that Barbie and Ken will always remain the best of friends. She looks forward to spending more time at her Malibu beach house with close friends and family, and concentrating on her budding film career. So at this time, we ask that you respect her privacy."
KEN'S STATEMENT THROUGH HIS MANAGER AT MATTEL, RUSSELL ARONS:
"Barbie and I have decided to spend some time apart. People often joke about my role as 'Mr. Barbie,' but I wish her all the best in her new endeavors. She's got a great new look and so many opportunities on the horizon and I am confident that we'll continue to keep a long-lasting friendship."
2004 Cali Girl™ Product Line
Barbie® — oh, to be "born" in the sunshine. In 1959, Barbie® doll made a worldwide debut in a bathing suit. And, Barbie® doll has been a Malibu celebrity for decades. Talk about the ultimate "Cali Girl™!"
Meet "Cali Girl..." more than just a doll, it's a lifestyle. The embodiment of the ultimate way to surf the day away and hang with friends 'til the tide goes low. And, this Cali Girl™ and her friends are truly livin' la vida Cali with all the threads to go from bikini and board shorts by day to casual glam by night.
It's a Spring Break-Up for Barbie® doll! As the ultimate beach blonde hits the sun with her friends, the surf isn't the only thing hittin' the rocks…so is a long-time romance. No one knows for sure what's making waves in her love life, but it's sure to set a tsunami in motion! It's all the talk at the slammin' Surf and Skate Shop and Pool. And when the gang cruises around in their Beach Blast™ 4X4, the rumor mill fuels the engine and revs up the question of what's to come with the long-time California couple.
Cali Girl™ Dolls Barbie® , Christie®, Teresa®, Lea™, Ken®, and Steven®
When the sun rises, so does the style of these beach-bound gals and guys. Lookin' summer chic, this crew may have stepped out of the pages of the most recent surfer magazine! ARP $5.99 AGE 3+ AVAILABILITY January 2004
Cali Girl™ Pool Playset
The Cali crew is ready to cool their toes and sun their faces around the Pool Playset. While the gals practice catching a wave with the pool's "wave pump," the guys chill with a snack and build sandcastles. And when it's time to call it a day, there's a handy shower for them to rinse off the rays. ARP $19.99 AGE 3+ AVAILABILITY January 2004
Cali Girl™ Beach Blast™ 4X4
The Beach Blast 4X4 is always fueled up for fun in sun flash yellow. It's the perfect way for the Cali crew to cruise the day away watchin' out for the best waves. ARP $9.99 AGE 3+ AVAILABILITY Spring
The summer may be over, but the fun never sets in California! The Cali Girl™ crew keeps the ocean nights alive. But it's a "studded" smash when the gals hit the pier and get their ears pierced. One, two, three pierces…maybe one earring for each crush the girls have had this summer? Only the girls know for sure! But one thing is certain – there's a new love in store for the Barbie® doll… Cali Girl™ So Excellent Earrings With 16 different pairs of earrings and more than 60 combinations to create, the Cali Girl™ crew has more than enough bobbles to accessorize the sun-kissed lobes! ARP $14.99 AGE 5+ AVAILABILITY June 2004
Blaine™ Doll
Who is this hot new man? Was it his sun-bleached hair or surf-bronzed skin that caught her eye? Whatever it was, the two have been as close as the tide to the sand since summer ended… ARP $14.99 AGE 5+ AVAILABILITY June 2004