| | | | | |
| --- | --- | --- | --- | --- |
| | | In December 2002, a new family doll line from Mattel called Happy Family™ is released. The "Happy Family™" name may seem familiar. The Happy Family™ was a similar doll line from Mattel in the mid-70's, part of the Sunshine Family™ doll line (more info on the Sunshine Family™ here). Mattel's next family doll line, The Heart Family™ (1985-1990) grew to EPIC proportions in just five years. The Happy Family™ line of dolls places three existing Barbie® doll friends (Midge®, Alan® and Ryan™) in their own line, making the longevity of each existing friend added to the Happy Family™ line stretching from 40+ years to not quite a year. | | |
Like the Heart Family™ line, the new Happy Family™ line has a tie to Barbie® doll. She serves as Baby Doctor Barbie®, and it will be interesting to see if she is mentioned again as more Happy Family™ items are produced. A Happy Family™ Midge® and Baby gift set is also available. The female baby, by the way, is not named (that task is left to the owner). In a 2003 version when the baby grows older, we find she is named "Nikki®". Both Happy Family™ gift sets are available as African American as well, marking the first time Alan® or Midge® have been available as African Americans.
Following the Sunshine and Heart Family tradition, Happy Family™ Grandparent dolls were shown at the 2003 Toy Fair, with the first set (available in Fall of 2003) being a Grandmother's Kitchen Happy Family™ Grandparent Dolls Gift set. This gift set themed to a holiday dinner at the grandparents' house includes color change food, a working mechanical blender, a table with 5 chairs, and much more (63 pieces total). The gift set retailed for $50, a little expensive for play line, but the pairing/playing possibilities are endless! When pictures were first released of the Happy Family™ Grandparent dolls after Toy Fair, the most asked question by collectors was "Who are the Grandparent dolls related to? Midge or Alan?" I contacted Ria Freydl from Mattel Public Relations, and Ria said that they are Midge® doll's parents and they will not be given first names, just "Grandma" and "Grandpa" [Hadley].

Since both Grandparent dolls also come in African American versions, these sets should become more collectible since they are the first parents ever made for an existing Barbie® doll line "cast" member. Of course time will tell.
Both Happy Family Grandpa dolls use Ken® head molds, and interesting enough, both head molds have been used before for same version Ken® dolls (40th Anniversary Ken® and 40th Anniversary Ken AA). The Caucasian Grandpa uses a 1996 Ken® head mold, brought back from semi-retirement. This marked the first time the 1996 Ken® head mold had been used in the play line. The African American Grandpa uses a 1991.97 Modified Jamal® head mold. This head mold has already found it's way from the Barbie® Collectibles™ line to play line.

Probably the most interesting and truly unique feature of the dolls are new body molds marked 2003. The body molds are a bit beefier for both male and female, and the body mold even has "love handles" at the waist line.

LEFT: Promotion photo of Happy Family Neighborhood Happy 1st Birthday Grandpa
BELOW: Model #B9880 (Caucasian) features Grandfather with a 1996 Ken head mold. This mold has been used for Harley Davidson Ken, Harley Davidson Ken (Second Edition), 40th Anniversary Ken, Phantom of the Opera Gift Set, King Arthur & Queen Guinevere Gift Set, Merlin & Morgan le Fay Gift Set.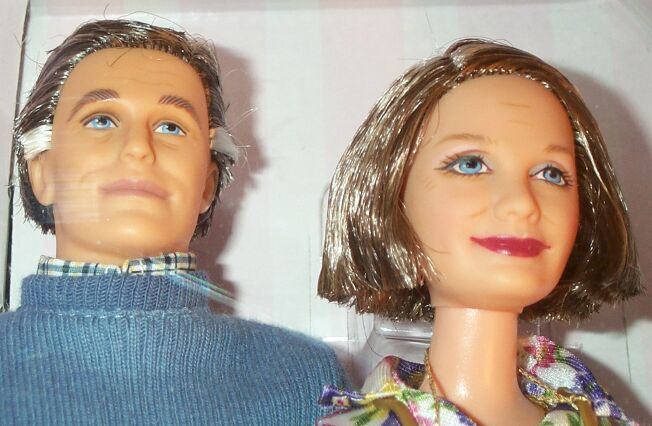 BELOW: Model #B9885 (African American) features Grandfather with a 1991.97 Modified Jamal head mold. This mold has been used for 40th Anniversary Ken AA, Concert Date Ken AA, Magic Jewel Ken AA, Barbie as Rapunzel Talking Ken as Prince Stefan AA, Skate Date Ken AA, Barbie® of Swan Lake Ken® as Prince Daniel AA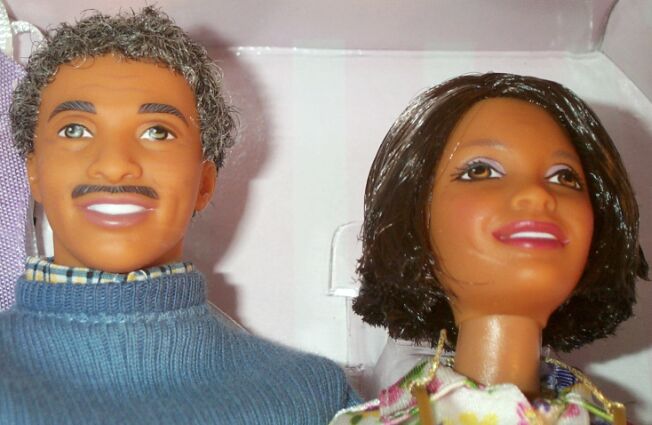 In 2004, new Grandpa dolls are available, as well as Grandparent fashions.
Happy Family Grandparent Fashions
(Fashions listed are ones that include fashions for Grandpa)