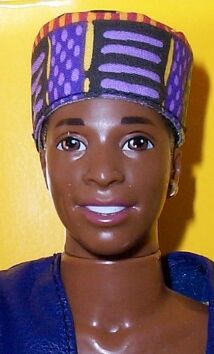 Photo courtesy of Kat
Before Steven was even conceived, he borrowed his look from another, not very well known guy, who most collectors don't usually recognize is part of the Barbie family. In 1991, Mattel introduced the first ethnically correct fashion dolls to the market. Many argue that this was "a fascinating ethnographic study that looks at ethnically correct dolls and social inequality". Regardless, Mattel introduces a brand new line of African American dolls and calls the line "Shani". The line is named after Shani, the main female characters and is included in the official listings of Barbie doll's friends.
Shani, meaning marvelous in the Swahili language, introduces the world to African American culture of "beauty and success". Shani, Asha, and Nichelle came in light, medium, and dark skin tones, and both their faces and their bodies had been sculpted to more clearly portray African-Americans. Many African Americans criticized Mattel for the Shani line for being "still unwilling to deal with social issues such as class and status within their product. Many thought that "children are more than just racial beings, and the dolls needed to embody these qualities for them to be accepted". Mattel tried to capture distinctive African American cultural features that African American's look upon with pride. Many of these features reflect the influence of cultural traditions that originated in Africa. Other features reflect the uniqueness of the black American in the United Stated such as their speech, extended family arrangements, dress and music. I believe the dolls were made in response to African Americans increasingly recognizing what they have contributed to the national culture and the global community and the extent of what more they have to offer.
By 1992, it was time for a male to join the line, and Mattel introduces Jamal. Jamal must have been the hardest to realize, as Mattel had to determine exactly what it would create to encompass the African American male. Choosing the safest route, Jamal is urbanized much more than his female counterparts. His fashions capture a bit of both cultural tradition and urban flair. Jamal's handsome new head mold debuted in 1992 with a painted on moustache, but by 1993 he had shaved it off. All versions of Jamal use the Ken body mold with bent arms, with exception to Beach Streak Jamal who uses the PTR arms. After disappearing from the market by 1994, Jamal's legacy would be carried on vicariously through Steven. Steven's look would change to Jamal's in late 1996's Splash 'n Color Steven. The AA versions of Ken would follow suit and borrow Jamal's looks in Big Brother Ken & Baby Brother Tommy African American from 1997. Both Steven and AA Ken still borrow this head mold to present day.
Interestingly for all it's detail and ethnically correctness, the Shani line filled a vacancy on the market, it did not become as popular as expected.