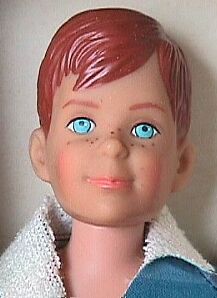 In 1965, the Barbie® tree sprouted two new branches. Ken®, Allan® , Midge® and Skipper® were already linked to the famous fashion model. Previously, in 1964, Allan® is added along with Skipper®, Barbie® doll's little sister. Skipper® will became the first family branch on the tree. Skipper® doll's creation is a marketing strategy that will appeal to the line's main consumer. With her creation, little girls across the nation are relating to play situations that mirror their own lives. Wildly popular in her first year, more same age dolls would be added in 1965, as Scooter® and Ricky® appear on store shelves. By adding these two younger set dolls, Mattel's mythical Willows, WI, will become more surreal, by instantly creating more suburban situations. Play situations are broadened for Skipper®, as Scooter® and Ricky® move in next door. Not directly related in marketing from Mattel, Ricky® and Scooter® are assumed to be brother and sister in story books created about their adventures. There are many references to Skipper® going next door to Scooter® and Ricky® doll's house. These references place the two in the same household, so one has to assume they are related in some aspect. Collectors, on the other hand, like to create their own opinions in relation to the two. Many like to pair Allan® and Ricky® as brothers, and Midge® and Scooter® as sisters. Which ever, as always, opinions differ about their relationship. One thing is sure...they are marketed as friends with Skipper®.

Ricky®, looking very similar to Allan®, has the same color red painted hair, that is also molded in a boyish active look. His wide light blue eyes, and freckles instantly remind you of any boy-next-door, in any neighborhood, anywhere across America. Ricky® doll's face mold is artfully crafted, and captures a boyish innocence. The addition of the freckles mischievously add a sense of playfulness and good health. His relationship with Skipper® is one of friendship, as Skipper® will be paired romantically with other boy dolls that follow. Both editions of Ricky® use the same body mold as Skipper® and Scooter® with straight legs. Both editions will use the same box that is dated 1964. The first edition released in 1965 uses a grayish color skin tone, while the second edition issued in early 1966, has a new pinkish skin tone. Many high color Ricky® dolls can be found in the newer pinkish skin tone. Skipper® and Scooter® get bendable legs in 1966, while Ricky® does not. By 1967, both Ricky® and Scooter® were gone, after their short stint as part of the Barbie® tree. Ricky®, a favorite with collectors, is fondly remembered as an important part of the tree. Not only does he emulate the boy-next-door image, he was an important link that included little boys in Barbie® play, boys that may have very well been the boys-next door themselves.

Ricky® Fashions

In 1965, four fashions were available exclusively for Ricky®. It is interesting to note the quantity produced, since he wouldn't share his outfits with any other doll. Innocent and playful, these fashions gave Ricky® a distinct personality as playmate, friend and suitor. Lights Out #1501 is typical bedtime attire. The long sleeved yellow pajamas included an initialed pocket, blue terry bathrobe with tie and matching scuffs. I only wish Mattel had added a miniature flashlight, for light games under the sheets! Saturday Show #1502 might make you think Ricky® is dashing to the local theater to meet Skipper®, to catch a matinee. He will certainly look his best in a simple crisp white long sleeve shirt, zippered khaki pants and red tie. This outfit includes red socks and black shoes. The following morning, it's time to get dressed in his Sunday Suit #1503. Black zippered pants are paired with a short sleeve white shirt and striped blazer with black collar. This outfit was completed with red socks and black shoes. After church services were over, Ricky® was ready to change into Little Leaguer #1504, for his Little League baseball game later that afternoon. Ricky® was the catcher on the team, judging form the catchers mitt, and baseball. A red short sleeve knit shirt with navy band matched his baseball cap with "M", and red socks. Sturdy zippered blue jeans could endure any slide into home plate, and the addition of white tennis shoes made running easier.

In 1966, two additional fashions were available for Ricky®. Skateboard Set #1505 showcased Ricky® doll's enthusiasm for skateboarding around the block. A "wooden" skateboard with red stripe matched well with his banded bottom red and gray pinstripe white short sleeve shirt with red buttons. White zippered shorts and white socks and tennis shoes completed this outfit. Spelunking, was an activity for any young boy to enjoy, and so did Ricky®! Let's Explore #1506 was an outfit suited for any adventure. Gray zippered slacks are paired with a red plaid long sleeve shirt, red socks and black shoes.