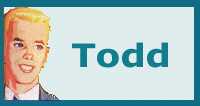 Keeping Ken

Keeping Ken Ken News!

Keeping Ken Bulletin Board
This is a complete listing of every Todd® made from 1965 until the present. I will include Name, Model # (M#), Box Date (BD) and Hair Color (HC). I am adding Clothing (C) and Accessory (A) descriptions as well.
Highlighted boxes are the Todd® dolls I keep.

A Brief History of Todd®
Todd® certainly is considered the most confusing character in Barbie® doll's world of friends and family. Considered part of both worlds, he is sometimes related to Barbie® and then not related at all. Because Todd® doll's history is confusing, I have broken his history into three segments from the youngest version to the oldest aged version. In the second segment things become more confusing since Todd® is not considered a relation to Barbie at all, and suddenly is again. Finally, in adult form, he's not related...although many collectors disagree and say it is the youngest version grown up. I disagree. I'll try to guide you through this intertwined soap opera of character changes, age differences and relationship changes...all pulled together by a name....Todd®.
Todd is a registered trademark of Mattel, Inc. These pages are neither affiliated with, nor a representative of Mattel, Inc. Material provided on these pages do not in any way reflect the opinions of Mattel, Inc.