Keeping Ken

Keeping Ken Ken News!
BRITISH BOY BAND DOLL CRAZE!
I thought it may be easier for you all if I compiled specific website addresses to view the British boy band dolls! Thanks to Michael L and Brian G for the help! If you are thinking about collecting these dolls, get ready to pay! Unless you have friends in the UK who can help you out (or trade), collecting these guys is pretty expensive! I suggest you either choose one specific band, or your favorite member from each group.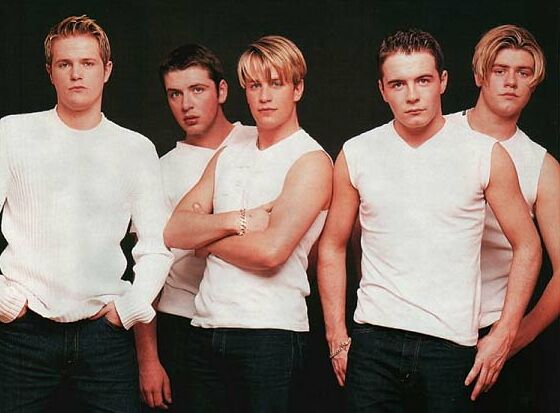 ABOVE: Westlife...the all boy band now in doll form (below)!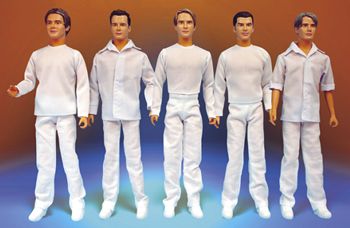 WESTLIFE
(Kian, Nicky Bryan, Shane and Mark) 10 dolls total. 5 singing, 5 non-singing. I personally ordered the Kian doll. Word of advice...expensive! It may be smarter to get al the dolls at once, since my Kian Egan doll cost me around $30 US to cross the ocean. Where to find the British boy band dolls? Your best resource is http://pages.ebay.co.uk. I think I may continue to collect each character, since I like this band.
Band History This Irish boy band, originally known as Westside, emerged in the late 90s as the highly successful protégés of Ronan Keating of Boyzone. The three founding members, Kian Egan (b. 29 April 1980, Sligo, Eire), Shane Filan (b. 5 July 1979, Sligo, Eire) and Mark Feehily (b. 28 May 1980, Sligo, Ireland), came together in a local Sligo production of Grease. They formed IOU with three fellow actors after friends encouraged them to continue singing, and began performing cover versions in local clubs. A demo tape of a track written by Filan and Feehily, 'Together Girl Forever', found its way to Boyzone manager Louis Walsh. Suitably impressed, Walsh hired them to support US boy band Backstreet Boys when they visited Dublin. A change of line-up ensued, with three of the original members making way for ex-soccer player Nicky Byrne (9 October 1978, Dublin, Eire) and Bryan McFadden (b. 12 April 1980, Dublin, Eire). Keating became involved with the band as co-manager in April 1998. After a showcase appearance at London's Cafe de Paris in February 1999, the band changed their name to Westlife after learning of the existence of several American acts performing as Westside. Groomed as natural successors to Boyzone, the quartet's debut single 'Swear It Again', was a highly predictable Irish and UK chart-topper in May. The follow-up, 'If I Let You Go', repeated the feat when it entered the UK singles chart at number 1 in August. 'Flying Without Wings' made it three number 1s in a row in October. Their status as the most popular boy band of the moment was underlined when their lame double a-side, featuring cover versions of Abba's 'I Have A Dream' and Terry Jacks' 'Seasons In The Sun', topped the charts for four weeks over Christmas and the new year. They created UK chart history in April 2000 when 'Fool Again' became their fifth number 1 single in a row. Later in the year, the group's duet with Mariah Carey on a cover version of Phil Collins' 'Against All Odds', and 'My Love', became their sixth and seventh number ones respectively. Both singles featured on Coast To Coast, a virtual rewrite of their debut album. Their Christmas single 'What Makes A Man'/'My Girl' was pipped to the coveted number 1 slot by children television's character Bob The Builder.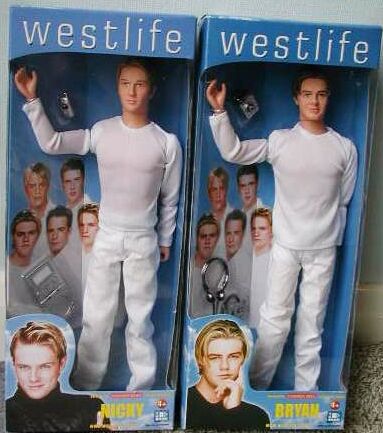 ABOVE: Non-singing versions of Nicky and Bryan Westlife dolls. BELOW: My Kian Egan doll.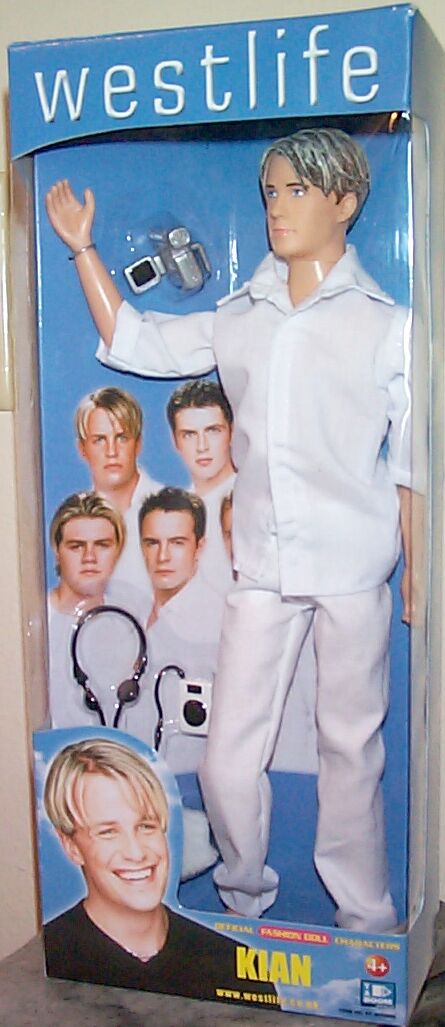 FIVE
( AB'S, J, RITCHIE, SCOTT and SEAN) A complete picture of both set of dolls can be found at 5iveUSA.com. There are 10 dolls total. 5 singing, 5 non-singing. Official site: http://www.5ive.co.uk/index2.htm. While searching, Brian G found out that there are a lot of other boy band/British male singer dolls out there. There's another 5 member band called Five that have their own doll line. He found them pictured at the UK Toys R Us site. You can order them at the UK Toys R Us site, but can't specify which guy you're getting.
Band History This UK quintet enjoyed widespread success in the late 90s with their polished hip-hop inspired sound. Richard Neville (b. 23 August 1979, Birmingham, West Midlands, England), Scott Robinson (b. 22 November 1979, Basildon, Essex, England), Richard Abidin Breen (b. 29 June 1979, Enfield, Middlesex, England), Jason 'J' Brown (b. 13 June 1976, Aldershot, England) and Sean Conlon (b. 20 May 1981, Leeds, England) were hand-picked from 3,000 hopefuls at an audition set up by the creators of the Spice Girls. The five members all boasted stage and music backgrounds. Neville and Robinson were, respectively, graduates of the National Youth Theatre and the Sylvia Young Stage School. Breen had attended the distinguished Italia Conti Stage School and built up experience as a DJ. Brown also worked as a DJ, while Conlon was a previous winner of Yamaha's Young Composer Of The Year award. Following in the footsteps of the Spice Girls, the band lived together in Surrey (later featuring unflatteringly in the ITV documentary series Neighbours From Hell ). Intensive promotional work boosted the band's profile and resulted in a string of Top 10 UK hits. The debut single 'Slam Dunk (Da Funk)' reached number 7 in December 1997, and was followed by 'When The Lights Go Out' (number 4, March 1998), 'Got The Feelin'' (number 3, June 1998), 'Everybody Get Up' (number 2, September 1998) and 'Until The Time Is Through' (number 2, November 1998). 'When The Lights Go Out' broke the band in the US, steadily climbing the Billboard chart before reaching a peak position of number 10 in August 1998. The follow-up, 'It's The Things You Do', failed to reach the American Top 50. The band's self-titled debut album was co-written and produced by Denniz Pop, Cutfather and Joe and Max Martin, and debuted at number one on the UK chart in June. It also broke into the US Top 30 the following year. They returned to the UK charts in July 1999 with the number 2 single, 'If Ya Gettin' Down', and finally achieved the top slot in October with 'Keep On Movin''. The attendant Invincible was another mixed bag of surprisingly durable pop songs and weak ballads. The following July they topped the UK single chart with an energetic cover version of Queen's 'We Will Rock You'.
BOYZONE
(Keith Duffy, Mikey Graham, Ronan Keating, Shane Lynch, Stephen Gately) 5 dolls total. Website at http://www.boyzone.co.uk/frames/index.htm.
Band History The natural inheritors to Take That's 'boy band' throne in the mid-90s, Boyzone are a quintet of unaffected young Irish men tailored for mainstream success by Polydor Records and their manager, promoter Louis Walsh. After auditions Mikey Graham (b. 15 August 1972, Dublin, Eire) and Keith Duffy (b. 4 October 1974, Dublin, Eire) were recruited from their jobs as mechanics, Shane Lynch (b. 3 July 1976, Dublin, Eire) from an architecture course, while Ronan Keating (b. 3 March 1977, Dublin, Eire) and Stephen Gately (b. 17 March 1976, Dublin, Eire) were enlisted directly from school. They were rapidly rehearsed and groomed while Walsh set about securing a short-term deal with PolyGram Ireland. Their debut single, a cover version of the Detroit Spinners' 'Working My Way Back To You' released in November 1993, launched the group in Ireland when it broke into the Top 3 the following spring. The group's UK breakthrough came with a cover of the Osmonds' 'Love Me For A Reason', which was produced for them by Take That collaborator Mike Hedges. It became an instant success on release in December 1994, peaking at number 2 in the UK charts and selling 700,000 copies. The single became a Top 10 hit in most European countries and also topped the Irish charts. The band's debut album, Said and Done, was released in August 1995 and sold over one million copies worldwide. As well as 'Love Me For A Reason', it included three other hit singles, 'Key To My Life', 'So Good' and their Christmas 1995 cover version of Cat Stevens' 'Father And Son'. With the demise of Take That in 1996 and the rise of numerous 'boy bands', Boyzone moved to the head of the pack, with further hit singles including 'Coming Home Now' and a cover version of the Bee Gees' 'Words', their first UK number 1. 'A Different Beat' also rose to the top of the UK charts, and further hits followed in 1997 with 'Isn't It A Wonder', 'Picture Of You', and a cover version of Tracy Chapman's 'Baby Can I Hold You'. 'All That I Need' topped the UK charts in May 1998, a feat repeated in August by the Andrew Lloyd-Webber -penned 'No Matter What', taken from the musical Whistle Down The Wind. The latter also became the band's first million-selling single. The band's next single, 'I Love The Way You Love Me', stalled at number 2 in December. A Different Beat and Where We Belong followed in the footsteps of their debut album by entering the UK charts at number 1, although both albums indicated that the band's strength remains as a singles act. The band's charity single, a cover version of Billy Ocean's 's 'When The Going Gets Tough', topped the UK singles chart for two weeks in March 1999. Keating worked hard to establish himself away from the band, recording solo material and presenting the prime-time UK talent show Get Your Act Together. He also enjoyed success as a manager/promoter, with his protégés Westlife topping the UK charts in May with their debut single, 'Swear It Again'. Boyzone followed them to the top the same month with their new single, 'You Needed Me', and their popularity was seemingly unaffected by Gately publicly declaring his homosexuality shortly afterwards. Keating's cover version of Keith Whitley 's country hit 'When You Say Nothing At All', taken from the soundtrack of Notting Hill, topped the UK charts in August. Boyzone's weak Christmas single, 'Every Day I Love You', stalled at number 3 in December. Gately and Keating both released successful solo albums the following year but denied rumors that Boyzone had split-up.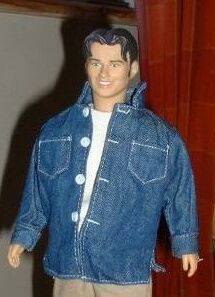 ABOVE: The Stephen Gately, BOYZONE doll is still HTF, especially after he publicly "came out".
TAKE THAT
(Gary Barlow, Robbie Williams, Mark Owen, Howard Donald and Jason Orange) 5 dolls total. These are harder to find NRFB, since the band disbanded in 1996.
Band History As the most popular teen-pop sensation in Britain since the '60s, Take That ruled the UK charts during the first half of the '90s. In strict commercial terms, the band sold more records than any English act since the Beatles, though the cultural and musical importance was significantly less substantial. Conceived as a British answer to the New Kids On The Block, Take That initially worked the same territory as their American counterparts, singing watered-down new jack R&B, urban soul, and mainstream pop. Eventually, the group worked their way toward hi-NRG dance music, while also pursuing an adult-contemporary ballad direction. Take That's boyish good looks guaranteed them a significant portion of the teenybopper audience, but in a bizarre twist, most of their videos and promotional photos had a strong homosexual undercurrent — they were marketed to pre-teen girls and a kitschy gay audience simultaneously. Take That was also able to make inroads in the adult audience in Britain through Gary Barlow's melodic, sensitive ballads. For nearly five years, the group's popularity was unsurpassed in Britain, as they racked up a total of seven number one hits. By the middle of the decade, all of the members were entering their mid-'20s and became disenchanted with each other. Furthermore, the pop music tastes in Britain were shifting toward the classic guitar-pop sounds of Brit-pop bands like Blur and Oasis, who were able to appeal to both the indie-rock and teen-pop audience. Consequently, the group called it quits in 1996, as Oasis began to surpass Take That both in terms of sales and cultural impact. Nevertheless, Take That remained one of the most interesting and popular British teen-pop phenomenons not only of the '90s, but of the rock & roll era.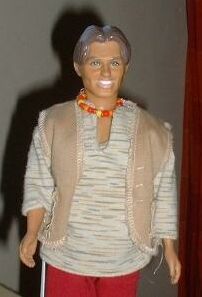 ABOVE: The Mark Owen, Take That doll.