Keeping Ken

Keeping Ken Ken News!

Keeping Ken Bulletin Board
The unrelentingly bubbly, upbeat pop group S Club 7 is the creation of Simon Fuller, driving force behind and manager of the Spice Girls. Considering Fuller's reputation as a star maker, SC7's success should come as no surprise. The group's first single, "Bring It All Back," scored big in Britain in 1999, and a BBC TV series built around the group, "Miami 7", became a hit about the same time. The "S" in S Club 7, is explained in seven different words with seven different band members. Spirited, Striking, Successful, Stylish, Sexy, Strong and Seven! "Miami 7" (a comedy) centers around seven ambitious band members playing to the older crowd and having to live in a run down Miami area hotel. Breaking free from the restraints placed on them by a manager (villain), for better or worse, their spirit leads them to semi-success. In real life, having conquered England, the group set their sites on America in 2000 with the U.S. release of their debut album, S Club 7 in 2000. A new series for 2000, places the seven members in Los Angeles, and is appropriately called "LA 7".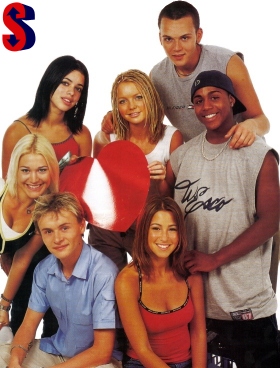 ABOVE: S Club 7
Joining in on the fun of the S Club 7 is easy, although there is an age restriction, which I personally don't meet. S Club 7 believes that "everybody is somebody and you can be a part of all this too, by getting with the S Club. All you need to do is have the S Club spirit and to be under 24". The band is comprised of seven members who in shades of the Mattel Generation Girl™ line, each have their own distinct personalities made up for them. This even includes something unique about them, a designated band member "color", likes, dislikes and of course the obligatory nickname. Most of the information we discover about each real member is probably fabricated, to create a completely different mix of teenage/post teenage angst. The Brits don't hold back with image, as most members are properly tattooed and/or pierced.
Comprised of four girls and three boys, S Club 7 creates endless story lines which mar fantasy with reality. Their story line reminds me of "The Partridge Family": not really a family, but really a singing group, but not really a family singing group . The series on television lends the belief you are watching member's real lives unfold, like MTV's "The Real World". It also guides the young viewer ship that this is really happening in the bands members life. There is no real separation of fantasy and reality, as the band members are given distinct personalities in real life that are then played out on television. The series, like the real players, are definitely driven to a much younger crowd and this series falls smack in the middle between the Disney channel (the group has performed in Disney World) and MTV. A calculated risk in the US, but not abroad.
Officially, record companies would like you to believe that S Club 7 is considered a brand new phenomenon who are loud, wild, fresh, ballsy (yes, ballsy), sexy and talented and about mixing music, dance, acting and fashion with a "We can do it" attitude (which is really close to the "We can do anything Barbie" motto). This cast of characters have a close age range, with some members nearing the age restriction. The girls are represented by two Caucasian blondes, Jo (20) "raucous" and Hannah (18) "hyper". Rachel (21) "fiery" appears to be Asian and Tina (22) "chatty" is Hispanic. The three boys are African American Bradley (17) "cheeky", with two Caucasian boys Paul (22) "enthusiastic" and Jon (17) "joker".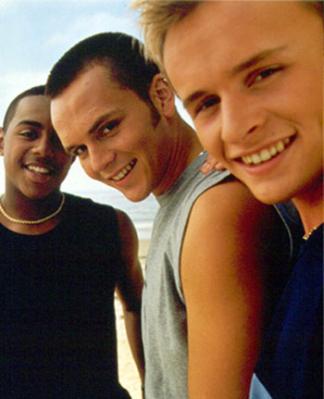 ABOVE and BELOW (left to right): The S Club 7 guys Bradley, Paul and Jon.
Hasbro has captured all seven S Club 7 members in doll form, probably due to the wave of interest garnered in the US since last year. I inspected each doll (even the four girls) and will highlight the boy versions below. The only thing I have to say about the girl version's is that Mattel has nothing to worry about. To be perfectly blunt at $14.99 a piece, these were the most horribly rooted dolls I have ever seen, not to mention horrible looking. Most of the girls have a "comb-over" and I couldn't believe Hasbro has the nerve to charge such a high price for an obviously cheaply made product. Do they really think that an half inch between each hair plug is acceptable, not to mention the areas that are combed with no hair plugs at all? It really made me realize the quality Mattel puts into their Barbie® line. If the S Club 7 girl dolls were passed around at Mattel, I am sure they all had a good laugh. These dolls will probably be remembered for which corners NOT to cut. I usually don't return anything, but I packed all four girls back in their boxes and returned them to Target. Reason: inferior quality. YUCKY dolls! I will have to give Hasbro some credit on the boy versions! Excellent! I love them! Maybe because they didn't ruin them by rooting any of them. Even though I think the price is a bit steep, I thoroughly enjoyed each version. Here is the boy line below!
Jonathan Lee

Jon M# 26807

Nickname: "Jonny Boy"

S Club 7 Color: Green

Uniquely Jon: A tucked away tattoo

Star Sign: Taurus

Likes: His hair and doing back flips

Dislikes: People being late

Most Likely to Say: "Can I bring Molly along to the party?"

Paul Cattermole

Paul M# 26808

Nickname: "Gwaks" and "Guacamole"

S Club 7 Color: Orange

Uniquely Paul: A pierced ear

Star Sign: Pisces

Likes: Arsenal, grilled chicken and laughing

Dislikes: Not having a car

Most Likely to Say: "Turn the music up"

Bradley McIntosh

Brad M# 26806

Nickname: "Brad" and "Tosh"

S Club 7 Color: Blue

Uniquely Paul: Always carries a portable CD player

Star Sign: Leo

Likes: CDs, Jamaican food and computer games

Dislikes: Math and his eyebrows

Most Likely to Say: "Uhh, will someone turn that alarm off?"

After the unfortunate fiasco with the female dolls, I was quite pleased with the quality on the male versions. If Mattel can learn anything from the male versions it would have to be the facial painting. The eyes are smaller (like the recent Coca-Cola Ken®) and the eyebrows are realistically painted. The dolls are dressed in swim trunks but I also liked the fact that each doll is packaged with an extra outfit and SHOES, plus other accessories! Jon has molded hair that is painted in two-tone blonde/brown. Besides his charcoal gray with white stripe swim trunks, he comes with sunglasses (cool ones), flying disc and towel. His extra outfit is a pair of tan "micro-fiber" looking (even cooler) pants and a blue shirt like Ken's Fashion Avenue "Dream Date" #25752-26843-0980. The buttons are too large of a scale on this shirt and sort of ruin it. Black hiking boots complete his accessories. Paul has a painted dark auburn buzz-cut and earring in his left top ear. He is also the only version with a closed-mouth. He has midnight blue swim trunks with the same cool sunglasses as Jon in a different color. His extra outfit includes a black sleeveless top with charcoal pants. His accessories include a football, watch and black/gray athletic shoes. Brad has a painted black buzz-cut. He is dressed in red swim trunks and is packaged with cargo pocket jeans and white t-shirt with mesh sleeves. His accessories include a portable CD player, head phones and the same style athletic shoes as Paul, but his are a charcoal/white color.

The S Club 7 male dolls will look great "mingling" in with your other loose dolls. I highly recommend them. If you would like to know more about S Club 7, check out the official website at: http://www.sclub7.co.uk/