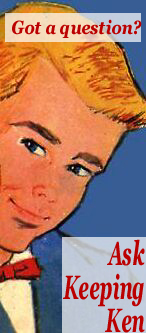 Please submit questions to ask@manbehindthedoll.com and have them answered here. Due to the volume of mail received, I cannot respond to individual e-mails sent to "Ask Keeping Ken".
Q: It is nice to hear that Mattel will be making Ken as Prince Stefan a talking Ken doll. (Ed: Ken as Prince Stefan will be released later this year in the Barbie as Rapunzel line.) My question is this...what Ken dolls have talked, and more importantly, what did they have to say.
Sara
AKK: Hey Sara, I agree that it is about time that Ken can be heard again! There have been five talking Ken dolls and one talking Brad doll. The dolls were available from 1969-1972. Each version said six different phrases, and I assume the two Spanish versions said the same six phrases in Spanish. I prepared the graph below, and added the phrases within the descriptions on the Keeping Ken The Early & Mod Era Ken doll listings. A lot can be said for the things that the talking dolls said. Ken doll's conversation is mostly centered around Barbie and the eventual date with her. Through Brad doll's conversation, you might be surprised to hear that baseball is his favorite sport. He also "digs the Mod look". (Check the New Talking Brad listing for all six phrases.)
Talking Ken and Talking Ken (Spanish)
New Good Lookin' Talking Ken and Talking Ken Spanish (New Good Lookin')
Talking Busy Ken

Photo by Alan Bisson

Photo by Alan Bisson

Photo by Alan Bisson

Talking Ken says:

Hi, I'm Ken.
Let's go to the big game tonight.
What are you doing next weekend?
Why don't we all go to the movies?
Let's go listen to Barbie's records.
Let's go visit Barbie.

Talking Ken (New Good Lookin') says:

P.J.'s having a party. Let's go.
Have you met Barbie's new friend?
I'm taking the girls shopping. Want to go?
Put some records on and let's dance.
I'll get the food for the party.
Barbie's a great dancer!

Talking Busy Ken says:

Iíll bring my guitar to the party.
Help me pack for my vacation.
Have you heard Barbieís new record?
Come on, letís dance.
Hi, this is Ken (as if he was speaking on the phone).
Barbieís a great cook.
Q: This weekend I found an interesting looking male doll (Mattel) that has the jointed Ken body stamped on lower back "Mattel, Inc. 1975/TAIWAN" and on the back of his neck is 1986. His wonderful body is chrome silver, light blue molded underwear, flesh colored head with blue hair. I think he is great for three dollars but have no idea just who he is. If you have any idea, I'd appreciate the help.

Tim

AKK: He is Tom Comet, part of the "Spectra" line of dolls from Mattel that were available for one year in 1988. Here is a picture of him (right) in his original box. The group of dolls were "futuristic" and the line had five dolls: Spectra, Astragold, Stylablue, Ultraviolet and Tom Comet who was the only male doll. There was also a dog named Spark. Tom is the number one sports fan and the fix-it man in the galaxy. His Shimmeron card reveals that his favorite food is Shimmeron space dogs and his favorite pastime is meeting Earth girls.

His head should be marked c MATTEL, INC. 1986. His bendable body is the Young Sweethearts "Michael's" body with unbending wrists and ankles marked c Mattel, Inc. 1975/ TAIWAN.

Q: There is a Ken doll that I didn't seem to find in your list. He's from the early 90's/late 80's. He's wearing a red jacket, white shirt and navy blue pants. He has with him a small Kelly, or Skipper, doll with a red dress. Do you know which Ken I am speaking of?

AKK: From your description, it sounds like it's not actually Ken but Mr. Heart. Mr. Heart borrows his look from Ken by using the 1977 Superstar Ken head mold. From the outfit description, it sounds like you have a Heart Family Kiss & Cuddle gift set that included the Dad and Baby Girl (Daughter) #3141 from 1987. His original outfit included a red suit jacket, navy pants, white shirt with attached red tie. The Baby girl wears a red velvet dress with lace collar and tights. Mr. Heart's arms should be specially designed to "hug" his baby daughter, and in turn the Baby girl could kiss her Dad and leave a kiss print. This was achieved by the addition of lipstick that you could apply to the baby's lips.

I have provide a picture of the gift set (right). Let me know if I got this one right!