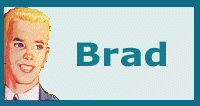 Keeping Ken

Keeping Ken Ken News!
This is a complete listing of every Brad made from 1969 until the present. I will include Name, Model # (M#), Box Date (BD) and Hair Color (HC). I am adding Clothing (C) and Accessory (A) descriptions as well.
Highlighted boxes are the BradŽ dolls I keep.
A Brief History of Brad
With the absence of Ken beginning in 1967, and a the departure of Midge and Allan, Barbie was now creating a new circle of friends. In 1966 her MOD'ern cousin Francie appeared as well as Casey and Twiggy in 1967. Then in the early part of 1967 a Black or "colored" version (the word colored would become antiquated and changed) of Francie emerged that would represent a new precedent in doll manufacturing: established doll personalities in two different races. Even though it would be a long period before an African American version of Ken would be created in 1982 (Barbie in 1980), the stage was set in a period of political unrest in the mid-sixties. Consumers were not impressed with the change in Francie and she was discontinued after two versions, because of poor sales. She was soon replaced by a new personality, Christie, with the terms Black or "colored" absence from her packaging.

Of course Christie needed a boyfriend. With the return of a huskier more handsome "Edwardian-style" Ken in 1969 and new friends Stacey and P.J., an African American male was being planned for the following year. In 1970, Christie's boyfriend Brad was available in a Talking version with molded afro hair in the first part of the year and then a B/L (bendable leg) version later in the same year. Like Allan and Midge, Brad and Christie would follow the same history structure. He would only be marketed in two versions, she would be discontinued and then brought back and is available in the current Barbie line. His face would not be forgotten, or should we say, his head mold would not be forgotten when the next male friend of Ken named Curtis was created. So in a way, an intricate part of Brad doll would live on...for a short while.
Brad (Bendable Leg)

M#: 1142 BD: 1969 HC: Painted Black C: Orange/green "batik" look print swim trunks. Orange pull-over top s/s. Wrist tag. A: Clear X stand. Booklet.

New Talking Brad

M#: 1114 BD: 1969 HC: Painted Black. C: Orange swim trunks. Multi-color designed V-neck (low cut) top in orange/mustard/yellow/hot pink/olive green s/s. Wrist tag. A: Clear X stand. NOTE: Speaks when pull-string located on back is pulled.

New Talking Brad says:

My name's Brad. What's yours?
Christie is the greatest.
Baseball is my favorite sport.
Come on, let's go to the movies.
I dig the mod look.
Hey, let's all go for a ride.
Brad is a registered trademark of Mattel, Inc. These pages are neither affiliated with, nor a representative of Mattel, Inc. Material provided on these pages do not in any way reflect the opinions of Mattel, Inc.