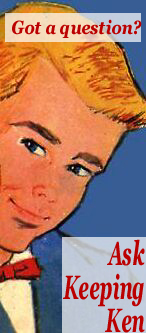 Please submit questions to ask@manbehindthedoll.com and have them answered here. Due to the volume of mail received, I cannot respond to individual e-mails sent to "Ask Keeping Ken".
Q: Hello! Your Ken website is wonderful! I have one question - Has there ever been a green-eyed brunette Ken (Caucasian)? I see lots of nice ones on eBay, but I can't email all the sellers asking about eye color! Am I looking for a Ken doll that doesn't exist? Thank you very much for your time--I do appreciate it!
Florence
AKK: One true green-eyed brunette Ken doll has been produced in the form of Sea Lovin' Ken (pictured left), a foreign market version. There have been numerous brunette Ken dolls with aqua color eyes, but the aqua is more of a blue hue, not green. There are only two other Ken dolls (which I can recall) that appear to have green eyes. They are Hawaii Ken (with blonde molded hair) and Surf City Ken (with brown molded hair). The eye paint on both of these versions is a mixture of two different colors. This mixture gives the appearance of green eyes. The color most used for Ken's eyes is aqua, followed by blue, then brown. Gray has never been used. You could always contact an artist that does doll make-overs to repaint one for you.

Here are some other Ken eye color oddities:

Weirdest mixture of color, Locket Surprise Ken

Just plain weird: Work Out Ken (Peru)

Q: I hate to complain but it seems that "Keeping Ken" has slipped into a Barbie mode. First, I think that the Prince Stefan is too similar to ALL the other princes we have had over the past few years. Someone tell Mattel to move on! But I felt that too much space was taken up with Barbie as Rapunzel. This is Ken's site and Barbie should receive little mention. Sorry to be a purist, but it took so long for me to find a site dedicated to what I love to do, I don't want to see that nibbled away.
A question, oh wise one! I received a Sun Sensation Ken and an All American Ken from eBay. Sun Sensation arrived but the bottom of the box had been torn out. All American arrived too but crammed in a bubble envelope, so the box was badly damaged. Oh wise one, is there any point in keeping the damaged boxes or should I just toss them?
Don
AKK: It was not my intention to ever make "Keeping Ken" a Barbie site, but when mentioning Ken, you sometimes have to mention Barbie. The line is called "Barbie as Rapunzel", and Ken, Tommy and Kelly are all part of the line. The reason for listing all items in the series for the Keeping Ken New Product Reference Guide was because the report covers the entire line. I have to disagree with you when you say that the Ken as Prince Stefan doll will be the same. Sure, we have had our share of Prince Ken dolls lately, but this Prince Ken doll will talk, and that IS new, since Ken hasn't talked since 1972. Mattel spent time designing this feature for Ken, which tells me that at least they are enhancing their product, even though it may be in the form of another Prince doll. I'm embracing this doll for its new features (which hopefully may lead down other paths, other than a storybook). What if they use this feature for a reproduction of Talking Ken? Wouldn't that be cool??
As far as the box damage for the two Ken dolls, I hope that the item description listed this damage for the one missing the bottom flap. If you expected them to be in mint, NRFB condition, I would have emailed the seller with specific questions about box condition. After winning these items, I would have made it clear that I wanted the box to be protected because that is the way you were going display it. In my opinion, these two dolls are easier to find, so I would probably debox and try to find them again in better NRFB condition.