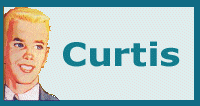 Keeping Ken

Keeping Ken Ken News!
This is a complete listing of every Curtis® made from 1969 until the present. I will include Name, Model # (M#), Box Date (BD) and Hair Color (HC). I am adding Clothing (C) and Accessory (A) descriptions as well.
Highlighted box is the Curtis® doll I keep.
A Brief History of Curtis®



With the disappearance of Brad and Christie in 1970, Ken was making his mark as a well established character once again with a brand new head and body mold. Not only was he talking this year, in the following years his body would become more agile and he would receive his first rooted hair. Ken's 1968 head mold was being used on most every version produced with the exception of a 1972 Mod Hair Ken with his first rooted hair! The body movements became more real with the introduction of a live action body in 1970 and busy arms in 1971. Also in 1971 his body changed again with a walking feature. Ken was more alive than ever! Yet another body mold was introduced in 1975. It was the free moving body with an added feature. Free Moving Ken was introduced in 1975 (Box Date 1974) with a pull down lever in his back to permit "free movement". With all this technology, it was imminent that more than one male doll would showcase this bright idea.

Right: Rare comic book featuring Cara and Curtis. Both had a very short relationship with Barbie and Ken. Below: Free Moving Cara and Curtis dolls.

Curtis, Ken's second African American friend, was the added male showcase feature. The Free Moving line included Barbie, P.J., Free Moving Ken and a brand new female character Cara. Cara would basically take the place of Christie, until she was discontinued when Christie reappeared. One version of Christie was available during this time period. It was Sun Set Malibu Christie available through 1977. Christie, had lost her boyfriend Brad, so it wasn't too hard to figure out that Cara needed a beaux. When she was introduced in 1975, so was Curtis. Their story was put to print in comic books of the time and paper dolls were also manufactured. Because Cara was essentially replacing Christie at this time, her character was produced in three more versions, following the Barbie trend lines. Whether she had appeal or not, Cara was discontinued in 1976, and Christie again took over as Barbie's African American friend. Curtis, a one doll wonder, was soon forgotten about. Christie's story would continue to the present, and she would capture another heart: Steven, who would become Ken's next African American friend. Unlike Brad who had clothing tie-ins with Ken, Curtis' free movement feature would prove to be his downfall. Free Moving Ken and Curtis came with specially made clothing that were open in the back to allow the manipulation of the "free moving" pull down lever. Even though the Ken/Brad clothes would fit, Curtis' name would not appear on clothing lines produced in these years. Brad would still be a big part of Curtis' appeal, especially since his head mold was used for Curtis. The only difference in the face paint was a single white dot placement in the eyes.
Free Moving Curtis

M#: 7282 BD: 1974 HC: Painted Black C: White shorts attached to orange with white striped polo shirt with white collar s/s. White socks. White tennis shoes. A: Tennis racket. Golf club. Ball.
Curtis® is a registered trademark of Mattel, Inc. These pages are neither affiliated with, nor a representative of Mattel, Inc. Material provided on these pages do not in any way reflect the opinions of Mattel, Inc.