This Feature Story appeared in the Keeping Ken Ken News! on February 25, 2001.

Keeping Ken

Ken News Feature Archive
The Cost of Keeping Trent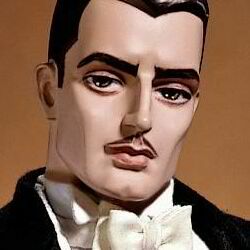 Look out, Gene Marshall and Madra Lord - "The Wolf" is at your door!
With bendable elbows and knees and standing 16" tall, there is a new male fashion doll coming our way. Ashton-Drake is adding a male doll to the Gene line-up described so far as "Star of stage, screen and scandal!" He's Trent Osborn...and he's fabulous!
Riding the new wave of male fashion doll popularity, Trent is coming on in a big way. Not only are three dressed dolls planned for 2001, four separate fashions/sketches were shown at Toy Fair 2001. The fashions may be the scene stealers with most people who attended toy fair describing them as "simply amazing" or "remarkable". Trent isn't hard on the eyes either! He is everything his press agents want you to see.
"The Epitome of the Male Movie Star"
As for Trent's physical appearance, Trent Osborn creator Mel Odom says, "I designed Trent to be the epitome of the male movie star of the Golden Age of Hollywood. He's the kind of actor who could have a sweet little ingénue sing to his photo in one film, then turn right around and in his next movie have a proper English Dame look heavenward with a sigh and leave her Baronet for him without even taking time to pack a tiara. And as for Trent's private life - well, in his day, it was Trent's type that made all the ladies crumple."
From www.collectiblestoday.com
So who is Trent Osborn?
Trent Osborn
The 20th century had just made its debut - and soon after, one of Hollywood's favorite leading men, Trent Osborn, made his debut - in a Philadelphia maternity ward.
Born Theodore O'Bannion, young "Teddy" was quite the little neighborhood Romeo, stealing kisses from beneath the playground Pollyannas' pipe curls. He also always had a flair for the dramatic, prodding his playmates into staging elaborate pirate adventures on the bounding waters of the ponds in Philly's most prestigious parks - much to the chagrin of the local police force!
After graduating from high school, he longed for adventure, even working as a truck driver to escape the city limits. But soon he discovered the local theater groups, where he was quickly spotted by a casting director for the Theatre Guild and whisked off to The Great White Way. His refined good looks, coupled with a certain aura of reckless abandon, brought him role upon role - and the attentions and intentions of an army of beautiful young actresses and debutantes.
After playing the gamut of juvenile roles on Broadway, Teddy, now known as Trent Osborn to the New York theater goers, was brought to Hollywood in 1935. A mainstay at Monolithic Studios, he appeared in scores of films, and his most frequent leading ladies included such glamorous stars as Gene Marshall and Madra Lord.
As flamboyant a figure in Hollywood nightlife as he was on the screen, Trent Osborn broke countless hearts. But when he turned on those bedroom eyes, everyone from starlet to seasoned veteran melted at a glance.
From www.collectiblestoday.com
It is obvious that one selling point of Trent is his past. But can his past support his future? The answer is "yes" to most Gene collectors who thrive on not only Gene the doll...but Gene the character. With Trent's character mixed in with Madra and Gene's, it makes the line even more interesting.
Nobody's Boyfriend?
Gene creator Mel Odom says, "I know our collectors are going to have some burning questions about our stars' relationships, so let me clear some things up: Does Madra have designs on Trent? Definitely! Does Trent have designs on Madra? Possibly. Does Trent have designs on Gene? To be sure! And does Gene have designs on Trent? Gene likes Trent a lot, but since he's older, not to mention his three marriages, she looks on him only as a good friend or big brother - much to Trent's chagrin!"
From www.collectiblestoday.com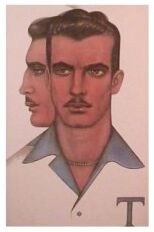 Collecting Trent Osborn
So you think you are ready to add Trent to your collection? There are many factors to consider. If you are a male fashion doll collector, and you are planning to collect most of this years offerings...for the first time in your life you may have to make some hard decisions. After years of getting everything on your short male fashion doll list, 2001 may be the year we finally have to look at what we can afford. I found myself amazed at the number of male fashion dolls introduced late last year and at Toy fair 2001! With so many choices from Ken/Blaine, Dominic, Basil (Brenda Starr) and whatever Hasbro throws at us, the short list may become the long list. So to help you (and me at the same time) I have added up the cost of Keeping Trent, to see if he may be arriving at your door this year.
Product Information-Trent Osborn

Trent is available at www.collectiblestoday.com

The Ashton-Drake Galleries and The Gene Team are proud to announce the introduction of the first male character in award-winning artist/illustrator Mel Odom's wildly successful Gene Marshall Collection: Trent Osborn, star of stage, screen - and scandal!

Fans of Gene have long been asking for (even demanding!) a male character in the collection - and Trent easily steps into the part with his manly good looks and shameless behavior. At 16" in height, Trent stands taller than his costars, and his muscular build, and bendable elbows and knees make him the perfect clotheshorse, well-suited for dressing for his roles on and off the screen.

Until now, the primary fashion dolls on the market have been female - and although he's not the first male doll, Trent is definitely one of the few. Trent's appearance should make doll collectors across the board very, very happy!

Trent Dolls 2001

$110.00

May 2001

Formal Introduction

#38250

Oh, the tales these tails could tell! Meet Trent Osborn, star of stage, screen - and scandal - dressed to the nines in this stunning set of tails!

Edition limited to 5,000 worldwide.

$125.00

October 2001

Lover In Disguise

#38257

It's Cinderella all over again in "Love's Disguise," starring Gene, Madra and Trent. Gene is a clerk in a store who falls (secretly) in love with one of the regular customers, a wealthy bachelor played by Trent, who turns out to be a rich playboy who is seeing, of course, Gene's boss, played by Madra. These tangled strings become unknotted at a lavish costume ball, where Trent's character discovers that Gene's shop clerk character is really his true love. "Lover is Disguise" is one of the three dolls in the "Costume Ball Series," featuring Gene, Madra, and Trent.

$125.00

September 2001

Trent in The Fabulous Costumes of 20th Century Fox

#38273

Trent attends a ball honoring the great films of Twentieth Century-Fox, wearing a traditional Indian costume from the 1930s film, "The Rains Came."

Trent Costumes 2001

$49.95

May 2001

Playing The Ponies

#38253

On his days off, Trent takes off for the track - but are those binoculars just for looking at the horses? Suit, shirt, hat and accessories make the perfect outfit for "Playing the Ponies."

$59.95

July 2001

Kid Valentine

#38265

Trent plays a college professor (and a former boxer) who re-enters the ring to clear a prize student's name. Boxing gloves, silky robe and boxing trunks.

$59.95

November 2001

Royal Military

#38266

As a prince who joins his people in defending their country, Trent shows he can swashbuckle with the best. A princely outfit, elaborately decorated with braid and medals.

$69.95

May 2001

Tennis Anyone?

#38252

Trent shows that he's a good sport on and off the court - where "love" is more than just a tennis score! Slacks, shorts, shirt, sweater, sneakers and more.

$29.95

April 2001

Trent's Director Chair

#38254

Trent relaxes between takes in his own signature director's chair, a Hollywood classic. White chair with deep gold fabric back and seat.

$360
Trent Dolls 2001
$270
Trent Costumes 2001

TOTAL

$630

Trent 2001
You still have until May to decide if you want to consider adding Trent to your male fashion doll collection (you can get the chair in April). This will at least give you enough time to ponder your personal "doll" budget. Rest assured, you can count on me getting "Formal Introduction Trent" in May. I will give the rest of the 2001 Trent collection more consideration then, and pass on the details to you. I have also already planned on the two May outfits as well, "Playing The Ponies" and "Tennis Anyone?". I'll probably ask for "Kid Valentine" for my birthday because it looks great. So stay tuned here for more information!
It is a big decision to unload $630 in one year, while also purchasing the staples of your collection (Ken will always be the staple for me). Factor in these staples and see what you have left over. That's pretty sound advice. Personally, I may not be the best collector to dispense advice. If it has "Ken" on it, I buy it, and usually in bulk LOL. So my focus will always be centered on Ken® products, but I would like to add Trent to my collection.
2001 looks to be the best year ever for the male fashion doll collector. I'm sure you probably have heard this before, but it always rings true...The best advice is buy and collect what you like!
Revisiting Trent

by

David-Eric Nikielski
Editor: Welcome David Eric Nikielski who will be reporting on main-line male fashion dolls! David-Eric picks up where I left off in the Feature Story Archive 02.25.01
Trent is "Everybody's leading man, nobody boyfriend", says Ashton-Drake of their 16" male collectible fashion doll Trent Osborn. Trent is wedged in between "Gene" the movie princess and "Madra" her wicked counterpart as a Hollywood star in his own right. Collector's clamored for a leading man for Gene and Madra and Ashton-Drake responded quickly while Many doll manufacturer's seem oblivious to collector's request's for Male counterparts for their female fashion dolls.
The need for male dolls to help show off manufacturer's female's started with Ken in 1961 and came about when little girl's clamored for Barbie to have a dating partner and now forty years later he is finally becoming more than an accessory to the #1 doll and coming into his own. Many doll companies though are hesitant to produce male fashion dolls for one or more reasons, though the overwhelming response from them every time usually is "Male dolls don't sell well".
Robert Tonner produced two limited edition male fashion dolls as part of set's but separately priced, one was called "Prince Charming" dressed in a golden outfit and the other was named "Eric" dressed in a tuxedo. Yes, both did not fare well when introduced but try finding them on the secondary market for less than $150.00 or more each. It should be said Robert Tonner was before his time in the creation of these two guys but Ashton-Drake has one thing Tonner did not in Trent's creation and that is "Trent Osborn has his own life story to lead".

Trent at this time comes in two dressed version dolls, the 1st named "Formal Introduction" he comes dressed in a Tuxedo and the 2nd version is called "After Hours" and he comes in a lounging outfit complete with a smoking jacket. "After Hours" is different for another reason besides the outfit and that is Trent has no mustache, if you read his literature that comes with each outfit/doll you will find out why he is clean shaven.

"After Hours"
"Kid Valentine"
"Royal Military"
"Playing the Ponies"
Outfits for Trent span from movie costumes like his female counterparts such as "Royal Military" and "Kid Valentine", to after hours casual wear such as "Playing the Ponies" and "Tennis Anyone". One of the 1st dressed dolls available is called "Lover in Disguise" and the outfit is made to compliment Gene and Madra's outfit for a costume ball and all three are quite stunning to see. All of Trent's outfits I have personally seen look very well made though I am not sure about the elastic on the pant hem? I guess it must help to keep the pants from rising up while dressed.

New Trent outfits for 2002 have been listed but no photo's have been shown yet for them, they are: Dressed dolls "W.W.II Navy Officer", "Arabian Nights" and outfits only are Double Breasted suit with hat, White Dinner jacket and his own undergarments including a paisley robe maybe, and his own set of "Guy Stuff" type accessories. So what future is there for Trent and other male fashion dolls? Only time will tell and maybe Robert Tonner will quite beating around the bush and get Tyler her guy Christian to come out and play with all of us. I can say for one thing Ashton Drake has done it again and beaten the competition to the punch like it did with Gene so many years ago.

Fabulous Costumes of 20th Century Fox "The Rains Came."