This Feature Story appeared in the Keeping Ken Ken News! on March 4, 2001.

Keeping Ken

Ken News Feature Archive

The Get Real Girls Get Some Guys!
| | | | | |
| --- | --- | --- | --- | --- |
| Gabi | Corey | Claire | Nini | Nakia |
| | | | | |
| Soccer | Surfing | Scuba | Backpacking | Basketball |
| It's nothing but net for this soccer superstar. Dressed in the #11 white-and-blue soccer uniform, cleats, and shin guards, Gabi comes with her own net, soccer ball and soccer supplies. | Surf's up for this beach babe. Dressed in authentic beach attire--sandals, shades, shorts, and shirt, Corey comes with a sweet surfboard, beach supplies and backpack. | Get wet and wild with this deep-sea girl. Dressed in full scuba diving regalia, Claire comes with her very own air tank, goggles and flippers. | Get ready for backpacking excitement with a gal who isn't afraid to show her sweat. Dressed in full backpacking gear, Nini comes with a sleeping bag, backpack and camping supplies. | She shoots. She scores! Dressed in the #10 New York uniform and sporting some cool braids, Nakia comes with her very own net, basketball and basketball supplies. |
The Get Real Girl (GRG) doll line has a mission. The dolls are created as entertainment properties that encourage self-esteem, teamwork and leadership through sports adventure play. "Get off the sideline. Get in the game", is what the GRG motto is! You can check out the 2000 line at http://www.getrealgirl.com.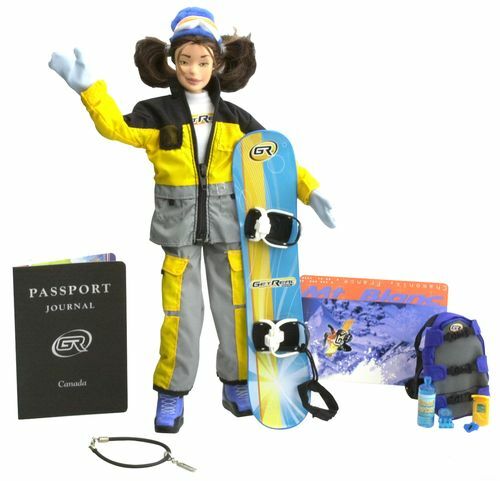 ABOVE: My favorite GRG is Asian Skylar (Snowboarding). Take to the slopes with a girl who knows how to tread some serious snow. Skylar grew up on Whistler Mountain, a pristine place to be for a gal who's been perfecting her snowboarding techniques since she was 12. Dressed in a yellow, gray, and black nylon shreddin' outfit, Skylar comes with a GetReal snowboard (complete with bindings), goggles, boots, gloves, passport journal, collectible stamp, postcard, backpack, supplies, and a friendship bracelet with a snowboard charm for you to wear. She's a fully poseable action figure (with a realistic athletic physique), so go ahead and bend, twist, and turn her as she glides down the slopes.
The GRG are 11.5" figures that are fully articulated. But are they a fashion doll or a Action Figure? To save any arguments...they fall directly between both labels. Yes, fashionable with changeable outfits and real hair like a Fashion Doll, but articulated and able to stand on their feet alone like an Action Figure. Six girls rounded out the collection as they were introduced last year. Now in 2001, following a male doll explosion, the Get Real Girls will get some boys! The original six female figures will be joined by two new girls and two new guys. The new girls include Kadin a volleyball player and Zoe, a skateboarder. The Get Real Guys are Piersin, another skateboarder and Jack, another surfer.
The new GRGuys will also feature 11.5" highly-articulated bodies which can be posed with all the accessories that are included. The prototypes unveiled at Toy Fair 2001 were amazing with each figure having numerous play pieces that are highly detailed. In addition to the new figures, the GRG product line is expanding to include a mountain bike which will include a outfit that can be worn by any of the GRG figures, as well as shoes and safety gear that is not gender specific. Four new "Streetwear" fashion outfits are geared solely towards the girls. Both items are sold separately.
So here are the GRGuys! Thanks to http://actionfigures.about.com/hobbies/actionfigures/ for the photos and Toy Fair 2001 GRG information!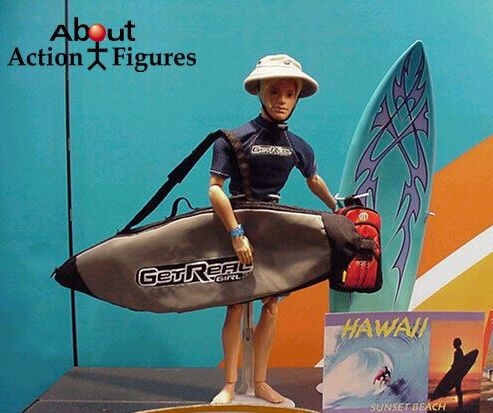 GRGuy Jack is represented as a Surfer, which was a little disappointing since they already have GRG Surfer Corey. I may be reading too much into this, but if they are adding guys into the line, couldn't they give them their own sport that is different than the girls? I think the guys would do just fine with their own designated sporting endeavor! I can't get over how much he resembles Generation Girl Blaine. Are they brothers? The accessories are fantastic with these dolls. I have never seen more realistic accessories with any doll! They are detailed beyond belief! Just check out Jack's surfboard cover. Jack will certainly be a awesome addition to your male fashion/action doll collection!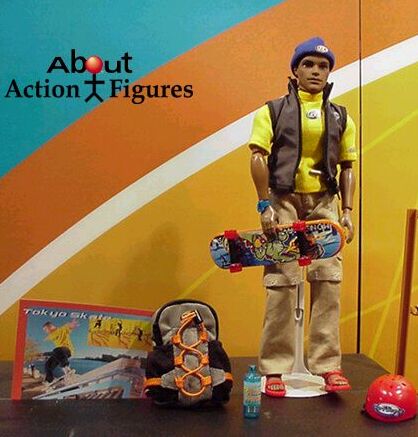 I liked Piersin even better! His detailed fashion has detachable pants bottoms that become shorts. While the skateboarding sport is a new introduction to the 2001 line, it is still represented with a female doll with new 2001 GRG Zoe. It is nice to see this lines diversity and Piersin is AA. Maybe 2002 will introduce an Asian male doll! It will be interesting to actually see the new boy dolls when they appear on the market. Will they have the "realistic athletic physique" like the girls? They don't appear that way from the pictures. Target is the only store that carried these dolls in my area. The only other place is online only at http://www.kbkids.com/ and http://www.etoys.com/. eToys will probably not carry any 2001 product since they are going out of business.

The new guys for the GRG line are fantastic! Maybe they can help ease the pain of no new Generation Girl (Guys) being added this year by Mattel. That is still questionable...I still feel we may see GG Blaine, GG Trevor (Asian) and Rigo (Hispanic) in 2001.