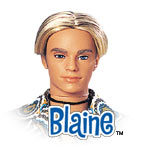 Generation Girl Dance Party Blaine
Birthplace: New York City
Fave way to chill: Listen to music
N.Y. fave eats: Double cheeseburger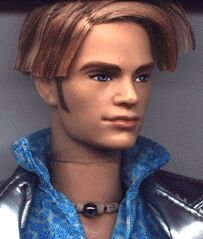 Coolest hangout: Music store
Fave music: Hip Hop
Word that best describes me: Outgoing
Career goal: Radio DJ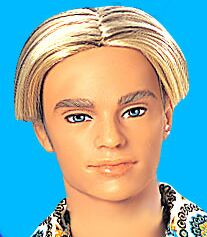 Generation Girl My Room Blaine
My studio is...
A great place to jam with my friends!
I dig my...
Guitar, because music's my life!
One day I'll be...
A worldwide sensation with my own band!
Quote for the day...
"Music makes the world go 'round"
Since the introduction of Jamal® from the "Shani™" line in 1992-1993, it has been 8 long years since Mattel added another adult male character to the Barbie® friends and family tree. Ken®'s little brother Tommy™ was introduced in 1997 in the Kelly® line, but he was just that; little. Collectors were craving a new character to mix in with Ken® and Steven®. Hopes ran high at the beginning of last year with the announcement of "Zach", a new male friend of Skipper®. Joining her in the "Totally Yo-Yo" line, Zach doll's face was prominently pictured in Mattel literature and major Barbie® publications. Skipper® didn't have a male friend since Kevin® left in 1995. Would Zach use the Kevin® body mold? If so, a line of clothing would certainly have to be created along with him. Collectors from every spectrum of the Barbie® lines took notice and embraced the notion of a new male doll. Unfortunately, Zach never made it to production, and most of us were left feeling a little let down. Speculations ran rampant about his demise. Some claimed his face mold looked too old to be in the Skipper® line, while others blamed it on cut in production levels because of financial stress. Regardless of what really happened, Zach was quietly dismissed. Even though he was never produced, like so many of his male predecessors, he would be remembered. The switch was on! Think of Brad® equals Curtis® or Derek™ equals Dude™. Zach, or at least his head mold, equals Blaine™. Zach, reincarnated as Blaine™, looks the same, but there is a total image makeover. Not only is there a few year age increase, his new "grown up" body mold makes him the same size as Ken®. Comparisons between the transformations above always equaled out. The Zach to Blaine™ story transforms a boy to a man, similar to Todd® doll's story. A new cooler attitude instantly makes him popular! Separate Generation Girl™ Fashions are already designed just for him, but are currently unavailable. Of course with the different body mold he could borrow Ken® doll's clothes too. What more can you ask for?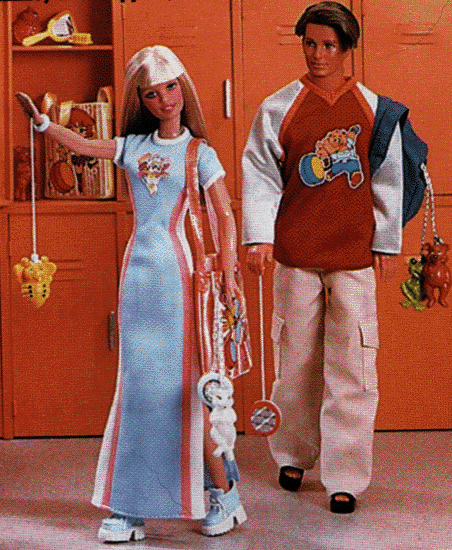 Above: Blaine™ doll's beginnings. "Totally Yo-Yo Zach" pictured here with "Totally Yo-Yo Skipper®. Unfortunately for the male doll collector, Zach never made it into production.
With the creation of the Generation Girls™, a group of "International High School" teen age girls, roles and role models were clearly defined from the beginning. The First Edition of the Generation Girl™ line introduced us to a much younger version of Barbie® we haven't imagined for a while. Barbie Roberts was in High School again, not in Willows WI, but in NYC. This time she is behind the camera, as an amateur photographer and actress. The "Shani" line African American Nichelle Williams (New York, NY) a fashion model is brought back from 1993 to add in the mix. Joining both of them are a brand new cast of International High School girlfriends. Tori Burns (Australia) is a champion snowboarder and in-line skater, Ana Suarez (Mexico City, Mexico) athlete, Chelsie Peterson (London, England) singer and Lara Morelli-Strauss (Paris, France) an artist.
The Generation Girl™ line is reminiscent of Barbie® and the "Rockers". A group of characters specially created for a specific theme. Also because there is more than one edition, and international flavor. A line of books made the characters come to life in situations following their talents and aspirations. The Second Edition of the Generation Girl™ line adds two new characters and transfers two others to different schools. My guess is that Mattel listened to their #1 consumer, which is reminiscent of 1961, when little girls demanded a boyfriend for their Barbie® doll and Ken® was created. How can you have a High School setting without any boys around? When Ana™ and Chelsie® are "transferred", Mari Nakano (Tokyo, Japan) and Blaine Gordon (New York, NY) fill their vacancies. Mari™ likes video games and karaoke while Blaine™'s interests include in-line skating and music.
The big news of course is Blaine™. Packaged in the signature Generation Girl™ black box with pictorial sides, the theme centers around the International High School's "Spring Jam"...a dance party. Blaine™'s box is marked Generation Girl™ Dance Party. The "cool facts" on the box back are listed between the pictures to the left.
Blaine™ is back in the third installment in 2001. The "My Room" line showcases the dolls in their bedrooms. [See related story Ken News/Generation Girl My Room Blaine] Ana™ is added back to the line and Chelsie® is permanently removed from the line as her parents move to China.
Generation Girl Blaine™ Fashions