Special Secondary Market Report 03-10-2002
This report comes at a time where the economy is tougher than previous reports. While the retail industry is showing declines, the secondary doll market remained steady. While many Ken® dolls remained the same value, the Ken® dolls that decreased in value were leveled by the stronger Vintage and Mod era versions. In previous updates, the Vintage and Mod Era categories showed slow, but steady increases. In this update we see a lot of price fluctuation and activity in these two categories.
In the Vintage category, most Vintage Ken® dolls showed positive activity. This was a major change from previous value updates where prices remained unchanged and at a lull. This update shows value increases across the board. "My not pick" Flock Hair Ken Brownette rebounded from a decrease of -4.3 from the last update up +8, but is still down -8.1 overall. Flock Blonde and Brunette versions were up again +4.8, and up a respectable +19 overall. The Painted Hair Ken also posted another increase +4.3/+13.1 while the Painted Hair Shortie Ken stayed the same for the second time, but turns in a +6 overall Still commanding the second highest price in the Vintage category at $382, Bendable Leg Ken also increased value +3.5. Bendable Leg Ken® was "my hot pick" and still has the best overall increase of +23.2. Bendable Leg Ken® remains the leader in the Vintage category for the second time with percent of overall increase (+19.1 overall in the last update). The Dressed Box Ken dolls show more activity this update than they ever have. Two different eBay auctions for the Dressed Box Ken Arabian Nights #0774 shot it to the leader in this category, and this doll holds the distinction of being the most expensive Ken doll version to own. eBay also had several other versions of DB Ken dolls for sale including Dressed Box Ken Touchdown #799, Dressed Box Ken Time for Tennis #790 and my favorite, Campus Hero #0770 which someone got for a steal at $445. It was the only time I have ever seen pictures of this version NRFB. I also had the opportunity to base prices from a mail auction and several collection auctions. This gave me the opportunity to actually have more sample prices to enter into the database for comparison when determining value. This is probably why we see more activity here, but it is very interesting that these rare dolls have come into the light more frequently. I was happy to see most of the DB dolls showed a increase this update.
While the positive activity in the Vintage category was exciting, the Mod Era Ken® dolls became a stronger exciting category, finally pulling out of the slower growth rate in the past. The Mod Era is my favorite category to calculate values from, because this category is not value structured with increased values for more popular versions. After picking up slightly with activity in the last update, this update shows that this category is finally where it should be when compared to Barbie® Mod Era categories. The New Good Lookin' Ken +143.3 is still a leader in this category overall, and showed another +11.5 increase this update. Out of nowhere, the HTF foreign edition Party Time Ken showed an increase of +61.4, the second highest version this update. I based the selling price on the actual doll I bought for my collection from a dealer, I felt this was a fair price (after deducting the dealer profit percent). Another foreign edition, Funtime Ken® increased +7, +46.2 overall. The Mod Era Ken® dolls most collectors "wait and see for a good price" can still probably still be taken for granted. But it is interesting to note that Free Moving Ken is starting to creep up in value +4.9/+35.1. This version may keep rising in secondary value. While still plentiful, this rise in value tells me that more collectors are looking to add it to their collection. Another plentiful doll is Mod Hair Ken who is one of the few Mod Era Ken® dolls to keep decreasing in value. Mod Hair was -9, and the overall+23.2 from the last update has now slipped to +12.1. However, Mod Hair turned out a stellar performance in the Mod Hair Ken (Montgomery Ward's) version +12.7/+55.4. This version is the most expensive version to own in the Mod Era category at $230. "My hot pick" The Now Look Ken showed a larger than usual increase in this update +15.6, and +37 over all. This was a significant jump in value for this version which lulled for a while. Live Action Ken (+7.2/9.4) and Live Action Ken on Stage (+1.7/+5.4) both increased in value again. Both of these dolls are harder to find NRFB. Talking Ken dolls showed another value increase. These dolls have been on the secondary market rise for a short year, and I predict that values will level by the next update because the percent of increase was low. The stand out of the talking Ken dolls was Talking Ken Spanish (New Good Lookin') Red Outfit +19.3 this update after a huge +36.4 from the last update. Overall, this version is +62.7. Another show-off was Talking Ken up another +11.5 after being up +30 in the last update. The overall performance of this doll is +45. After being up +15.4 last update, Talking Ken Spanish (New Good Lookin') Orange/Aqua Outfit was down -4.5 and dropped to an overall +10.3. New Good Lookin' Talking Ken +6.9/+6.9 finally showed activity while Talking Busy Ken redeemed itself from it's dip of -6.8 in the last update to post a +1.6 increase and helped lower the -5.4 decrease. Walk Lively Ken also gained on the previous decrease +3.8/+6.3. One to watch is The Sports Set Sun Valley Ken +5.1/+5.1. For some reason, I think this not so well known doll will be a stand-out by the next update.
Barbie® Collectibles™ Ken® dolls provided a unsteady market, mirroring Barbie® dolls. Recent Barbie® Collectibles™ dolls have not retained value as Mattel continues to supply outlet stores with surplus; which in turn is being sold at a discounted price. While there are no Ken® dolls involved, this practice seems to damage Barbie® Collectibles™ Ken® dolls as a group anyway. One bright spot was Coca-Cola Ken which was released as a CE and never available in stores (only online from Mattel and/or Canadian doll dealers). It is now pretty clear that this doll was probably a LE, not a CE with much lower production units (sources say 7,000 units). I have watched secondary prices soar for this version in the very recent past, which tells me that this doll is probably sold-out. Secondary prices were well above $100 for this doll in the last two months of January and February 2002 (remember the database reflects prices for the last six months). Coca-Cola Ken® ended at $83 which was +14.8 and +16.9 overall. 30th Anniversary Ken took the biggest dive in this category for the third straight update and was down again ending at -17.6 and -36.6 overall, winning (or should we say losing) two slots in the top decreases against all other Ken® doll versions. Harley Davidson Ken was down again at -3.9/-9.3 while Harley Davidson Ken (Second Edition) lost it's gain in the last update to end -4.1/-4.1. Brand new contenders like 40th Anniversary Ken and 40th Anniversary Ken AA also felt the effect, but I feel both will rebound from the small loss. The 40th Anniversary dolls were down -3.1 and -2.5 respectively.
Other Ken dolls to note were Ken dolls available in the very recent past and versions in the "My First Ken" line. Over production of the Wizard of Oz assortment have driven secondary market prices down while KB Toys is selling the assortment at half price. These sales seem to have made the Wizard of Oz Ken dolls drop in value again, while over production drove prices down in the last update. Ken as The Cowardly Lion 1999 ended -13.9 overall -22.5, Ken as The Scarecrow 1999 -16.6 overall -30 and Ken as The Tin Man 1999 -14.3 overall -30. I highlighted recent Ken dolls from 1997-2000 in the last update because of the significant percentage of increase for most dolls. This arena has leveled off, as you can tell by the chart below. The highlighted boxes are Ken dolls that lost value with this update, but this is a normal trend with dolls that have sold out in stores and then start to trickle more into the secondary market.
While not on the secondary market very long, Barbie in the Nutcracker Ken as Prince Eric was there quickly because he sold out during the Holiday 2001 season. I think it was nice to notice that this doll that original retailed at $20, ended with a value of $28.50 which is a +42.5% increase. Two weeks before Christmas, the highest price I entered into the database for this doll was $54.78! What a wild ride! Barbie in the Nutcracker Ken as Prince Eric AA did not fare as well as some (but not many) units were left over for the after-Holiday sales. This drove his original retail price down and he ended -7.5.
The graph below shows the "My First Ken®" doll line from 1990-1993. Most versions of these Ken® dolls have seen positive increases as you look across the map. This line looks to be a pretty smart investment for your collection.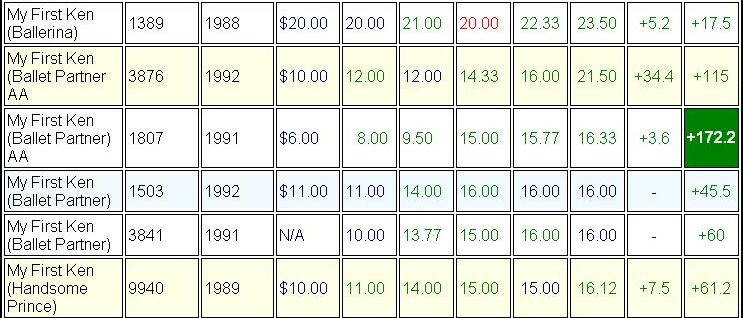 That's it for this update! Happy Ken® collecting!
Ken is a registered trademark of Mattel, Inc. These pages are neither affiliated with, nor a representative of Mattel, Inc. Material provided on these pages do not in any way reflect the opinions of Mattel, Inc.