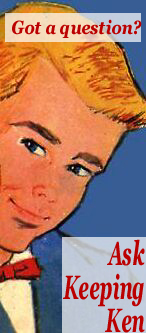 Please submit questions to mailto:jef@manbehindthedoll.com and have them answered here. Due to the volume of mail received, I cannot respond to individual e-mails sent to "Ask Keeping Ken".
October 2003
For previous columns, visit the Ask Keeping Ken Archives

Q: As a Ken, who has been a fan of Ken, and his "main-squeeze" Barbie, et al, almost since day one of their existences, am I the only one who was little weirded out when Al(l)an and Midge showed up as African Americans as well as Caucasians!? Or when our man, Ken's, and Barbie's "race changes" took place, (There have been some lovely Black Barbie dolls!) for that matter? Why not Caucasian Steven (Brad, remember him?) and Caucasian Christie for consistency? (I agree, both Teresa, and Lea need boyfriends!)
By the way, where are the twins, Todd and Stacie? I see them in kids Barbie story books, but not in stores, since a little after Al(l)an and Midge got married! What gives? Why did Al(l)an change his name spelling, and his hair color, when he and Midge got married? Or is he a "different" "Al(l)an"?
I'm sorry, but the questions just seem to pour out? I have, obviously, been wondering a loooong time! LOL
New for Autumn 2003, Bewildered Ken!
-Kenneth
AKK: Kenneth, welcome to the "World of Barbie®". I guess the first thing I can say is that friends in the Barbie® world are always considered "accessories" to Barbie®. That's the first rule. The accessories are developed to fill the needs of a broad range of consumers. The general consumer doesn't follow or know about the "Family Tree" history as well as we collectors do. Everything developed is well thought out in production numbers. In the Happy Family™ line, for example, I'm sure that Mattel wanted the dolls in two ethnic versions to appeal to more consumers. Look at the line as a general consumer, and not a knowledgeable collector and you'll have your answer (and it won't weird you out anymore).

Same with the other friends. Mattel's history proves that it wants to provide a wide range of dolls to a wide range of consumers with different ethnic backgrounds, which is why dolls like Brad® and Christie® were developed for the African American consumer. As time progressed, it was just smart for Mattel to provide AA versions of Ken® and Barbie®, after all, they are the core recognizable names in the line. It probably seemed natural to Mattel to provide Barbie® and Ken® dolls in new ethnic backgrounds in the '80's, instead of just providing "friends" of Barbie® dolls.

So why wasn't/isn't there a Caucasian version of Brad® or Steven™? Probably because they aren't recognizable brand names to the consumer, but as you know, Mattel reuses names in the line, so Brad may appear again someday in the line as the Brad you don't recognize as the Brad you had in the '70's. I'm right there with you on Brad...he's my favorite friend Ken ever had, and I for one would be devastated if his name was recycled for a friend of Kelly. But that's just one of the reasons we as collectors are different from consumers, (while also being the consumer). Collectors are more knowledgeable about the history of friends, and are more sensitive about Mattel reusing names, while the general consumer doesn't have a clue.

As for Allan/Alan, he is the same guy from the sixties, and I wish he had the red hair too. I wish Mattel had researched a little more, as a nod to the collectors who remember him. I can understand your point, because as collectors we almost feel offended that Happy Family™ Alan™ doesn't have red hair. Even the Wedding Day Alan had dark reddish hair coloring. At this point, HF Alan™ will probably continue with the brunette hair, because it may confuse the consumer if his hair color changes as the line progresses...bummer.

It would be nice after the Mary-Kate/Ashley line peters out that Mattel will bring back Barbie® doll's twin siblings. (Although the Todd name has been recycled to the point of confusion, and we're all wondering if Tutti® is actually Stacie® or Kelly® now?) Even an explanation would be nice.
Q: I was very baffled when I read your website, because you state that in 1968 Mattel did not make a Ken® Doll. However, I have one that is clearly stamped on his butt c 1968 Mattel, Inc.

I was hoping to get some information on him. Any input you have would be greatly appreciated.

-Robyn

AKK: Robyn, the body mold was created and patented in 1968, but 1

967 marks the beginning of Ken

®

doll's disappearance from store shelves (however two Ken dolls are still available for sale in limited quantities).

The two dolls still available are 1964's Painted Hair Shortie Ken #0750 (which is still available in Mattel's catalog) and Bendable Leg Ken (Blonde) and Bendable Leg Ken (Brunette) #1020, which is only available by mail order.

By 1968, Ken

®

doll is not listed at all by Mattel.

While 1968 portended a gloomy outlook for Ken

®

doll's future, it would eventually become the single most important year in his history.

Ken® may not have been available to the consumer in 1968, but his visibility behind the scenes at Mattel remained strong. It is this behind the scene history that makes 1968 so important, as Mattel will groom and literally reinvent the Ken® doll.

For Ken® , the Mod era begins in 1969 and ends in 1976. Ken® was virtually absent from the first two year's of Barbie® 's Mod Era. He'll stay one year longer than Barbie® , until a new head mold emerges. So what was happening for the first two years? There is quite a lot of speculation on the subject, and many Barbie® experts have opinions about these two years. Some experts feel that Mattel didn't want to spend the time creating a Twist and Turn waist specifically for Ken® doll. Most feel that Mattel planned on creating a new body mold, but wanted to debut it with the release of the talking dolls in 1969. Eventually Ken® 's new talking body mold would be modified for standard use. It featured a waist that would turn, but it was different than Barbie® doll's original Twist and Turn. One thing's for certain…Mattel had not forgotten about Ken® . Mattel must have realized by 1967 that the Mod movement was not just a fad that would quickly fade away. The dilemma with Ken® doll was the fact that he didn't have anything in common with the current trends. Ken® was hopelessly stuck in the outdated boy-next-door role. What endeared consumers to Ken® initially in the early sixties now seemed old-fashioned.

BELOW: The "new" Ken® body mold debuted in 1969.

To survive in a changing world, Ken® had to encompass current ideals and trends. Mattel also announced a new "trade-in" program in 1967 that entitled young girls to trade-in their old Barbie® doll (plus $1.50), for the newest Twist and Turn Barbie® . Ken® wasn't mentioned, but was probably traded in for a new Barbie® anyway. It became clear that if Ken® was going to survive in the Barbie® line, he was going to have to be reinvented.

One step in reinventing Ken® was to draw on proven successes. He needed to reflect the rugged masculinity and style of the late 1960's American male, but he couldn't lose any of his charm. He needed to catch up with Barbie® doll's fast-paced lifestyle, while remaining a loyal, caring companion, so the design team at Mattel began the process with a complete redesign that started with a new body mold. The body mold design lent itself to many possible future modifications. Ken® remained the same height, but his over all appearance was beefier. The torso was more muscularly defined, especially in the pectoral and abdominal area, and the waistline was slightly wider. The biggest change to the overall body mold is more apparent through the arms (with hands that are still pointed to the side) and legs (that are still bendable). These limbs became much more muscular and defined giving the finished body mold and Ken an athletic appearance, which was quite a difference from the previous mold.

By the way, the 1968 body mold (in a modified form) is still being used presently for standard Ken® dolls.