This Feature Story appeared in the Keeping Ken Ken News! on December 30, 2001.

Keeping Ken

Ken News Feature Archive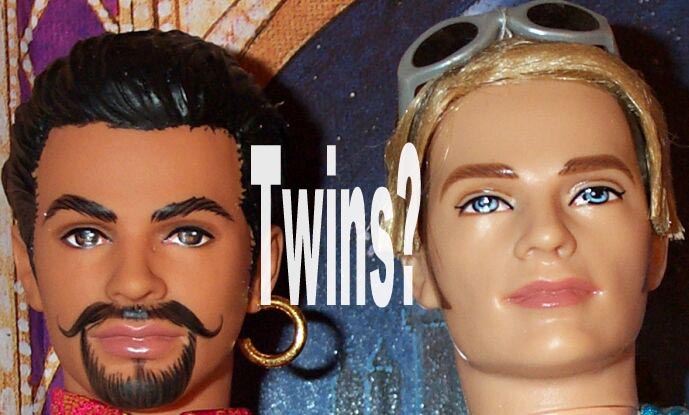 I was convinced that the Arabian Nights Ken® was a modified head mold of Generation Girl Blaine. I figured that Mattel had modified Blaine™ doll's head mold by adding the molded hair portion on top of the head. I was surprised to learn from reading Mikelman's "Life With Barbie®" column in Barbie® Bazaar magazine (February 2002 edition) that I had it all wrong. Mikelman asked Barbie® Collectibles™ Visual Design Manager, Mina Mirkazemi and she pointed out that they are two different head sculpts.

Mikelman showed the differences in his column with silhouette photography. I thought I would try this experiment at home, to convince myself that they two were actually different.

FACE-OFF

Arabian Night Ken®

Generation Blaine

Pronounced brow bone structure

Larger, longer nose and nostril openings

More pronounced nostril side molding and chiseled bridge of the nose

Fuller, more curled lower lip

Fuller, lower chin structure

Higher, thinner pointed chin

More defined jaw line that extends further behind ear

Above: Detailed photo showing the differences of the head molds.

So there you have it! The Arabian Nights Ken® head mold (named 2000 Ken® Collectibles head mold) is indeed a new mold for Ken® doll! With all the differences you can see with the heads turned, they still look like they are related when the heads are facing you!

So when will we see it again? If you look closely at the new Barbie® Collectibles "Coca-Cola Majorette" Barbie doll, you will see him standing along the street on the inside box liner dressed in regular clothes without the beard and moustache. He is joined by another doll using the "Romeo" Ken® head mold from the Romeo & Juliet Gift Set, who is dressed in a shirt and sweater vest. Also we see the Coca-Cola Ken® looking out from his malt shop in his original outfit and another doll that looks a lot like Surf City Ken® (also in street clothes) who seems to be dating the Coca-Cola "Sweetheart" Barbie® doll.