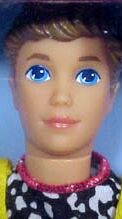 Skipper® doll's second attempt at dating wouldn't really go anywhere, but Mattel kept trying. In 1965, Skipper® found platonic friendship with Ricky®, and later Scott® brought an air of romanticism through shared activities in 1980. In 1991, Kevin® was created for a long-term affair. Introduced, sans fads or flash in his first version, small girls grappled with another question held privately in each of their minds. As Kevin® innocently stared from his box, with his large turquoise painted "cartoon" eyes, girls wondered if this was the type of boy they should be looking for themselves. Mysteriously, Kevin® shows very few signs of who he really is, and unfortunately, never have a proper chance to.
Skipper® lost her cheeky wide open-mouthed smile of the 1978 and 1984 head mold for a 1987 closed mouth one. This newer mold diminished all signs of the sometime mischievous and freckled "tom-boy" look, her previous mold had achieved. The active wear clothes and Western garb were replaced by frills and lace, for a sweeter prettier look. It seemed Skipper® was stepping into a new stage of her life as Kevin® entered it for the first time. The first thing Skipper® had to notice was Kevin® doll's slight smile and the glint, for her, in his turquoise eyes. His unkempt hair seemed almost unnatural for a boy with such polished good looks. Their first meeting, and his first version tell the most about him, as he is introduced simply as "Kevin®".
Mattel quietly slips Kevin® onto store shelves in 1990. Mike J., from TRU reports "the first Kevin® was the Cool Tops Kevin® introduced in 1990. He was supposed to be Dream Date Kevin®, but his name was changed when Mattel decided to drop the Dream Date Skipper® doll. One of the most interesting aspects of Kevin® doll's short stint was the fact that Mattel provided him with the ultimate perk: his own clothing line. Three High School Kevin® fashions were produced;
Kevin High School Fashion1, Kevin High School Fashion 2 and Kevin High School Fashion 3.
All three fashions came with black loafers. Sadly, the assortment did not really extend Kevin doll's wardrobe very far. Where was the junior prom tux, or the winter skiwear? To make matters worse, the black and purple outfits sold fairly well, but those ugly shorts were everywhere, which spelled doom for the assortment. No other Kevin clothes were produced, and I still think you can walk into some out-of-the-way stores and see those @#*! shorts hanging on a peg hook".
The second version called "Kevin®" arrived in 1991 and holds the character and charm, any new Barbie® family/friends member should. He was not tied in with the Skipper line this year because it had a babysitting theme, and Mattel seemingly felt that boys don't make good babysitters. With shoes thrown over his shoulder and an extra pair of pants tucked inside, Kevin® can be as active or romantic as you want him to be, all in one box. The pants, of course, are for a quick change out of his active clothes for a date later with Skipper®. This will be one of two versions that are not direct tie-ins with the Skipper® theme line. The first thing one notices is the interesting molded hair Kevin® has. With a flip in the front and side part, the rest is a wavy pattern that appears to have a "wind-blown" look. Because Kevin® must be an active guy, his hair is painted with two different colors that gives it a sun kissed look. Eye paint on most dolls in the Barbie® line during this time are painted with large unnatural looking eyes which makes their appearance surreal. Kevin® is no exception, although the size of the eyes are painted smaller in the last few versions. It would almost appear he is a test doll for facial and hair painting, as his features are slightly and dramatically changed with each version. After his introduction, Kevin® is placed in his first tie-in theme with Skipper®. This proves to be a disappointing move, as any opinion we may have formed about him are dashed as he attempts to "match" his girlfriend's trend. This will continue until he is discontinued. One particularly interesting "matching" is the Cool Crimp version. His molded hair can not be crimped at all, but you can use the crimp stampers to decorate his head with heart or stars. One bright spot is a Basketball version, which brings him back to his athletic active look.
Amazingly, there will be a total of six versions of Kevin®, before he is discontinued in 1995. Grudgingly placed next to a brand new looking Skipper® in a Pizza Party version (her head mold had changed), a now smaller eyed blonde Kevin® must have looked out of place next to a girl he didn't recognize anymore. Who knows, maybe she outgrew him. It would appear he had his chance to prove himself after all; Mattel committed themselves to more versions of him, than most of their male Barbie® line dolls, excluding Ken®. Kevin® doll's legacy will probably be as the only doll in the Barbie® line no one can seem to remember. If given a chance to stand alone and as an individual, Kevin® may have been a success. He seemed to get lost constantly in the expanding Skipper® line. With the dramatic changes in the Skipper® line recently, and her expanding popularity, who knows if (and when) another guy will step in to take on the challenge. Maybe it will be a new cool teen version of Kevin® himself!