Kelly Club Ryan
In a world of recycled names, Ryan is the most used in the Mattel Barbie line of male dolls, and is the most recent. And like Todd, he has a age range. Ryan first appears in the Kelly Club™ line as toddler Amusement Park Ryan® in 2000 and like most characters in this line (with more characters added yearly), his identity is not explained. What he can tell you himself in this version is this..."I've been running all around the park with my pinwheel. It makes so many pretty colors when it spins in the sun! I had to stop to ride the roller coaster. 'Cause that's my favorite ride. What a great day!" After deboxing, his numbered Kelly Club™ tag (#28392) didn't reveal too much more. His tag says "Little Ryan®, Pinwheel spinning, running, skipping, laughing, grinning." So he generally sounds like a grinning little boy who really enjoys his pinwheel and likes to laugh and run a lot. Who wouldn't at that age? Ryan® is a rooted brunette doll with a side-part. He is much different looking than Tommy™ (Ken doll's toddler brother). He also has freckles (Tommy™ doesn't) and green eyes (Tommy™ doll's are blue).
I am always encouraged (as I know most of you are) to see Mattel adding male dolls to their lines. It is certainly a step in the right direction as far as I am concerned. Finally Tommy™ isn't surrounded by a bunch of girls. He has a boy pal all his own, not to mention the thousand of versions that can be made now! Unfortunately, this will be a one-time appearance for Ryan in the Kelly doll line.
| | | |
| --- | --- | --- |
| | | |
| Ryan-2000 | Ryan-2002 | Ryan-2011 |
Happy Family Ryan
In December 2002, Ryan makes his second appearance in a new family doll line from Mattel called Happy Family™. There is no connection or mention to his connection to Kelly, but his size remains the same. The "Happy Family™" name may seem familiar. The Happy Family™ was a similar doll line from Mattel in the mid-70's, part of the Sunshine Family™ doll line (more info on the Sunshine Family™ here ). Mattel's next family doll line, The Heart Family™ (1985-1990) grew to EPIC proportions in just five years. The Happy Family™ line of dolls places three existing Barbie® doll friends (Midge®, Alan® and Ryan™) in their own line, making the longevity of each existing friend added to the Happy Family™ line stretching from 40+ years to not quite a year.
Like the Heart Family™ line, the new Happy Family™ line has a tie to Barbie® doll. She serves as Baby Doctor Barbie®, and it will be interesting to see if she is mentioned again if more Happy Family™ items are produced. A Happy Family™ Midge® and Baby gift set is also available. The female baby, by the way, is not named (that task is left to the owner). In a 2003 version when the baby grows older, we find she is named "Nikki®". Both Happy Family™ gift sets are available as African American as well, marking the first time Alan® or Midge® have been available as African Americans. Happy Family™ Grandparent dolls were shown at the 2003 Toy Fair, with the first set (available in Fall of 2003). See the Happy Family Grandpa page for more information.
Printed in newspapers across the country on Christmas day 2002, Wal-Mart Inc. officially asked all stores to remove all Mattel Happy Family™ items from store shelves. Items removed were Caucasian/African American Midge® doll and Baby doll, Caucasian/African American Alan® doll and Toddler Ryan™ doll, a Happy Family™ Nursery Play Set and Happy Family™ Midge®/Baby doll fashions. (Later, Caucasian/African American Alan® doll and Toddler Ryan™ doll, a Happy Family™ Nursery Play Set and Happy Family™ Midge®/Baby doll fashions were all added back to shelves). Surprisingly, Baby Doctor Barbie® Caucasian/African American were not initially pulled even though this doll is a tie-in to the Happy Family™ line. The pregnant version of Midge®, which pops out a curled-up baby when her belly, attached by a magnet, is opened--has been pulled from Wal-Mart shelves across the country following complaints from customers, a company spokesperson said Tuesday 12-24-02. She's Barbie doll's oldest friend, happily married and visibly pregnant--which, some parents complain, makes her unfit for children. (For more information visit Feature Story Archive 01.05.03).
Later, Happy Family™ Midge made her second appearance at Wal-Mart in a "non-pregnant" Wal-Mart exclusive version. Wal-Mart must have realized that in it's brief showing, the Happy Family™ line has literally flew off store shelves, particularly because of the nurturing play aspect that go along with the pregnant Happy Family™ Midge® doll.
For 2004, the Happy Family line continues centered around Nikki doll's 1st birthday, as well as a gift set "Hometown Fair". The complete line is called "Happy Family Neighborhood" and includes Midge (who is expecting again), another set with Nikki, Alan with Ryan, separate Grandparent dolls and a set of three neighborhood kids for Nikki doll's party. The line expands from its infancy with more play sets and family/grandparent fashions sets. By 2005, the Happy Family line is discontinued
Happy Family Fashions
(Fashions listed are ones that include fashions for Alan and Ryan)
My Scene Ryan (Ridley)
Around the same time the Happy Family line is discontinued, the name Ryan appears in the My Scene Fashion Dolls line as Ryan Ridley, a new male doll released in the My Scene Goes Hollywood line, along with My Scene™ Hudson™ and a Lindsay Lohan doll. Unfortunately, the My Scene Goes Hollywood line will be the last line a male doll is produced in the My Scene line of dolls.
Fashionistas Ryan
In late 2011, Ryan reappears in the Fashionistas line, AFTER being advertised as early as 2009. Images of Ryan appear on 2010 Ken doll fashion backs (pictured below) as well as a UK Barbie fashion magazine (pictured left).





Interestingly, Barbie posts on her face book that the second edition male fashionistas will include

"two more Ken dolls coming, one black doll and one that looks like a handsome Italian movie star". Which lead to the belief that Ryan and

Steven

dolls were coming in the line. Alas, the new doll was another Ken doll as

Fashionistas Ken (Second Edition) and to date, no black male doll has been introduced into the line.

You don't really realize this is a Ryan doll until you look on the back of the box. Ryan's personality is described there: "I love creating--stories, lyrics, music. Writing songs is my favorite thing to do--I always write from the heart!"

Only time will tell whether Ryan continues to be a one hit wonder.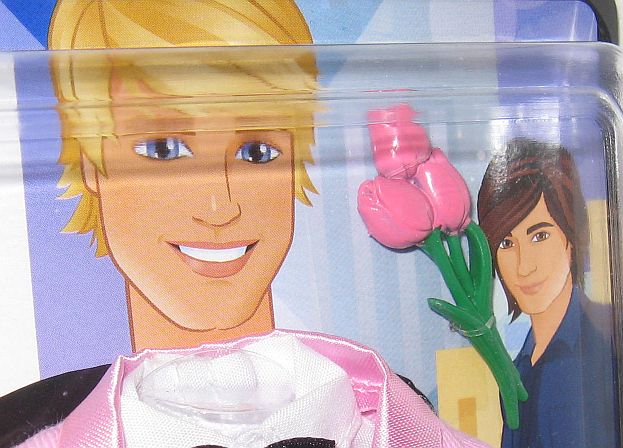 Pictured Above: On two of the 2010 (2009) Ken fashion backer card art...obviously the drawn character (blonde) in the middle of the backer card is Ken and the brown-eye brunette boy character drawn on the left is Ryan!